Greetings dear friends hivers, my project today consists of How to make a gift box with a plastic bottle. It is an easy, fast and simple project to do. I invite you to follow this step by step to make your gifts something special.
Saludos apreciados amigos hivers, mi proyecto de hoy consiste en Cómo hacer una caja de regalo con una botella plástica. Es un proyecto fácil, rápido y sencillo de hacer. Te invito a seguir este paso a paso para hacer de tus obsequios algo especial.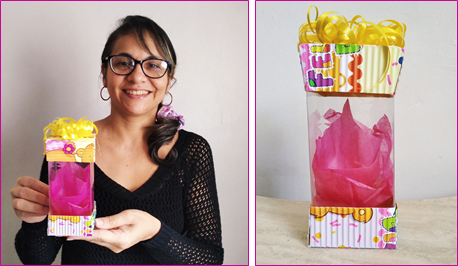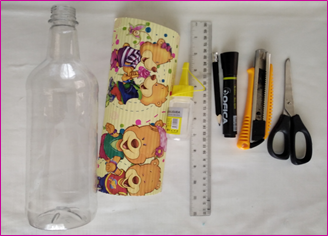 Step by Step:
The first thing we must do is mark the area that we are going to cut out of the bottle. Then with the cutter we cut the selected area that would be the lower and upper part, leaving only the central part that is the one we are going to use to make the box.
Paso a paso:
Lo primero que debemos hacer es marcar el área que vamos a recortar de la botella. Luego con el cutter recortamos el área seleccionada que seria la parte inferior y superior, dejando solo la parte central que es la que vamos a utilizar para hacer la caja.


To convert the round to square shape of the plastic, we squash and press to define the first two sides, as shown in the image.
Para convertir la forma redonda a cuadrada del plástico, aplastamos y presionamos para definir los dos primeros lados, como se muestra en la imagen.

Then we fold the plastic again, taking as a reference the first lines marked so that the four sides of the box are the same.
Luego volvemos a doblar el plástico tomando como referencia las primeras líneas marcadas para que los cuatro lados de la caja queden iguales.


With the decorated cardboard we make the base and lid of the box, for this we cut out two squares the size of the plastic area leaving three centimeters of margin on each side as indicated in the image.
Con la cartulina decorada hacemos la base y tapa de la caja, para esto recortamos dos cuadrados del tamaño del área del plástico dejando tres centímetros de margen en cada lado como lo indica la imagen.


Then with the cold silicone we glue the cardboard on which will be the bottom or base of the box.
Luego con el silicón frío pegamos la cartulina en la que será la parte inferior o base de la caja.


The cardboard that we will use for the lid of the box is folded in half and with the hole punch we open two holes. Then we glue each side of the cardboard to form the lid.
La cartulina que utilizaremos para la tapa de la caja la doblamos por la mitad y con el perforador abrimos dos orificios. Luego pegamos cada uno de los lados de la cartulina para formar la tapa.


To decorate the box, we make a bow to which we leave two long ribbons to pass through the holes and tie the bow on the inside of the lid.
Para decorar la caja elaboramos un lazo al que le dejamos dos cintas largas para pasarla por los orificios y atar el lazo en la parte interna de la tapa.


Ya tenemos nuestra caja lista, como puedes ver es muy fácil de hacer y requiere de muy pocos materiales.