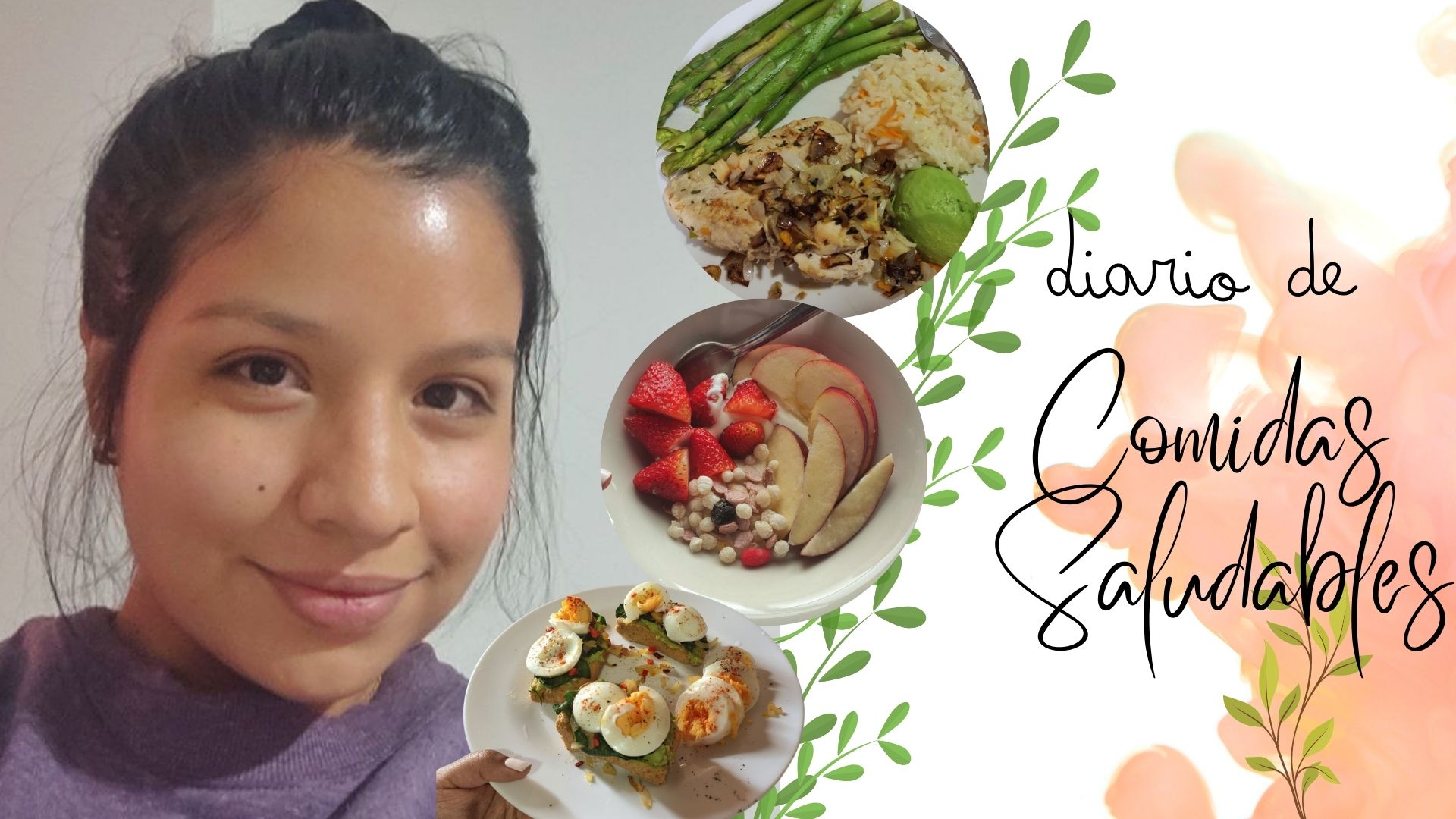 Hola 💛 ¿Qué tal están? hoy les quiero contar sobre uno de los cambios positivos que he hecho en mi vida el último mes: Comer más saludable y entrenar todos los días. Como les conté en el post Cómo transcure mi año 2021, los primeros meses del año fueron muy movidos para mi entre mudanzas, celebraciones y toneladas de trabajo para cubrir todos los gastos que venían, por lo tanto, descuidé muchísimo mi salud física al punto que aumenté varios kilos y dejé de hacer ejercicio, una actividad que siempre he disfrutado porque me relaja y me hace sentir bien, pero no tenía tiempo para hacerla :(. Desde hace aproximadamente un mes me propuse poner en orden mi vida, y una de las cosas que quería hacer era retomar el estilo de vida saludable que adquirí a mis 13 años y que tanto me gusta. Sabía que no sería para nada fácil, pues perdí muchos hábitos positivos y adquirí otros no tan positivos, pero también sabía que el cambio es progresivo, y que la única forma de lograr algo realmente significativo en mi vida sería empezando, así que eso hice! Y comencé a cuidarme.
Hi 💛 How are you? Today I want to tell you about one of the positive changes I've made in my life in the last month: eating healthier and training every day. As I told you in the post How my year 2021 goes by, the first months of the year were very busy for me between moving, celebrations and tons of work to cover all the expenses that were coming, therefore, I neglected a lot my physical health to the point that I gained several kilos and stopped exercising, an activity that I have always enjoyed because it relaxes me and makes me feel good, but I didn't have time to do it :(. About a month ago I decided to put my life in order, and one of the things I wanted to do was to resume the healthy lifestyle that I acquired when I was 13 years old and that I like so much. I knew it would not be easy at all, as I lost many positive habits and acquired others not so positive, but I also knew that change is progressive, and that the only way to achieve something really significant in my life would be starting, so that's what I did! And I started to take care of myself.
Hace 3 semanas comenzó este proceso para mi, al cual le he dedicado energía diariamente para preparar comidas saludables y ricas desde casa, trotar todas las mañanas de lunes a viernes y realizar una rutina de entrenamiento con pesas. Es decir, todo lo que hay que hacer para perder grasa y mantenerse en forma sin milagros 😅. Pensé que quizás es buena idea compartir parte de los menús que he creado, en parte para seguirme motivando en el proceso y en parte para ayudar a quien esté necesitando mejorar su alimentación pero no sabe cómo empezar o qué poría comer. Cabe resaltar que no soy nutricionista pero sí he leído mucho sobre el tema y estoy cuidándome de acuerdo a mi estado actual, sin embargo, cada situación es totalmente distinta y por eso es importante consultar a un especialista antes de empezar un proceso de pérdida o ganancia de peso y entrenamiento. Ahora sí, a continuación les contaré cómo es un día en mi vida, en cuanto a comidas 🤗y mientras les hablaré un poco del proceso.
3 weeks ago this process started for me, to which I have dedicated daily energy to prepare healthy and tasty meals from home, jogging every morning from Monday to Friday and doing a weight training routine. In other words, everything you need to do to lose fat and stay in shape without miracles 😅. I thought maybe it's a good idea to share some of the menus I've created, partly to keep motivating myself in the process and partly to help anyone who needs to improve their diet but doesn't know how to start or what to eat. It should be noted that I am not a nutritionist but I have read a lot on the subject and I am taking care of myself according to my current state, however, each situation is totally different and that is why it is important to consult a specialist before starting a process of weight loss or weight gain and training. Now yes, I will tell you how is a day in my life, in terms of meals 🤗and while I will tell you a little about the process.
Desayuno / Breakfast
En las mañanas yo me despierto con hambre. Una cosa que solía hacer antes y de la cual no me enorgullezco es que picaba cosas de la nevera como frutas o pan mientras preparaba el desayuno 🙈 Eran algo que hacía en modo automático y ya me estaba acostumbrando a esto. Uno de los cambios que he hecho es precisamente ese, dejar de picar entre comidas. A los días de dejar de hacerlo me di cuenta de que solo era un mal hábito y realmente si puedo esperar una media hora a que el desayuno esté listo, y eso he estado haciendo. Por las mañanas ahora me despierto con mucha creatividad, con ganas de preparar un desayuno delicioso y nutritivo con todos los macronutrientes. En este caso, preparé unas tostadas con crema de aguacate, espinaca cocida, ají dulce y cebolla y 2 huevos cocidos. Y este desayuno estuvo tan completo que me mantuvo saciada hasta el almuerzo, me encantó!
In the mornings I wake up hungry. One thing I used to do before and which I'm not proud of is that I would snack on things from the fridge like fruits or bread while preparing breakfast 🙈 They were something I did in automatic mode and I was getting used to this. One of the changes I have made is precisely that, to stop snacking between meals. Within days of stopping I realized it was just a bad habit and really if I can wait a half hour for breakfast to be ready, and that's what I've been doing. In the mornings now I wake up with a lot of creativity, wanting to prepare a delicious and nutritious breakfast with all the macronutrients. In this case, I prepared some toast with avocado cream, cooked spinach, sweet bell pepper and onion and 2 boiled eggs. And this breakfast was so complete that it kept me satiated until lunch, I loved it!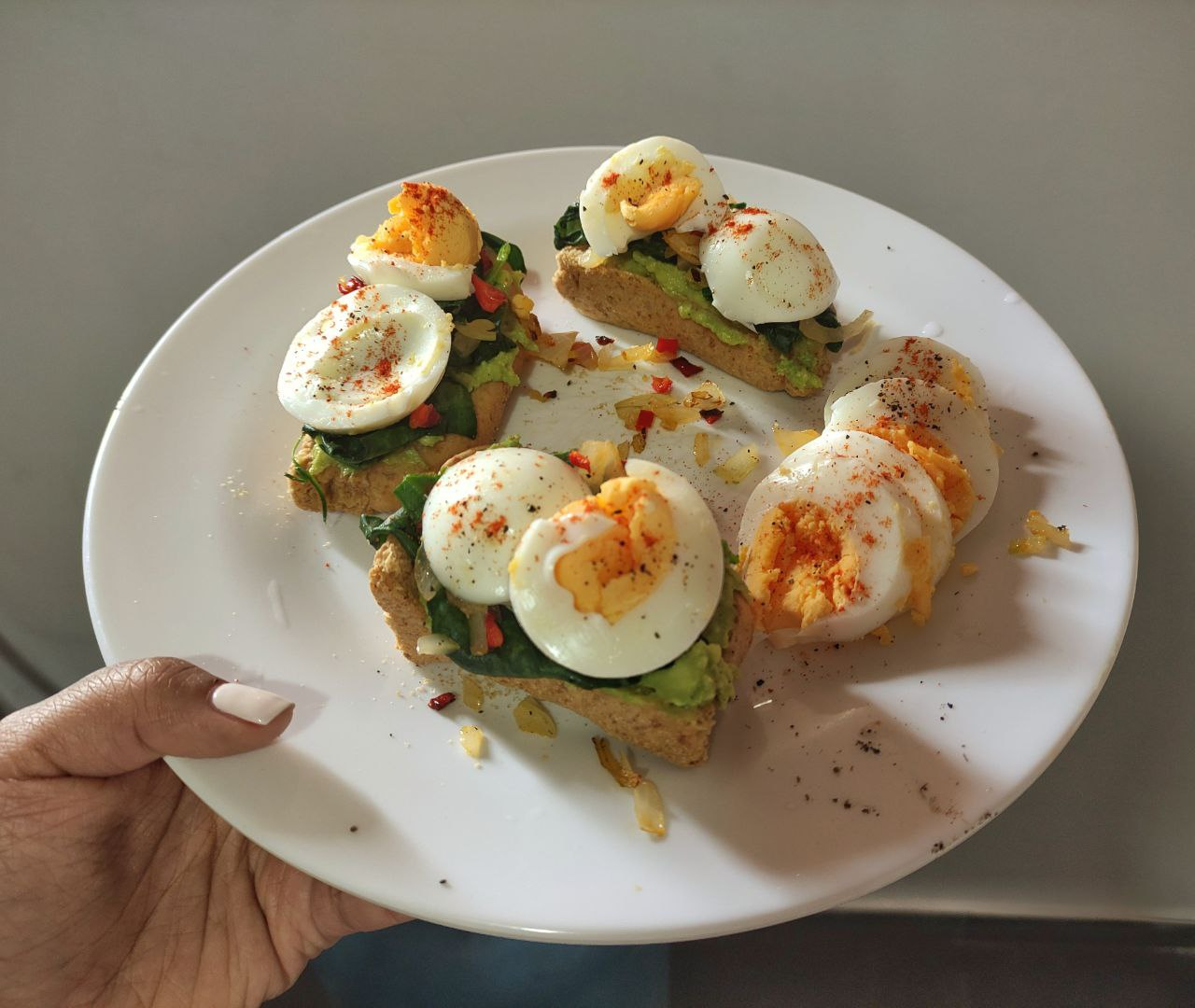 Almuerzo/ lunch
Los almuerzos a veces me dan un poco de flojera porque son los que más trabajo llevan. Lo primero que hago es pensar qué cosa verde o vegetal le pondre al plato, y de ahí armo lo demás 🤣. En este caso puse al vapor unos espárragos, preparé una pechuga con cebolla y ají dulce, una porción de arroz y una porción de aguacate. Esta comida tiene una anécdota y es que cuando compré los espárragos no les vi el precio, eran importados y estaban carísimos 🙈, entonces esta comida me salió más cara de lo común pero bueno! todo el plato estaba muy rico 😊
Lunches sometimes make me a little lazy because they are the ones that take the most work. The first thing I do is to think about what green or vegetable I will put on the plate, and from there I put together the rest 🤣. In this case I steamed some asparagus, prepared a breast with onion and sweet bell pepper, a portion of rice and a portion of avocado. This meal has an anecdote and that is that when I bought the asparagus I didn't see the price, they were imported and were very expensive 🙈, so this meal was more expensive than usual but well! the whole dish was very tasty 😊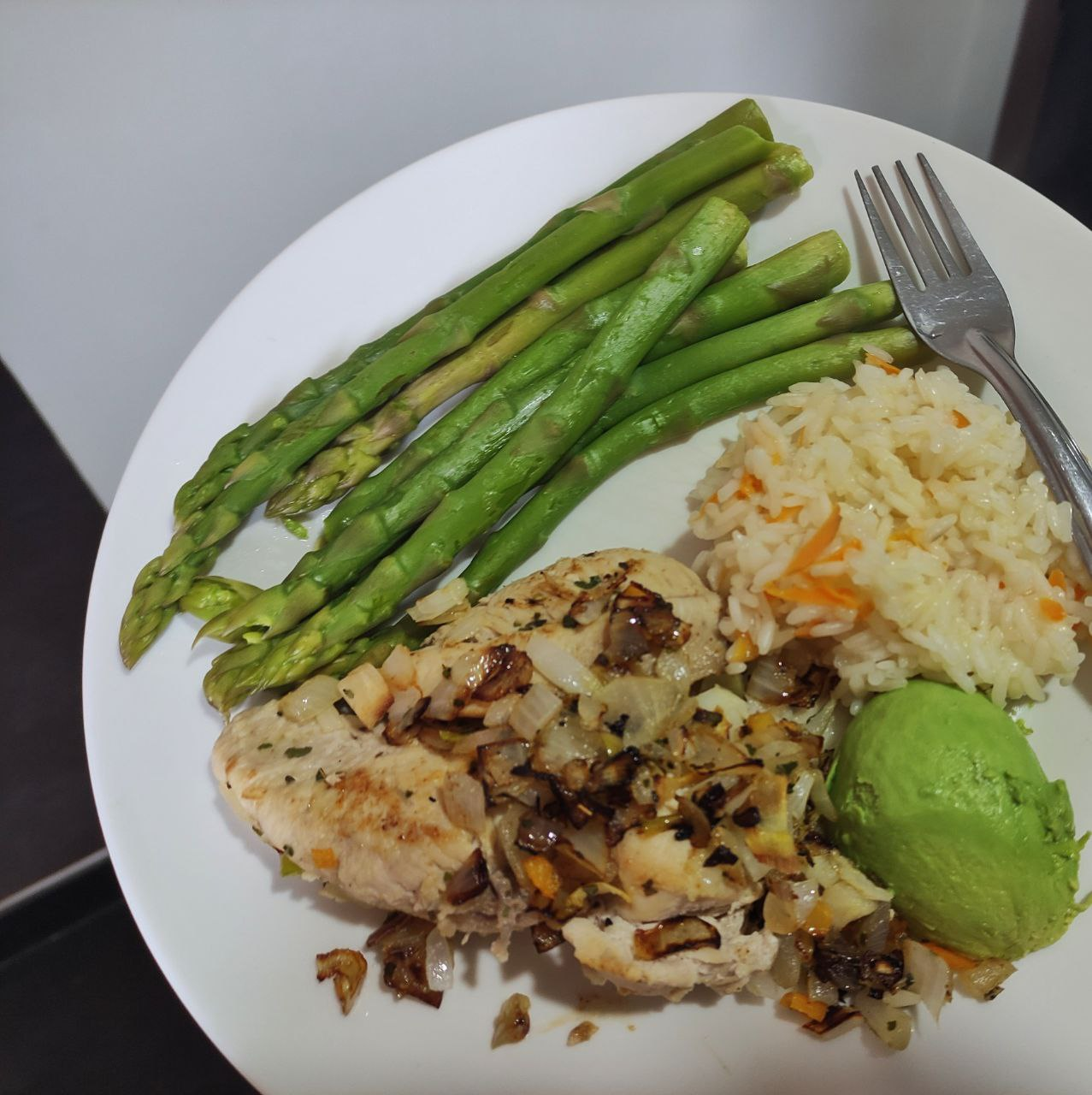 Merienda /Snack
Mi otro momento favorito del día: La hora de la merienda. Suelo prepararme yogurt griego sin azúcar con frutas picadas y algún cereal de quinoa o granola. Como ven, aquí estaría incluyendo productos "procesados". En estos casos hay que tener cuidado, pues aunque el producto diga en la etiqueta "Light" hay que leer con atención los ingredientes, pues en ocasiones se trata de marketing y no de un producto realmente saludable.
My other favorite time of the day: Snack time. I usually prepare unsweetened Greek yogurt with chopped fruit and some quinoa cereal or granola. As you can see, here I would be including "processed" products. In these cases you have to be careful, because even if the product says "Light" on the label, you have to read the ingredients carefully, because sometimes it is marketing and not a really healthy product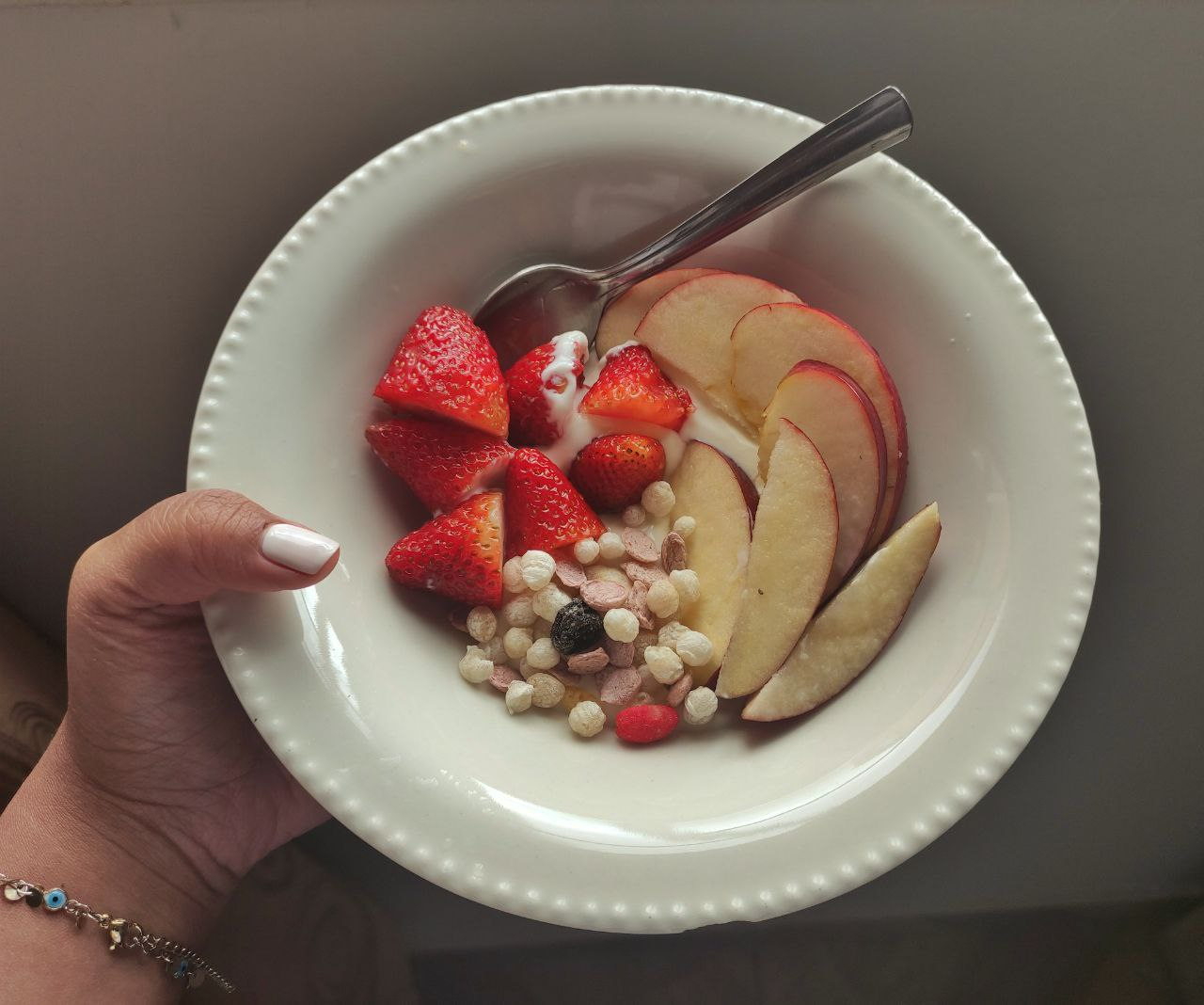 Cena/Dinner
Mi cena quizás no sea lo más saludable del mundo pues no tiene nada de vegetales 😥 pero es práctica, rica y dependiendo de las porciones y con cuáles productos la preparo puede ser más o menos saludable. Siempre me ha gustado cenar cereal con leche de vaca, pero en la actualidad la sustituí por leche de almendras y esa es mi cena :)
My dinner may not be the healthiest thing in the world because it doesn't have any vegetables 😥 but it's practical, tasty and depending on the portions and with which products I prepare it, it can be more or less healthy. I've always liked to have cereal with cow's milk for dinner, but nowadays I replaced it with almond milk and that's my dinner :)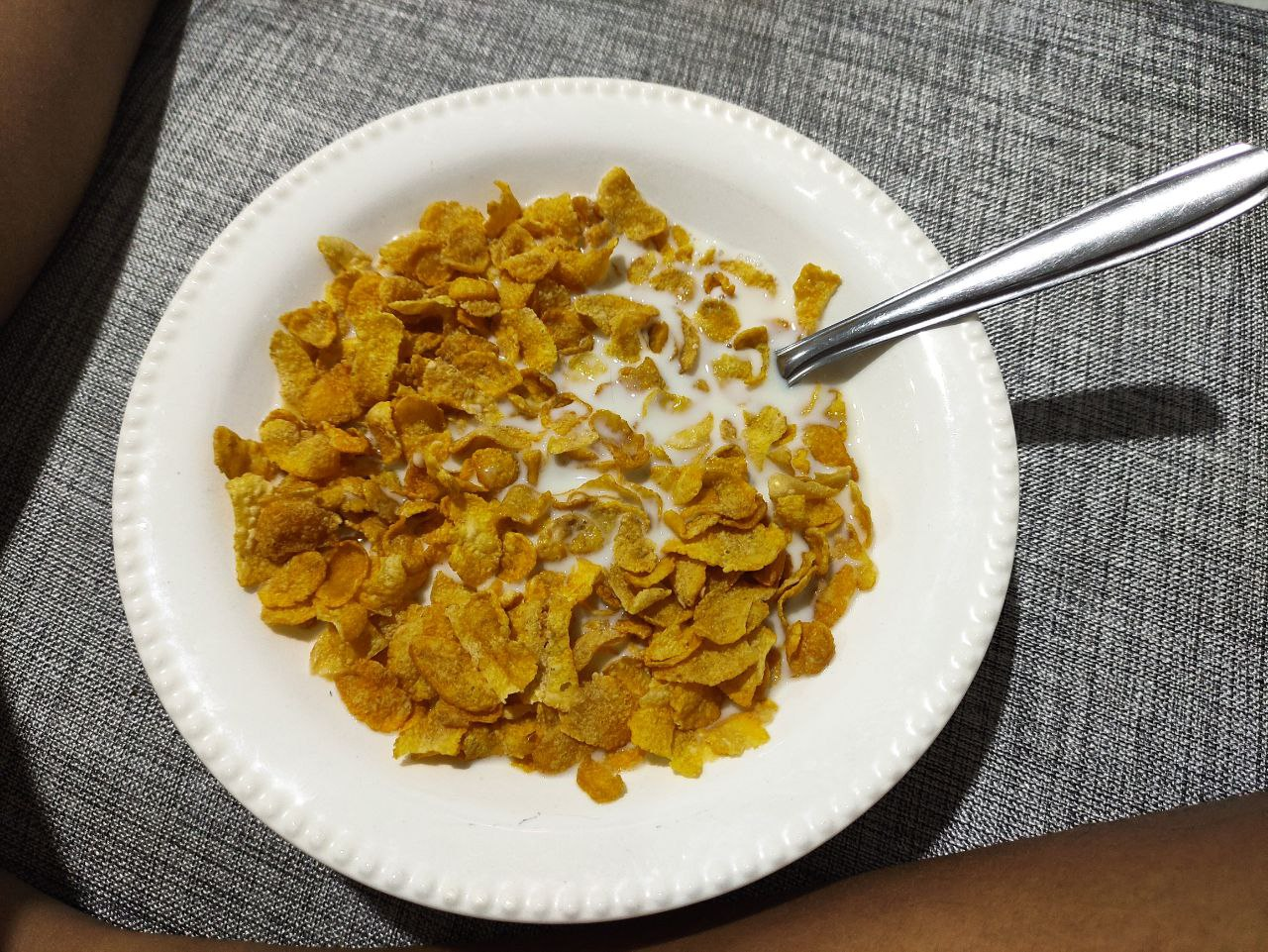 Como les dije, este menú lo estoy acompañando con un entrenamiento diario y ya siento el cambio 😊. Aún no me he pesado pero ya estoy sintiéndome mejor a nivel de resistencia física, energía y felicidad😉. Pronto estaré compartiendo otro diario de comidas saludables, muchas gracias por leer <3
As I told you, I am accompanying this menu with a daily workout and I already feel the change 😊. I haven't weighed myself yet but I'm already feeling better in terms of physical endurance, energy and happiness😉. I will be sharing another healthy food diary soon, thanks so much for reading <3.