I
---
One of the most common things I have at hand to photograph are trees... And when one gets used to scrutinize everything, trying to "extract" a photo from what others do not see, then the barks of trees become an inexhaustible source of motifs.
Una de las cosas más comunes que tengo a la mano para fotografiar, son los árboles...Y cuando uno se acostumbra a escudriñar cada cosa, procurando "extraer" una foto de aquello en lo que otros no la ven, entonces las cortezas de los arboles se transforma en una fuente inagotable de motivos.
---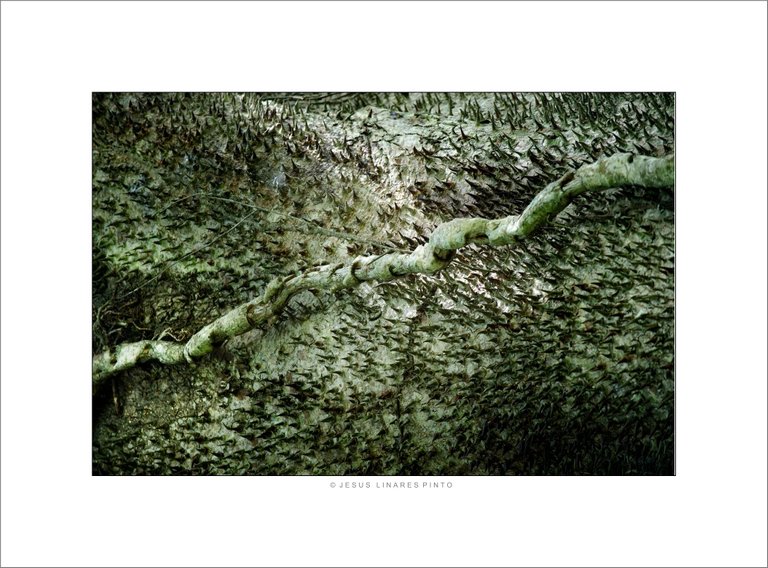 II
---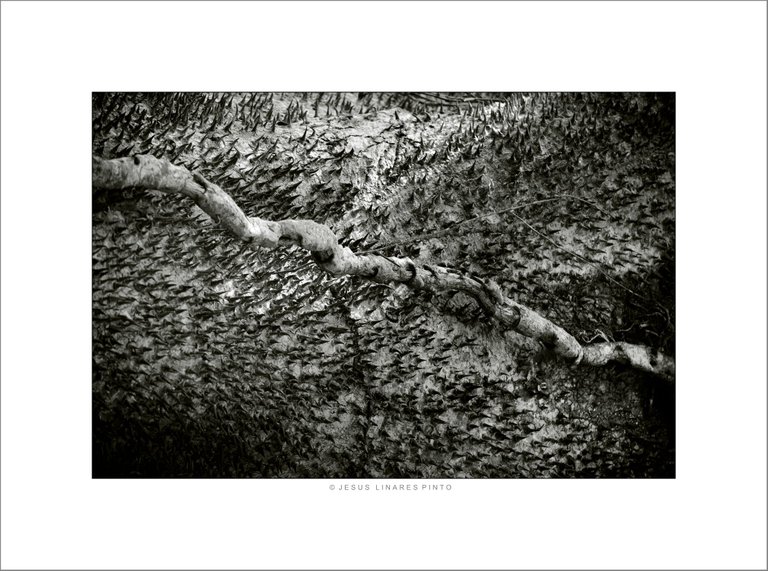 III
---
This is therefore a series of photographs prepared in exhibition mode, with the aim of conveying to the viewer the seemingly inexhaustible number of possibilities offered by things as singular as the bark of a tree.
Esta es entonces una serie de fotografías preparadas en modo exposición, con el objetivo de transmitir al espectador la aparentemente inagotable cantidad de posibilidades que nos ofrecen cosas tan singulares como la corteza de un árbol.
---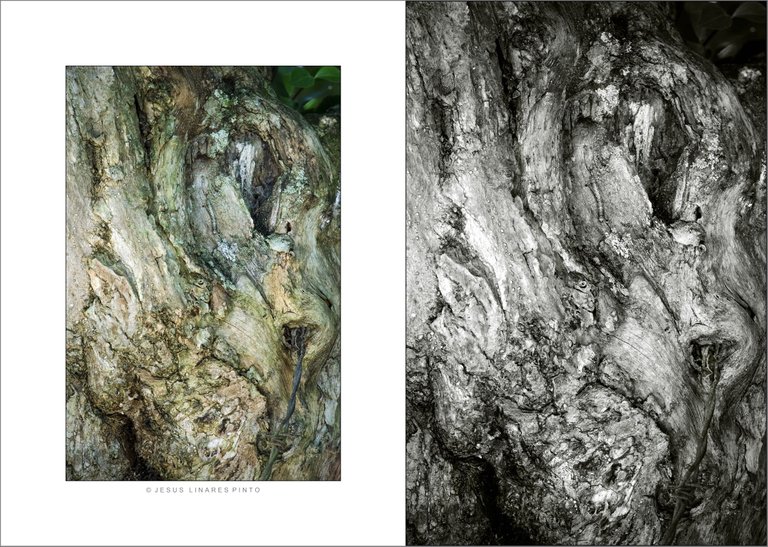 IV
---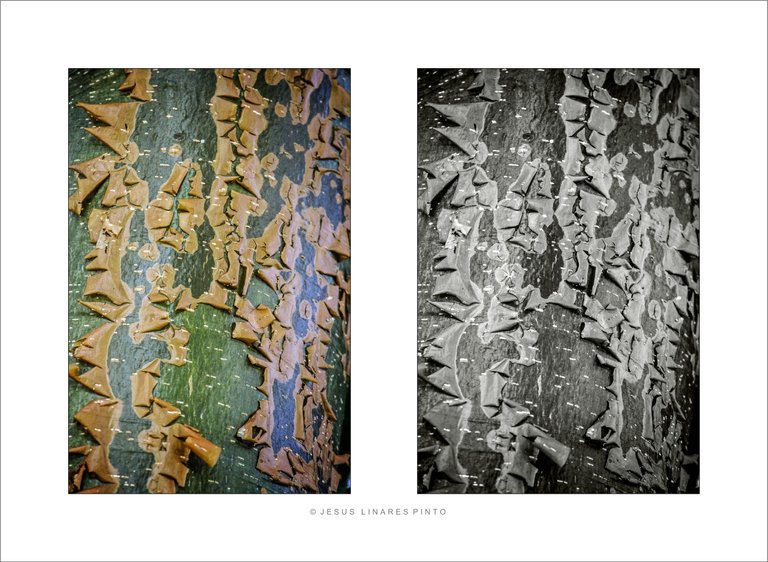 V
---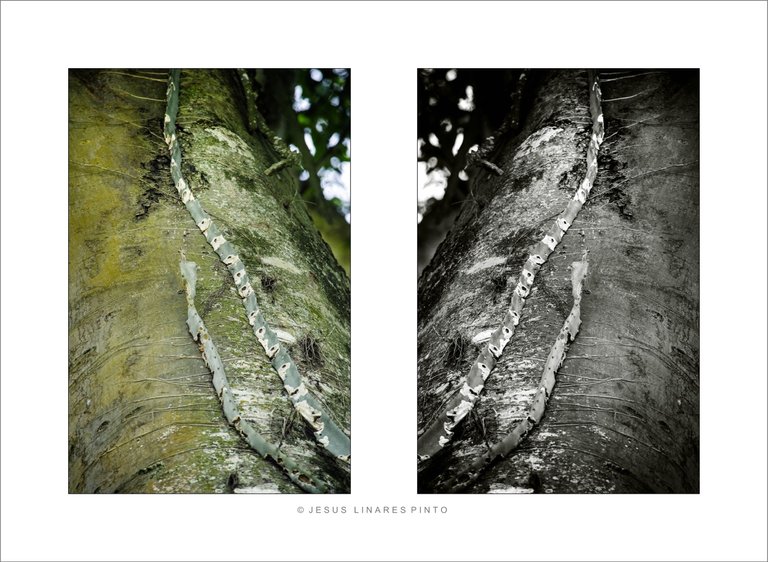 VI
---
I have titled this series "Abstract" precisely because in the surface textures of these barks, there seems to be no obvious order or defined patterns, but a kind of "chaos" inherent to life and its interaction with the environment. Something marvellous from my point of view, for there I find "scars" that speak of time past and of life continually emerging on its own until the present.
He titulado esta serie como "Abstracto" precisamente porque en las texturas de la superficie de estas cortezas, no parece existir un orden evidente ni tampoco patrones definidos, pero sí una especie de "caos" inherente a la vida y a la interacción de esta con el entorno. Algo maravilloso desde mi punto de vista, pues allí encuentro "cicatrices" que hablan de tiempo pasado y de la vida emergiendo por si misma continuamente hasta el presente.
---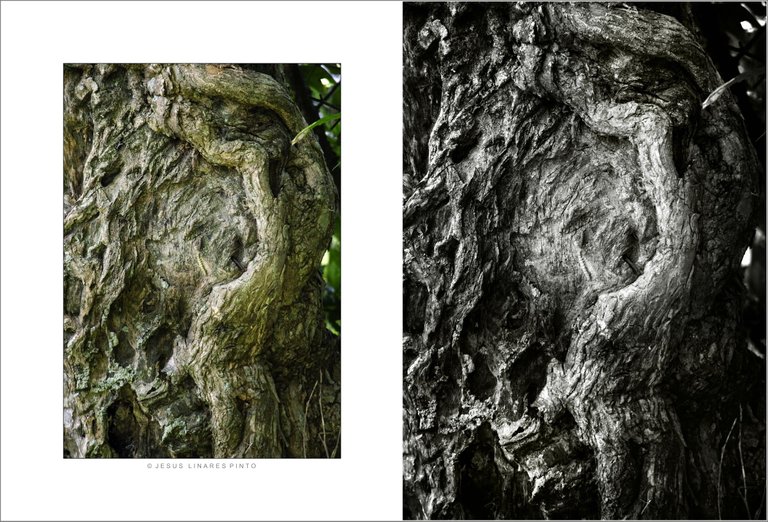 VII
---
From the technical point of view, these have been relatively easy photographs to manage... I have started from captures under the trees with high ISO (800 to 1000 as necessary) to avoid the use of flash at all costs (I am averse to using flash outdoors and almost anywhere)... And apertures of F/8 with my old Nikkor 55-300mm zoom... Actually this was an excursion where I wasn't planning to do this kind of photos, but that old lens at 55mm does ub good job and allows me to be quite versatile.
Desde el punto de vista técnico, estas han sido fotografías relativamente fáciles de gestionar... He partido de capturas bajo los árboles con ISO alto (800 a 1000 según fuese necesario) para evitar el uso del flash a toda costa (adverso usar el flash en exteriores y casi en cualquier parte)... Y aperturas de F/8 con mi viejo zoom Nikkor 55-300mm... En realidad esta era una excursión en la que no tenía planeado hacer este tipo de fotos, pero ese viejo lente a 55mm hace un buen trabajo y me permite ser bastante versátil.
---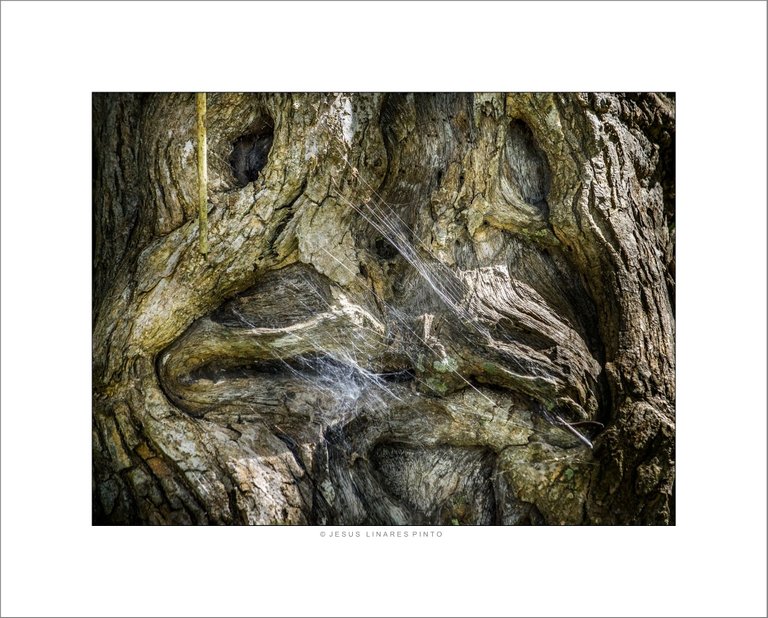 VIII
---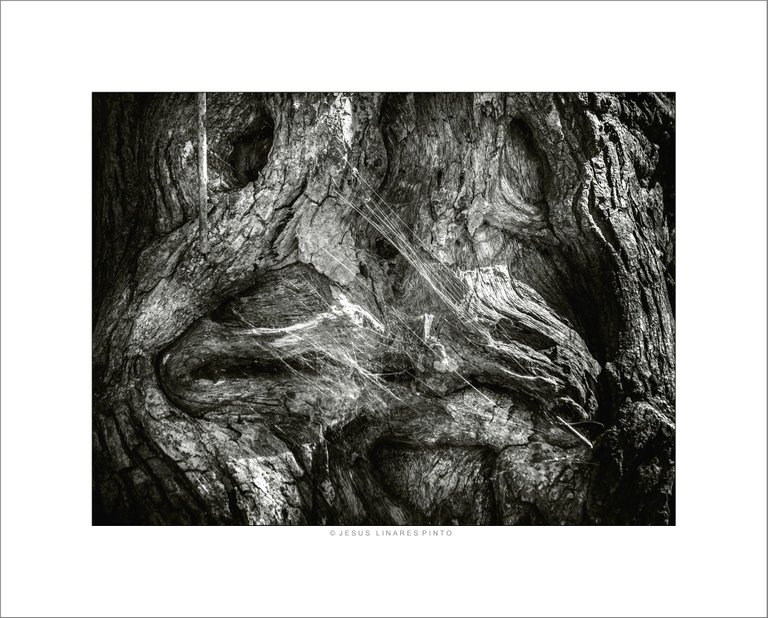 IX
---
The post processing was also relatively simple, using Adobe Camera RAW to "practically" achieve the final result in colour and take it to JPG... Once in JPG and using Adobe Photoshop I took the images to "Color Lab" mode, selected the luminance channel in inverted mode and converted everything to "Grayscale"... The fill adjustments (black uniform colour) and luminosity levels were made with adjustment layers, which I then overlapped to convert the final JPG to black and white.
El post procesado fue también relativamente simple, usando Adobe Camera RAW para "prácticamente" lograr el resultado final en colores y llevarlo a JPG... Una vez en JPG y usando Adobe Photoshop he llevado las imágenes a modo "Color Lab", seleccionado el canal de luminosidad en modo invertido y pasado todo a "Escala de Grises"... Los ajustes de relleno (color uniforme negro) y niveles de luminosidad los hice con capas de ajustes, las cuales posteriormente solapé para convertir en el JPG final en blanco y negro.
---

X
---
Vignettes, light and shadow patches, framing and watermarks were done in PhotoScape, where I also made adjustments to the photo sizes as needed.
Las viñetas, parches de luz y de sombras, enmarcado y marcas de agua, fueron realizadas en PhotoScape, donde también realicé ajustes en los tamaños de las fotos según fuese necesario.
I hope you will enjoy appreciating this photographic series.... Thank you very much for looking, visiting and reading... Greetings to all!... See you soon in this corner of #Hive very soon...
Espero que les agrade apreciar entonces esta serie fotográfica... Muchas gracias por mirar, visitar y leer... ¡Saludos a todos!... Nos vemos pronto en este rincón de #Hive muy pronto.
---
END / FIN
---
"We make photographs to understand what our lives mean to ourselves." - Ralph Hattersley.
"Hacemos fotografías para comprender lo que nuestras vidas significan para nosotros mismos." - Ralph Hattersley.

Camera: Nikon D7000 | Lens: AF-S DX NIKKOR 55-300mm f/4.5-5.6G ED VR
Cámara: Nikon D7000 | Objetivo: AF-S DX NIKKOR 55-300mm f/4.5-5.6G ED VR
Montalbán, Carabobo, Venezuela.