Im sick of paywalls if a news site has been shown to me by google news...and i just discovered websites exist to remove them.
so scroll down and you can freely find out how to read that article from san diego union tribune archive... fuck it just read it here. im not planning on making this a habit but this news story is important for me to show to people and im not payong to read someones blog post lol
those paywalls are not the answer anda hive massive upvote system would require a partnership with a larhe forum or a chrome extension to allow everuone to use a hive account to upvote any website kinda like brave browser BAT tip system
anyway heres the #sandiegouniontribune article archive about filming movies in san diego
its so important to me to get this story out so im reposting it to hive. anyone else here in san diego? Whats your take on union tribune thinking they can make us pay to read an itrelevant online news article?
i suggest we have a local news blog network for hive so people can begin to create a reporter system decentralIed investigative journalists etc
remember @stray and his @wallstreetpirate controversy?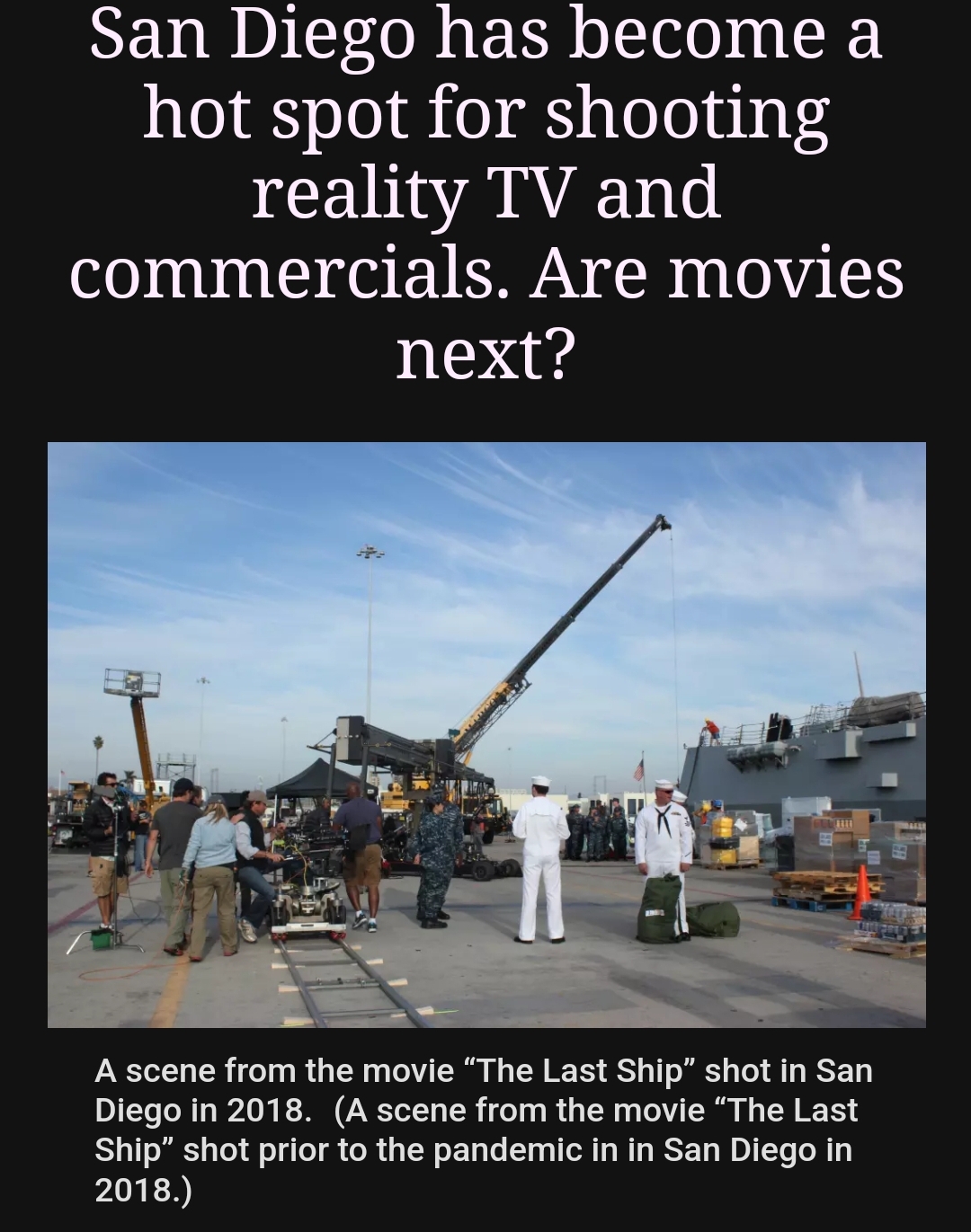 (A scene from the movie "The Last Ship" shot prior to the pandemic in in San Diego in 2018.)
SAN DIEGO — Labor strife in Hollywood and more aggressive recruiting by San Diego officials have spurred a recent surge in local production of reality TV shows and commercials.
City officials say they expect the surge to accelerate and spread to movies and scripted TV as they streamline permit approvals under a new pact being negotiated with the county and separate deals with other local cities.
San Diego officials are also analyzing competing cities' filming incentives and regulations, promoting San Diego at trade shows and posting all the area's scenic vistas on websites used by film industry location scouts.
ADVERTISEMENT
A shortage of local indoor soundstages and other crucial infrastructure could complicate any efforts to revive San Diego's filming heyday, which included shows like "Simon & Simon," "Renegade," "Silk Stalkings" and "Veronica Mars."
But city officials say the recent surge is making them feel confident and ambitious.
"We've seen filming increase exponentially over the last 12 months," said Guy Langman, who took over the city's filming office in spring 2022. "We've gone from an occasional national commercial to having those monthly now."
Strikes by Hollywood writers and actors helped fuel the surge by shifting the focus of production to commercials and reality shows — areas where San Diego already had a strong recent track record.
"We've become a beacon for reality filming, commercials, docuseries and travel shows," Langman said. "Commercials is a big business for San Diego, and it really exploded for us this summer because of efforts courting Hollywood and those productions to come down here as an easier alternative to the Los Angeles area."
Examples include a recent Cadillac commercial featuring Balboa Park's Cabrillo bridge, a U.S. Navy Reserves ad, a Visit California spot filmed at the Rady Shell and a locally filmed Nike ad that aired during the Women's World Cup.
The surge in reality show filming includes "The Bachelorette," "90-Day Fiance" and two shows that haven't yet aired: "The Great Christmas Light Fight," which was filmed in South Bay neighborhoods, and "Expedition Unknown," which was filmed in Balboa Park and Point Loma.
Langman said San Diego's ideal weather and remarkable scenery put the city and region in a strong position to attract more productions.
"We have desert scapes, we have snow-capped mountains, we have fantastic beaches and parks and we have amazing neighborhoods," he said. "We have everything L.A. has, but we are way nicer and way easier."
Officials say a key step will be a memorandum of understanding with the county government, which launched a regional film office in 2021 to coordinate and streamline local recruiting
Negotiations begin this week on the MOU, which aims to give the region a unified image and easy-to-navigate regulations for production companies.
Government officials want to attract more productions because they make an economic impact that includes hotel room stays and restaurant meals for entire casts and crews. They also boost tourism by showing off San Diego's most appealing features.
Some productions also renovate aging infrastructure, pay to have buildings repainted or put up murals and other permanent features that can boost an area, Langman said.
But city officials say they are cautious about allowing film activities that would damage parks or limit public use too frequently.
"While we want to bring in filming and economic activity, we want to protect those parks, beaches and public spaces for our community," he said. "So it's a balancing act we're doing every day."
Separately from the county MOU, San Diego officials are trying to coordinate with other local cities. San Diego officials presented their ideas to a gathering of local city managers last month.
In May, they gave a first-of-its-kind tour of top San Diego filming locations to more than 25 location scouts from Hollywood. They also attended the American Film Market convention in Santa Monica last week.
Langman said he is also working to get every strong shooting location in the city uploaded to an online location scout website by the end of 2023.
Natasha Collura, head of the city's special events and filming office, said the city is analyzing the incentives and regulations of other cities. She noted that San Diego does not yet have any tax incentives to offer.
Council President Sean Elo-Rivera said San Diego should negotiate from a position of strength, because the city offers some filming vistas that are unmatched anywhere in the world.
"I often have felt San Diego doesn't own that," he said. "We forget how great we are in terms of positioning and say 'Thank you for even considering us' as if we are some Podunk town."
article by David Garrick
https://www.sandiegouniontribune.com/news/politics/story/2023-11-07/san-diego-has-become-a-hot-spot-for-shooting-reality-tv-and-commercials-are-movies-next