If plastics are not collected, recycled or burned, they end up in the oceans.
They are ingested by birds and fish and cause an ecological catastrophe, a generalized ecocide.
Several projects have emerged to remove plastics from the oceans but the task is enormous, when it is so much easier to put them in the trash before they reach the oceans.
4ocean sells bracelets. Fundraising helps finance ocean cleaning
The Ocean cleanup develops advanced technologies to clean the oceans.
The sea cleaners invents a solar powered boat to collect waste. The Manta, a giant sailboat, takes on ocean plastic pollution.
https://www.theexplorer.no/ Norwegian technology cleans the oceans from plastic pollution and recycles plastic waste
CLEAN PLANET rewards all citizens who pick up litter before it reaches the oceans. Take part in the crowdfunding campaign with us!
https://www.cleanplanet.io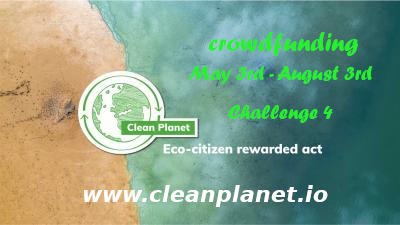 Challenge 4/9
Reply to this post with a a picture of your favorite beach.
Previous challenges:
Take part in our campaign:
Payment in cryptos:
The Hive CLEANPLANET account is @cleanplanet.
The D.tube CLEANPLANET account is @cleanplanet.
The Seeds CLEANPLANET account is clean4planet.
BTC address: 1N9mvXdUVp6FKc7uZtsz6hpkc9BbauMVJr
Ethereum address: 0xC0b92055Aa0CE4c4727dE5104a78cA52c1Dc5030
Payment in $, euro or CHF:
Use the Paypal app on https://www.cleanplanet.io and the address [email protected]
Join us on Discord https://discord.gg/qdUR4KA
Thank you and see you soon for a new challenge!