CLEAN PLANET pays people who collect and sort waste all over the world!
This is possible thanks to the properties of the Hive and D.Tube blockchains.
When you post a short video that shows your civic action, CLEAN PLANET is informed and values ​​your video or post.
Several videos and posts explain in detail how CLEAN PLANET works, but
The best is to try.
Thanks to the partnership with the SEEDS community, you can now earn 500 Seeds by collecting trash.
On May 3, CLEANPLANET starts its crowdfunding campaign !!!
The goal is to collect 3 million Euros in 3 months.
This capital will allow the purchase of more Hive and D.Tube tokens
These tokens are not spent! It is how staking works that generates new tokens on the DPOS blockchains.
More detailed explanations are given [here] (https://hive.blog/trending/hive-150210).
How will the money be used?
90% of funds raised in Euro will be sent to the exchange platform of Binance, the leader in token buying. These Euros will be converted into Hive and D.tube and sent free of charge to CLEAN PLANET's electronic wallets, secured by long private keys.
Of course, you can participate in the campaign by sending tokens to one of CLEAN PLANET's electronic wallets
Associations and individuals are welcome to participate in this crowdfunding campaign. A successful campaign requires the commitment of many supporters. You can also participate by forwarding this post to your favorite media so that all your friends are in the know.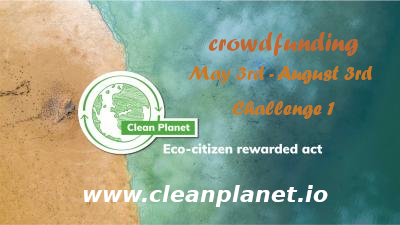 CHALLENGE 1/9:
What's your favorite environmental magazine?
If you respond to this post by giving us the address url of a webzine dealing with environmental topics, and if you tweet the link to this post to a journalist of your favorite webzine you will earn a full CLEANPLANET upvote.
Small, clean streams make big, clean rivers.
A successful crowdfunding campaign requires significant media coverage. Can we have 100 webzines covering our campaign?
The great thing about DPOS blockchains is that there are no transaction fees, 1 million people can send 5 Hive to @cleanplanet at no cost! You can also send $, euro or CHF from the link on the https://cleanplanet.io website.
Among the 450 million Europeans and 350 million Americans, is there 1 million people to help us?
Keep smiling!!
A new challenge will be post on this CLEANPLANET every 9 days for the next 81 days. We will keep you updated on the progress of the campaign on this platform.
Hive CLEANPLANET account is @cleanplanet.
D.tube CLEANPLANET account is @cleanplanet.
Seeds CLEANPLANET account is clean4planet.
Donation in $, euro and CHF with Paypal on www.cleanplanet.io at [email protected]
Join us on Discord at https://discord.gg/qdUR4KA