A story about bitcoin, crypto, blockchain, and life.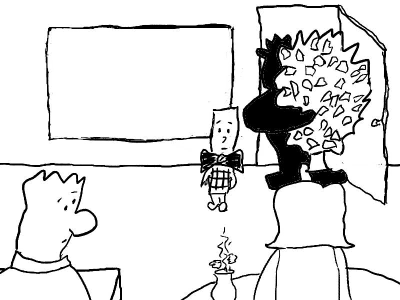 Bitkenstan has a running story line.
Earlier episodes can be viewed on the Hive blockchain at https://peakd.com/@bitkenstan

bitkenstan.com

Transcript
Hilda: Wow! That's a lot of flowers. I guess you can put them here. (gestures to her desk and vase, picks up vase) Stanley, hold your wildflowers. (hands flowers over) Right here. (gestures to desk, Mr. Fitts sets huge bouquet on desk then leaves)
Mr. Holler: He's not too chatty.
Hilda: Thank you.
Mr. Holler: There's a card in there. Somewhere. A message.
Hilda: I see it. I have a letter for him. (Stanley is concerned) Right here. (hands letter to Mr. Holler)
Mr. Holler: I'll deliver it now. (leaves)
Stanley: (looks at his small wildflowers, to the huge bouquet, back, looks concerned)
Creator: Poor Stanley.
Originally posted July 7, 2020 at
---
Official NFTs have arrived to Bitkenstan! It's possible to actually own each episode. View the NFTs at https://wax.atomichub.io/explorer/collection/bitkenstanxx
---
Bitkenstan is the webcomic that became the world's first NFTcomic on bitcoin, cryptocurrency, blockchain, and life.
It began with @bitkenstan on Twitter and is now upgrading over to the Hive blockchain. (join Hive)
Visit @bitkenstan on Twitter, @bitkenstan on Hive at https://peakd.com/@bitkenstan, or learn more and see the playlist at bitkenstan.com