I'm looking for a place in the city where Diablo/Diabolika's allowed. And so far, it's been difficult. As I search the web and FB marketplace for a potential new home for me and my demonic kid, I see there are not that many pet-friendly condos and apartments out there. It sucks! I mean I get the noise should be minimized when you are living on top of one another in the urban jungle and everything. And I myself don't want to live next to dogs (literally and figuratively). But then are we just going to be perpetually depressed and severally isolated in a capitalistic modern environment without our furry furiendly companion and emotional support? Seriously what the hell is this? What kind of witchery is this? A system that doesn't care about our mental health? Shocking. Seriously tho lords should at least allow cats. I promise mine don't bark at all.
Me and my black heart.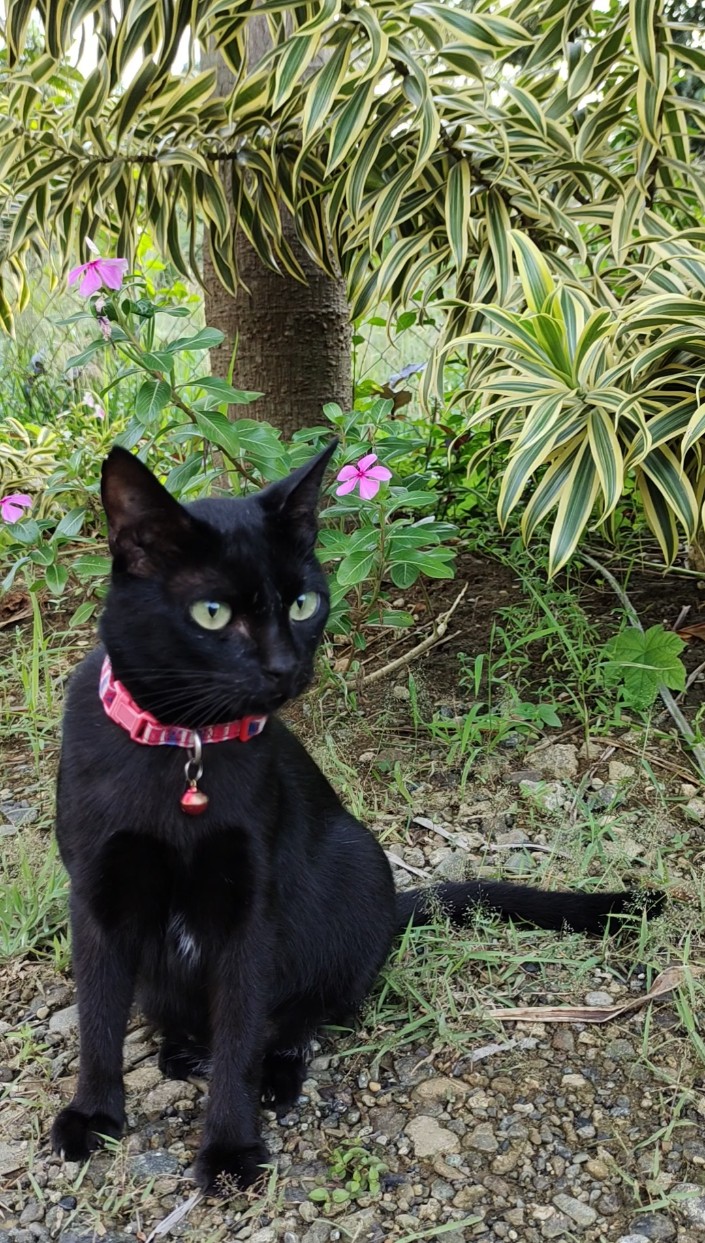 Sorry but I can't give up my Diablo. I can't live alone without my personal demon. Who's gonna be my raid warrior? I heard there are many nasty bugs a.k.a. roaches in a big city. Ewww. I can't. I just can't live alone. I need my prince of darkness.
But why oh why there are trade-offs to everything? Here I am in a good place in the country where Diablo can roam free and destroy anything that gets in the way. Our lives have been peaceful and I could save some money even. And yet, I am going mental. Slowly slowly degenerating. I just can't have it all in this life, can I? It turns out, I still need people. What @diabolika you need people??? Yes, otherwise I wouldn't be talking to myself right now on this post. You heard that right. It turns out, I still need people. Like "my people". Fellow misanthropes of the world should unite.
I've been eyeing some fancy high rises in city center that I could probably afford (I can survive on eggs and lettuce), and also where roaches couldn't reach lol. But those newer buildings usually don't allow pets (extremely evil landlords!). Now I'm left with old buildings that are cheaper but mostly likely with a huge roach problem eeeew. They are everywhere even in my dreams huhuhu. I know I just have to be clean and all but what if my neighbors are slobs? It's not me!
Leaving my comfort zone and moving back to civilization can be exciting and stressful at the same time. But at this point in my life, I'm not only worrying about myself anymore. I'm worrying about my cat too. So for those of you who are looking into getting a pet companion, get a pet tarantula, iguana, or something. Cats and dogs can reduce your life options to 50% lol.
It's crazy how rents have gone up and it's like how can ordinary people ever gonna afford to live in those places close to their work. I see mostly foreigners who can and they are even allowed to purchase those units. I feel like if ever I move in to one of those apartments, it will make me feel like I'm in a China building or that I'm living in some foreign country, again. Most locals don't get to live in those expensive places. How can we live?
So yeah, I won't ever give up on Diablo especially when he's the only one who's been by my side these past few years. I guess I just have to adjust my life for him. Maybe I can go for a cheaper rent in one of the old buildings so I can still save money and keep the cat. What do you think? My fear of bugs might kill me though. I think you gotta be rich if you want to avoid pests in life. This is basically my prime motivation for becoming filthy crypto rich, to avoid filthy pests, all kinds, in human form too.
Looking forward to our shoebox life. :)
The black hearts club...