I've been planning to do this for some time. I've been planning to change my profile photo with a nice Punk. Have been looking around on the market, to see which one fits me better and my pocket as well. Obviously there are a lot of good ones out there, but it all comes down to price. After some thinking I thought it's best if I just transfer one of my Punks from my main account and I chose this one.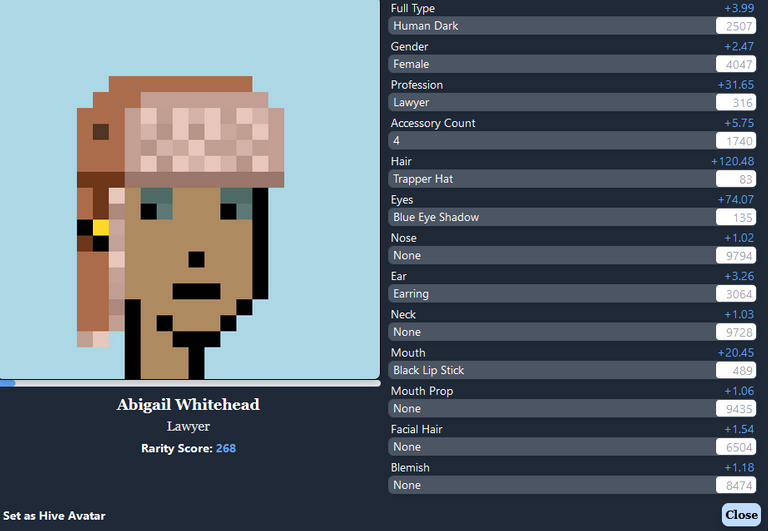 source
Abigail Whitehead doesn't look like me, but she looks nice and I love her name. Her skin is dark, mine is not. She's a lawyer, I'm not. I like her trapper hat. Up until now I had no idea this hat is called trapper hat, so today was not a complete waste, as I've learnt something 😂 Abigail is wearing make-up (blue eye shadow) and yellow earrings. She must be a nonconformist as she's wearing black lipstick. That's all I can tell you about her. Let's see if she will be able to win you over.
So this is my first Punk on this account and most likely will be the last one as my collection is on my main account. But I needed this for my new profile, before I start my new project.

On another note, I stopped posting actifit reports, but that doesn't mean I stopped walking. I have an app that seems to be counting fairly, so I'm going to post some stats from time to time, just to motivate myself. This is for today, 7689 steps, so I missed the 10k target.
I like this app because it shows how many kilometers I've walked. Calories burnt is irrelevant as it's an estimation that can be right or wrong and it means nothing if it's not compared to calorie intake.