I first started in HIVE a little over a month ago, I was a lonely, scared, confused little fish who was not sure what it was doing. I remember getting so confused when I could not post again due to an angry red box and something about RC ( I remember trying to work out why a remote control car was stopping me from posting!) This was despite me being very lucky to have a good invite host @knowhow92 who staked me some HIVE and pointed me in the right direction, even wrote me a nice introduction to Leo!
Luckily for me on my second confusing day a very friendly person dropped a comment suggesting I join a discord channel called Terminal, not knowing what I was about to embark on I went for it! While I went in with trepidation I was quickly and warmly welcomed and shown the ropes, both official and unofficial, of HIVE. For every question an avalanche of friendly, helpful answers and advice was given.
When I ran out of RC I had barely even hit send to ask for advice on how many blogs you could write before running out before a member of the community @kittygirl jumped in and delegated me enough RC to allow HIVE to keep up with my ideas, blogs and comments.
For every blog I did, Terminal advice was given from so many incredible different members on better writing, tagging, communities, it was truly amazing to see such freely given positive energy from what I would call strangers, except how can you call those who daily help, encourage, chat and pass you beer, LUV and Wine strangers ?
Ok so why write all this on a PUD post? On my second day the chat was filled with PUD comments and I learnt about this magical day of powering up your HIVE. Of course at this stage I don't think I had even received any HIVE yet, so it all felt like a dream to ever have enough HIVE to powerup! However it did give me an idea, a target, dare I say it, a dream ?
Remember when I said the @kittygirl jumped in to keep me blogging? They delegated me 60 HIVE, which has been more than enough for me to blog and comment to my heart content, and I have seen them and others from the Terminal do it for countless other tiny fish to get them going. Despite my repeated attempts to give it back they have kindly let me keep it to continue doing what I do. What i really wanted to do was earn enough HIVE to sustain myself (60 HIVE) and give back this gift to be reused for the next little fish in need.
So what did this PUD get me? Besides a cool HIVE badge? It got me over the line of 60 HIVE in one month and let me hit my target!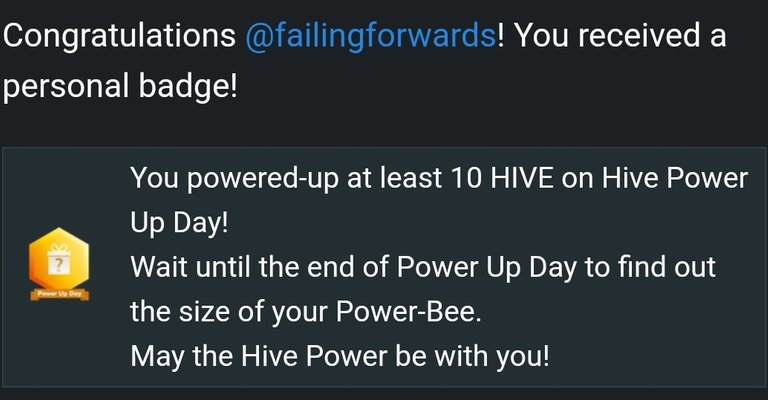 So thanks Terminal and thanks HIVE for taking a small little ignorant fish and transforming it into a slight bigger, slightly less ignorant fish!
P.S I would be remiss not to mention my good friend @stayten who upon learning I was at 7 HIVE to power up sent me 3 more before I could blink so I could hit 10 on my first PUD!
---
Posted via proofofbrain.io