@edicted was the account which gained in the rich-list the most. It jumped 17 positions in one week. There were two new accounts @teapassion and @anadolu which entered in the rich-list. In another development @amr008.pob account lost its 3rd position to @richardcrill.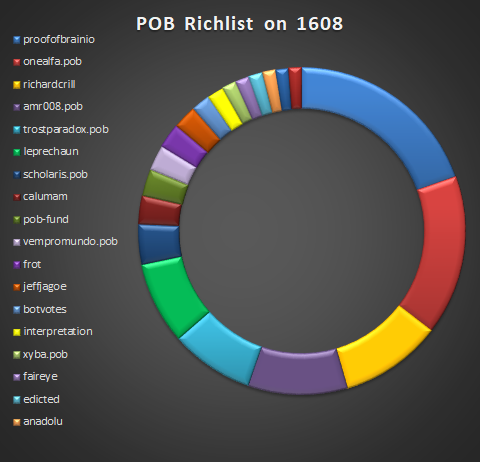 Summary of the Rich-list Changes
As many as 2108 accounts had zero or close to zero balance in their wallets on 16.08.2021. Last week it was 2024 accounts.
As many as 43% of the total accounts have negligible balance, last week the total % of zero balance account was 42% of the total.
23 out of 50 maintained their ranks as it is, last week it was 19.
9 Out of 50 saw their positions going down, last week it was 23. This indicates that the rich-list accounts are back in action and have maintained or improved their ranks except these 9 accounts.
17 Out of 50 saw their positions improving, last week it was 10.
2 Were new entrants to this list.
We are not yet able to replace @null from the richlist.
Top 50 Rich Accounts
Influence of Top 50 POB Holders
Last week when I posted the statistics, there were 992597 POB tokens staked in the #pob power. Out of these 691898 POB power was staked in these 50 accounts.
This week the total POB power locked in the stakes is 1054407 and the total power with top 50 rich accounts increased to 645985.
Which means out of the total power staked, top 50 Rich accounts control only 65% of the total power. The staked power of top 50 accounts seems to be stabilizing.
However, another interesting fact about the rich-list is that there are four accounts which are not staking any power but are in this list due to the delegations they have received.
How much POB Power you need ?
In order to be featured in this publication, you need atleast 3313 POB power staked. This amount keeps changing every week, last week it was 3250.
This indicates that the competition to get in the rich list has increased further.
---
Posted via proofofbrain.io