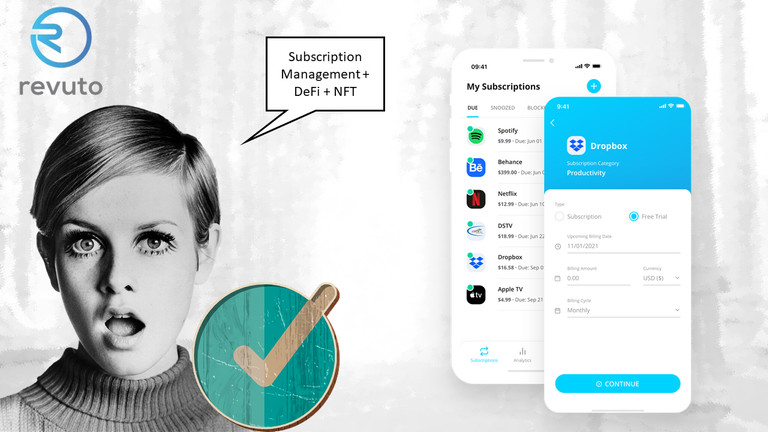 The growth strategy for business has dynamically changed in the last decade. Nowadays, all businesses are focusing on generating subscription for their services as the success formula depends on maintaining relationships with customers. The top global companies are really trying very hard to generate subscription-based service models. The subscription economy is growing at a steady rate and the digital consumption strategy looks potentially promising to drive future revenue. The problem is that these subscription schemes are often very fishy. They steal money from the users with free trial-ups and often there are hidden agendas. Revuto is the first DAPP built on Cardano which wants to give you control for your subscriptions. The project recently conducted the first token sale on Cardano and raised $10 million.
DeFi powered subscription-manager
Revuto wants to leverage the Cardano ecosystem to pay for subscriptions. They'll offer an intuitive dashboard to easily manage your subscriptions. With the help of blockchain technology, they want to redefine the customer experience with complete transparency. Revuto DAPP will help you to block, snooze or approve subscription charges as they occur. Revuto Virtual Debit Cards will help you to utilize Cardano ecosystem tokens and you'll be able to get cashback in REVU tokens when you pay for your subscriptions. DeFi is the hottest buzzword today and how can a DAPP be popular without utilizing the true power of DeFi? Revuto will help you to earn yields on your REVU tokens when providing liquidity to the protocol. Sounds exciting!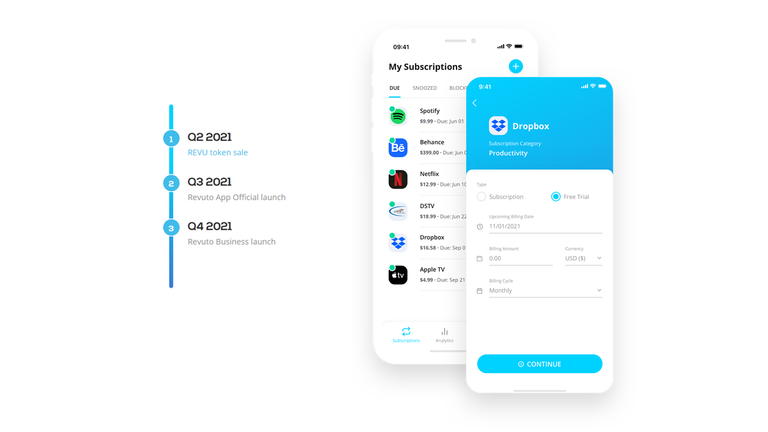 Microloans
REVU token holders can quickly access working capital (denominated in stablecoins) which will allow the micro-borrowers to pay subscriptions and other recurring payments on time without liquidating REVU holdings. REVU token will be used as collateral at a 2:1 LTV. Thus, the token holders will be able to retain exposure of REVU while accessing cash for subscription payments and repay layer at a fixed interest rate. REVU can be borrowed from the liquidity pools to pay for subscriptions also. The total micro-lending system will be permissionless.
Also bringing NFTs
"NFTs can represent just about anything — artwork, music, real estate (virtual and real-world) — and we're determined to build a dynamic platform that responds to users' needs while delivering superior UX and genuine value." – Revuto blog
This recent blog post of Revuto states their plan to diversify into non-fungible tokens (NFTs). The team is developing their very own NFT platform and marketplace for Early Bird Tier 1 investors and they have a plan to fully integrate NFTs into the Revuto app. NFT craze has just started and Revuto wants to offer a unique experience to the platform users via NFTs. It'll also offer a fresh use case for REVU token. The NFT platform is supposed to go live by next week with its own separate domain. The NFT marketplace will be functional later on. The integration to Revuto DAPP will occur in the near future.
Revuto looks ambitious to create a value-generating system by integrating subscription management service, DeFi & NFTs. Billions of dollars are already flowing into the market in these segments and Revuto can capture a considerable market share if they enter with proper timing. People are eagerly waiting to see the first functional DAPP on Cardano.
---
Revuto is going live very soon as per the roadmap. Get ready for Revuto! The early sign-ups are still open. You can get 10 free REVU when you join with this link. The images used in this article are created by the author from free vectors and Revuto website images.
---
Posted via proofofbrain.io