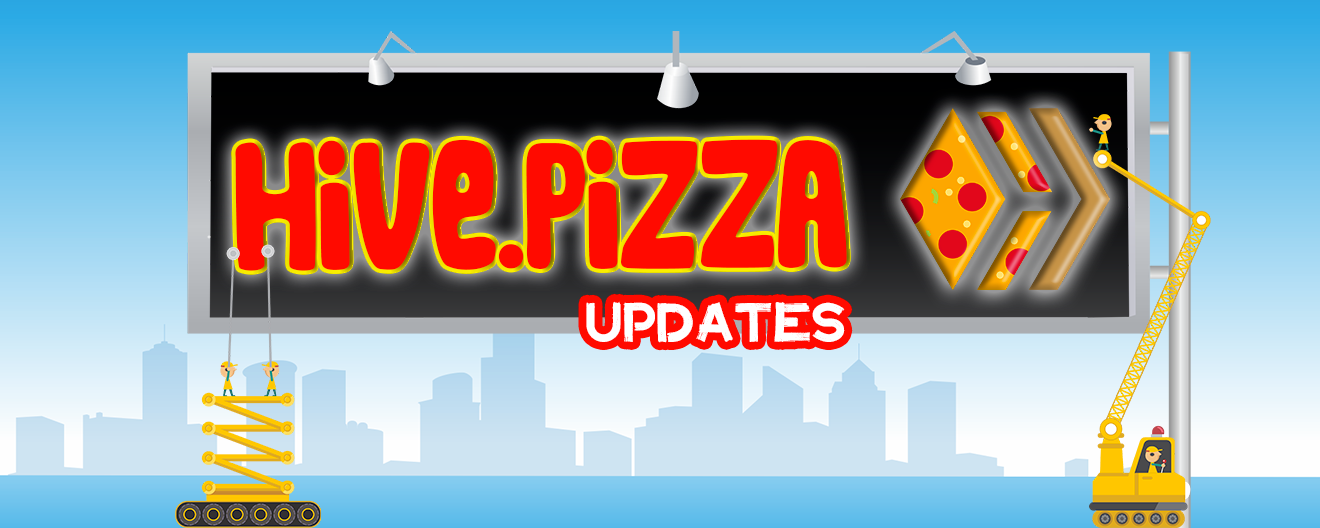 We're helping put HIVE on the map
HIVE is a wonderful community and we intend on making sure people know about it. @hivetrending and I are working hard on tools to help accelerate onboarding and outreach. This includes creating awareness on Twitter through our social accounts, building community tools for use by the HIVE community, and focusing on onboarding new users. The goal is to make HIVE part of daily live for people in the creative, tech, financial, and gaming spaces. We believe mass adoption is possible if we can reach enough ears. We invite you to be a part of our journey in making HIVE a better place and bridging all communities. We are cautiously aware of echo chambers and strive to build the empire that HIVE and HIVE holders deserve.
Delegation Rewards
We are happy to announce you can now earn passive income through our Delegation Rewards program!
By delegating your HIVE POWER to the @hive.pizza curation account you will now start passively earning $PIZZA tokens daily, straight to your wallet! This not only helps you earn but helps us fatten up our curation account which we will use to further entice users to come to HIVE targeting community leaders, bloggers, gamers, and influencers.
This is all automated and will run once per day. You will be awarded Hive-Engine $PIZZA based on your % of delegation to the account. The more your delegate, the more you can passively earn back in $PIZZA rewards daily!
There are already a few things you can do with your $PIZZA tokens! Holders of at least 20 $PIZZA can invoke the PIZZA command and send free slices to your friends! You can also head on over to our website where you can spend your $PIZZA on real Steam PC video games! How awesome!?
Twitter Giveaway Results

Above are impressions from the first of many Twitter campaigns to come.
We recently ran a Twitter contest to promote HIVE, $PIZZA, and some of the projects that are going on here in the community! We wanted to highlight some of the amazing music created here so first place will be awarded some cool music from our local HIVE artist @stickupboys! We also want to showcase the games that are emerging here on the blockchain. As such, we've started to hand out NFTs from some of your local HIVE-based games. This time, we are handing out some limited edition Hashkings WAX NFTs ( @al-gaming @qwoyn ) to our second place winners!

FIRST PLACE: 50 $PIZZA + @stickupboys WAX VFT
SECOND PLACE: 25 $PIZZA + HASHKINGS WAX NFT
THIRD PLACE: 10 PIZZA
@knowhow92 @arlettemsalase and @gillianpearce please DM me on Discord to arrange your NFT or VFT!
Congratulations winners! We will be running another contest soon! Keep an eye out!

Curation Trail
We want to encourage you to join our curation trail! We are very active in several commities where we manually find and curate great content. Our curation trail is starting to grow and want you to come join us!
Web App Updates
Updated Hive Is Beautiful
Updated HiveRSS
HIVE Discovery Extension

These will also be included in our Hive Discovery Extension for Brave/Chrome browsers located here. We have submitted the update and are pending approval now!
HIVE Community Bot Updates
We are currently developing a new Discord bot that is tailored fully around HIVE and onboarding. The hope will be to advertise and push the bot into as many general purpose, gaming, and crypto communities as possible to further spread awareness about the HIVE ecosystem and further attract new users. The bot will include several moderation tools that all Discord moderation teams will find useful such as:

Ban, Kick, Mute, Sticky, Slowmo, Lock Channel, Purge, Music Player, Ticket System etc.
Giveaways
Market information for second-layer Hive-Engine tokens
HIVE market information
Mini-games
HIVE onboarding tools/tutorials. Some commands will be customizable per guild they exist in.



If you would like to test the development bot in your guild, please reach out to us!

Here is a sneakpeak of the new bot in action and some of the current features (still in development and does not include all features):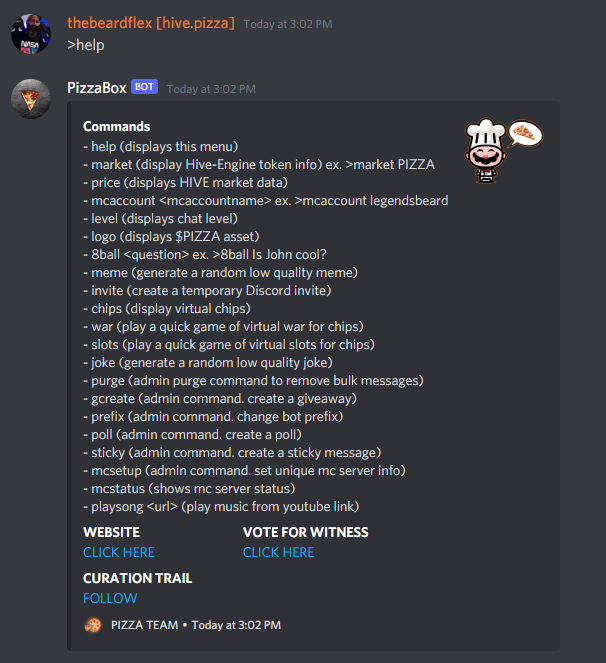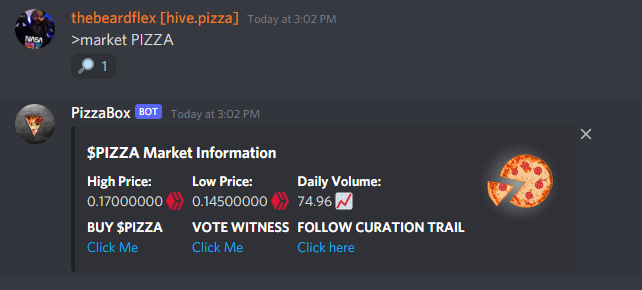 HiveProjects.io Listing
Minecraft Server
We have deployed a new HIVE community Minecraft server that is focused around furthering building community as well as building a friendly gamer-focused onboarding experience for new HIVE users. The gaming community as a whole is huge and we intend to offer a bridge from the general gaming community to HIVE, starting with Minecraft.
We're building tons of cool challenges and areas to explore for events where you can earn HIVE and PIZZA just by playing videos games!

Connection Info: JAVA PC Edition 51.81.49.123:25566 Join Discord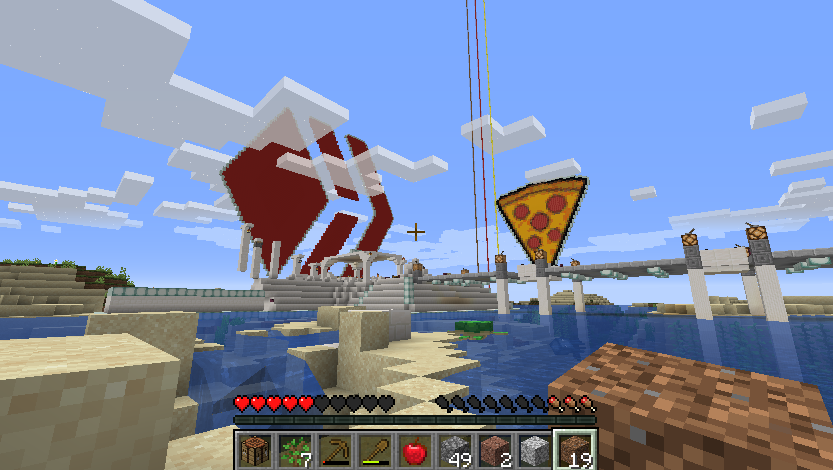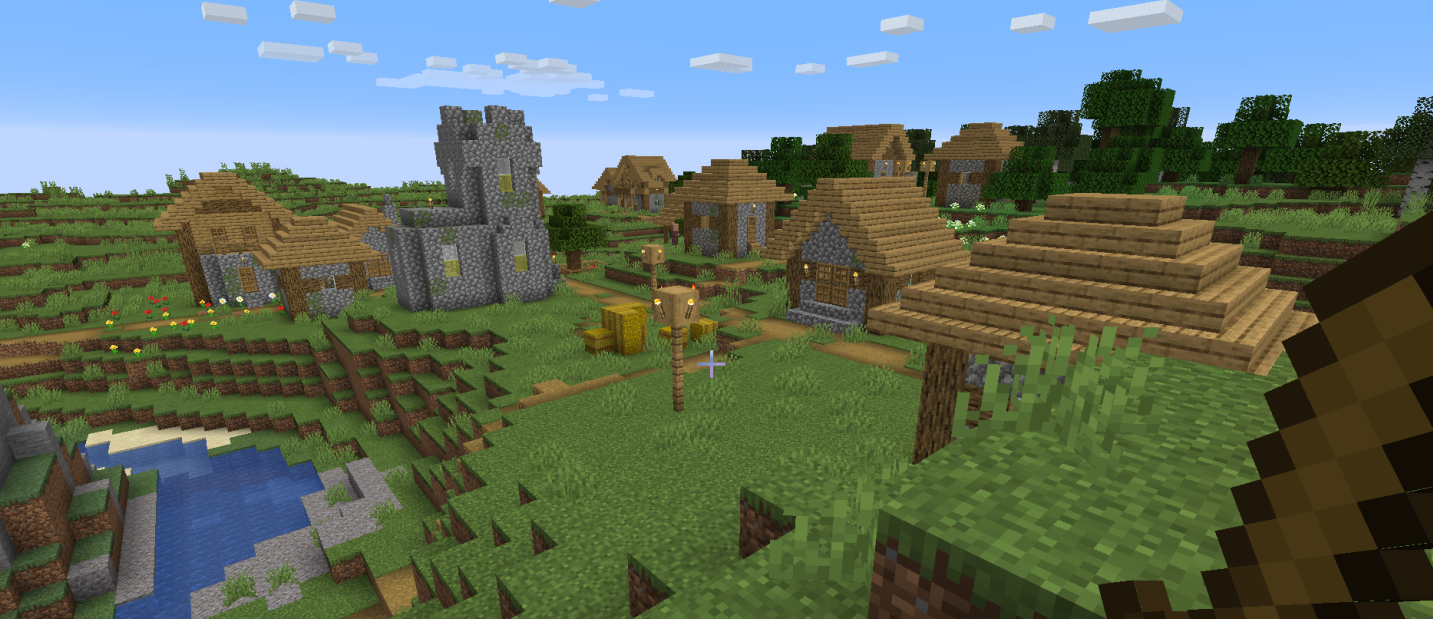 Top Delivery Drivers
We like to honor the top three $PIZZA drivers each week. These people went above and beyond to not only spread hot and tasty pizza all across the HIVE ecosystem, but really demonstated a high level of engagement.
To that, we salute the following:
1st place - @johannpiber | 127 Deliveries
2nd place - @eii | 70 Deliveries
3rd place - @papilloncharity | 60 Deliveries
We've sent over your winnings! Thank you for having such high engagement in the community!

Daily Winners

Congratulations! You have won 5% of your $PIZZA holdings back in additional $PIZZA!
​@eii @offgridlife @cooperclub @creodas @hivecoffee

If you'd like to follow along the $PIZZA token journey, here are the last 6 updates. (check out my blog for all $PIZZA related posts!)
$PIZZA Token | Weekly Updates & Rewards
$PIZZA Token | Midweek Rewards & $PIZZA FARM VOTE
$PIZZA Token | Weekly Rewards & VFT Farm Vote Update
$PIZZA Token Burn, Updates, & Rewards
$PIZZA Token Giveaway, Rewards, & Tokenomics Update
New HIVE Discord Bots, Video Game Servers, and Rewards!

You can also check out the HIVE.PIZZA website here.
Credits to @cre47iv3 for creating the banner for this post


LEARN MORE



We are not associated with and do not endorse the pizza finance project on BSC. If we do explore BSC, we will announce it here first and it will likely involve our Governance token.




Buy $PIZZA
Leodex
Tribadex
Hive-Engine

Join the Discord and $PIZZA NATION

Join our curation trail here
Vote for us as Hive-Engine witness here
---
Posted via proofofbrain.io