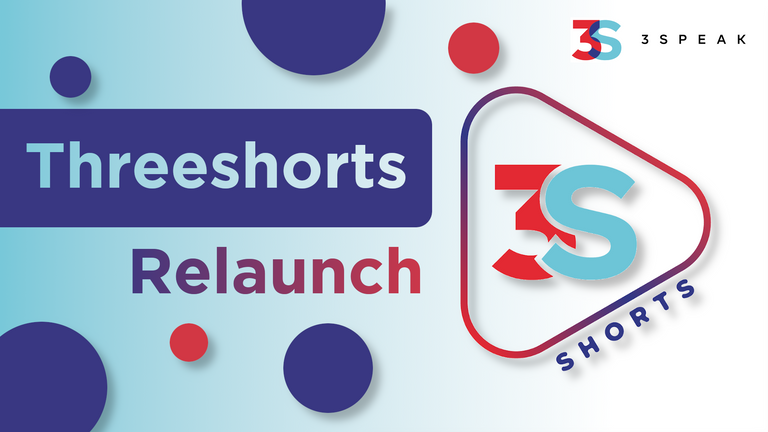 Threeshorts Community
Today's trend is to create high-impact content in a short time, which might seem easy, but it is not; however, on blockchain platforms, it is difficult to find these kinds of videos.
Due to the difficulty of finding our own Web3 space to share this format of creative videos, we have taken the task of relaunching the Threeshorts community on 3Speak, and this is news that we are pleased to share with you.
What is the Threeshorts community on HIVE?
It is a space to share videos up to 1 minute long. 3Speak content creators can upload audiovisual creations that meet this length and generate a creative message that can entertain or add value to their audience.
What does this community aim to achieve?
Through Threeshorts, we want to integrate creatives who want to be part of this trend. Additionally, we will be activating a viral marketing mechanism.
What should I consider to upload a video in this community?
Share videos of 1-minute maximum.
Be respectful of your audience, avoiding using violent, discriminatory, or harassing language.
Have fun and be creative.
To make your content more valuable:
Create original and authentic content.
Use royalty-free music or with prior authorization.
Share your content on traditional social media such as TikTok, Twitter, and Instagram. To generate more unique views, use the #3Speakshorts tag.
Community moderation
We will have real people monitoring the community and creating initiatives promoting this type of video use.
In the future, we will have bots to perform certain tasks, such as: Leave a comment if the video is longer than 1 min.
Incentives:
If you meet all conditions, you will be eligible for "upvotes" from part of the Threespeak account.
Direct rewards through initiatives.
Plus:
Speakers Award
A website will be created in the future where people who are not registered in 3Speak can support you by giving you a vote or nominating your content, entering the link and the video category. Periodically, we will choose the top 10 users with the most nominations, and an award will be made.
Be part of Threeshorts.
It's time to start creating content in this modality; you need to have a topic to share and a lot of desire to create a community.
We are happy to reactivate this space and want you to be part of it.

---
En Español:
Comunidad de Threeshorts
La tendencia hoy en día es crear contenido de gran impacto en poco tiempo, algo que podría parecer fácil, pero no lo es; sin embargo, en plataformas de blockchain es difícil encontrar este tipo de videos.
Debido a la dificultad de encontrar un espacio propio de Web3 para compartir este formato de videos creativos, nos hemos tomado la tarea de relanzar la comunidad de Threeshorts en 3Speak y esta es una noticia que nos complace compartir con ustedes.
De que trata la comunidad Threeshorts en HIVE?
Es un espacio para compartir videos de hasta 1 minuto. Los creadores de contenido de 3Speak podrán subir en esta comunidad sus creaciones audiovisuales que cumplan con este tiempo de duración y generar un mensaje creativo que pueda entretener o agregar valor a su audiencia.
¿Qué pretende lograr esta comunidad?
A través de Threeshorts queremos integrar a creativos que quieran ser parte de esta tendencia, adicionalmente estaremos activando un mecanismo de marketing viral.
¿Qué debo considerar para subir un video en esta comunidad?
Comparte videos de máximo 1 minuto.
Sé respetuoso con tu audiencia, evitando el uso de un lenguaje de violencia, discriminación o acoso.
Diviértete y sé creativo.
Para que tu contenido tenga más valor:
Crea contenido original y auténtico.
Utiliza música libre de derechos de autor o con previa autorización.
Comparte tu contenido en redes sociales tradicionales como tiktok, twitter e instagram. Para generar más vistas únicas, utiliza el tag #3Speakshorts.
Moderación de la comunidad
Tendremos personas reales monitoreando la comunidad y creando iniciativas que promuevan el uso de este tipo de videos.
En el futuro contaremos con bots que cumplan con ciertas tareas tales como: Dejar un comentario si el video dura más de 1 min.
Incentivos:
Podrás optar por "upvotes" de parte de la cuenta de Threespeak si cumples con todas las condiciones.
Recompensas directas mediante iniciativas.
Plus:
Speakers Award
Se creará un sitio Web a futuro, donde las personas que no están registradas en 3Speak podrán apoyarte dándote un voto o postulando tu contenido, ingresando el link y la categoría de tu video. Periódicamente, elegiremos a los 10 usuarios con más nominaciones y se realizará una premiación.
Se parte de Threeshorts
Es el momento de empezar a crear contenido en esta modalidad, solo debes tener un tema que compartir y muchas ganas de crear comunidad.
Estamos felices de reactivar este espacio y que formes parte de el.