Hello dear friends who share their experiences in this beautiful and tasty Community... ummm. After being absent for a few days, today I want to treat you to a delicious snack with a delicious coffee with milk.
---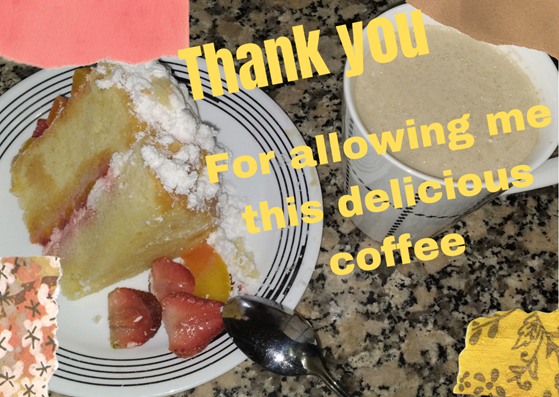 ---
It is a cake filled with strawberries and peaches, covered with whipped cream.
I was in the center of the city buying some charcuterie (ham, cheese, bacon), leaving the store I go to my car to go home, taking the keys out of my purse, a motor vehicle passed by and ripped it off (thank God I had already taken the keys out of the car), But the impact was strong and very unpleasant, nobody could do anything, I sat on the edge of the sidewalk where my car was parked and began to cry, several people approached me to console me, I was only a few minutes, I thanked everyone who accompanied me; I got into the car and went home.
Thank God I had nothing of value in my purse, I had my wallet in my hand where all my documents were (I can imagine the rage that the driver got when he saw that in my purse there was only some candy and make-up, hahahaha). The truth was just a scare.
When I got to my apartment the first thing I thought of was a nice coffee with milk to cheer up my palate and my life, hahaha! I took a shower and immediately set out to prepare it.
First I made a black brewed coffee, which brings back many memories of my father, he always said that brewed coffee is the best!!!! (not in a coffee pot). This coffee I used is a Gourmet called "CAFË AMANECER", elaborated in Araure, Portuguesa State, Sabaneta Sector/Venezuela. I am a coffee lover in all its presentations, and this one is exquisite, its aroma invites you to taste it with any Snack or simply alone.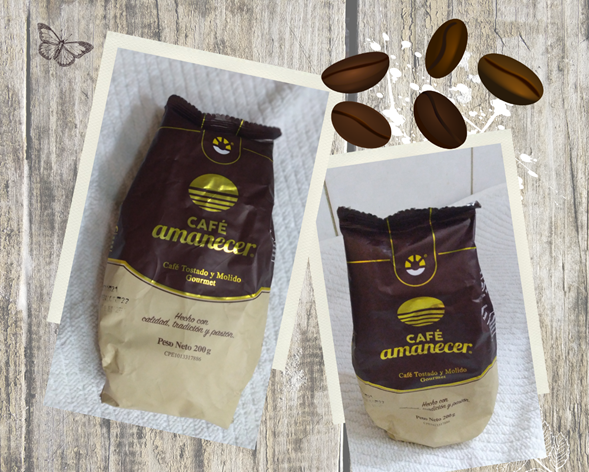 To prepare it, heat the water with sugar (if you take it sweet) and when it starts to boil add the coffee, stir and turn it off immediately, do not let it boil too much, and with the coffee brewing bag already prepared, strain it and pour it into the blender to add powdered milk and blend it until it becomes frothy.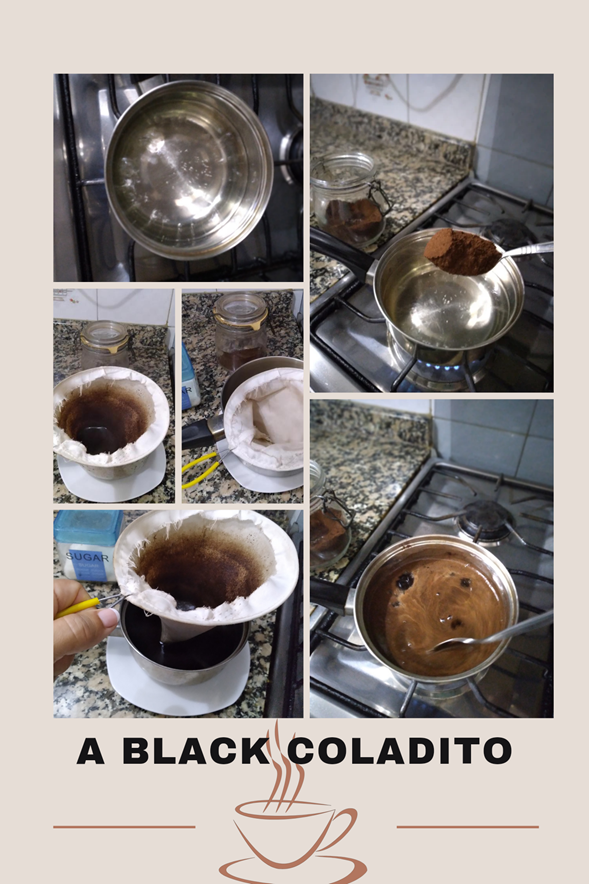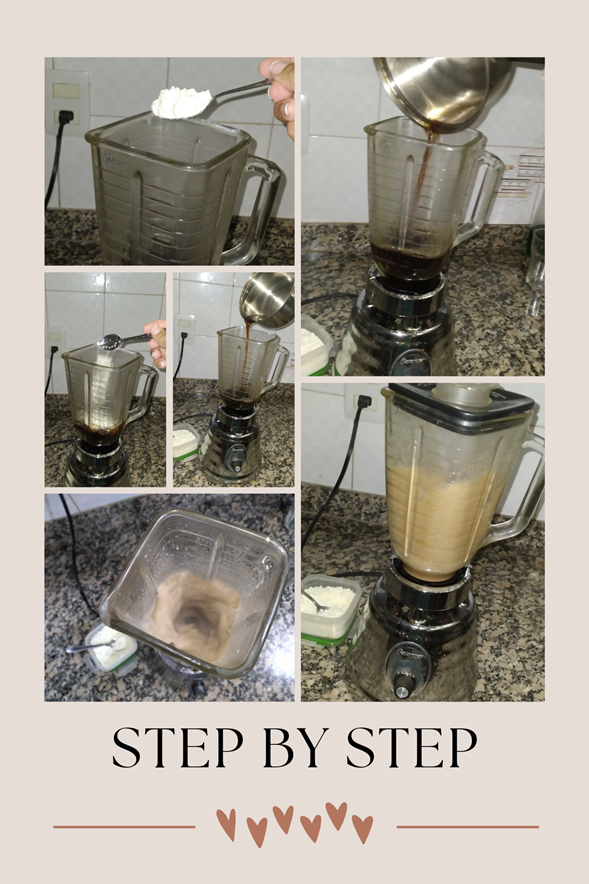 After pouring the black coffee in the blender and adding the powdered milk, we blend enough until we get enough foam, check the sweetness and ready.....
With this wonderful snack I brightened up my afternoon, after having a big scare. Coffee is really my best ally at all times.
Bye, see you in another meeting with coffee of course!

All photos are my own, edited in canva.
I used Deepl Translator.
AHORA EN ESPAÑOL
Hola queridos amigos que comparten sus experiencias en esta hermosa y sabrosa Comunidad… ummm. Después de estar ausente por unos días, hoy les quiero obsequiar una rica merienda con un exquisito café con leche.
---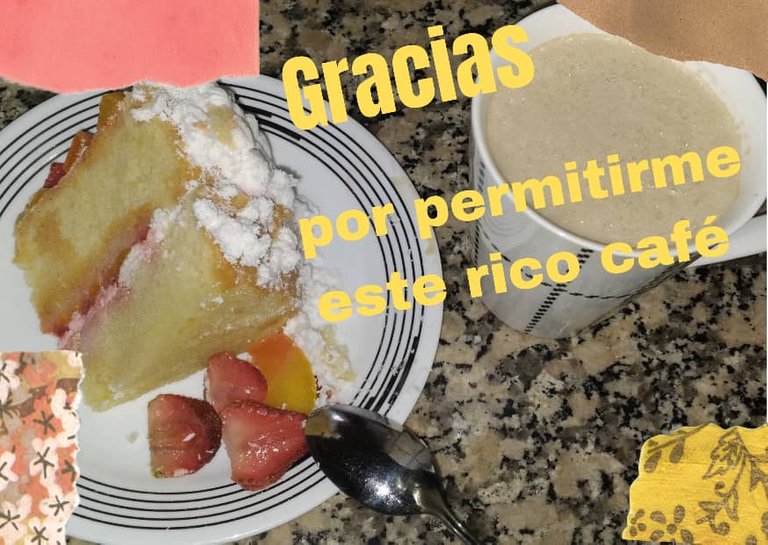 ---
Es una torta rellena de fresas y melocotón, cubierta de crema chantillí.
Estaba en el centro de la ciudad comprando algo de charcutería (jamón, queso, tocineta), saliendo del local me dirijo a mi auto para irme a mi casa, sacando las llaves de mi bolso, pasó un motorizado y me lo arrancó, (gracias a Dios ya había sacado las llaves del carro) , pero el impacto fue fuerte y muy desagradable, nadie pudo hacer nada, me senté en la orilla de la acera donde estaba estacionado mi carro y comencé a llorar, se acercaron varias personas a consolarme, estuve solo unos minutos, agradecí a todos los que me acompañaron; me subí al carro y me fui a casa.
Gracias a Dios en el bolso no llevaba nada de valor, tenía el monedero en la mano donde estaban todos mis documentos (me imagino la rabia que agarró ese motorizado cuando vio que en el bolso solo había algo de golosinas y maquillaje, jajajaja). La verdad fue sólo un susto.
Al llegar a mi apartamento lo primero en lo que pensé fue en un rico café con leche para alegrar mi paladar y mi vida, jajaja!. Me di una ducha y de inmediato me dispuse a prepararlo.
Primero hice un café negro colado, el cual me trae muchos recuerdos de mi padre, él siempre decía que el café colado es el mejor!!! (no en cafetera). Este café que utilicé es un Gourmet llamado"CAFË AMANECER", elaborado en Araure Estado Portuguesa, Sector Sabaneta/Venezuela. Soy amante del café en todas sus presentaciones, y este es exquisito, su aroma invita a degustarlo acompañado de cualquier Snack o simplemente sólo.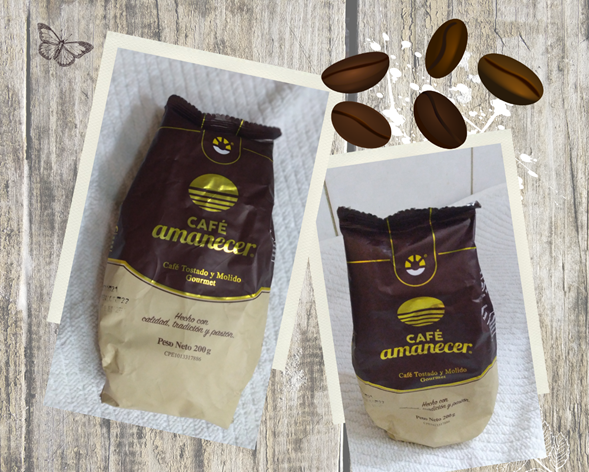 Para prepararlo, se pone a calentar el agua con azúcar (si lo tomas dulce) en lo que comience a hervir se le agrega el café, revolvemos y apagamos de inmediato, no se deja hervir mucho, y con la bolsa de colar café ya preparada colamos y lo vertimos en la licuadora para agregarle leche en polvo y licuar bastante hasta que quede bien espumoso.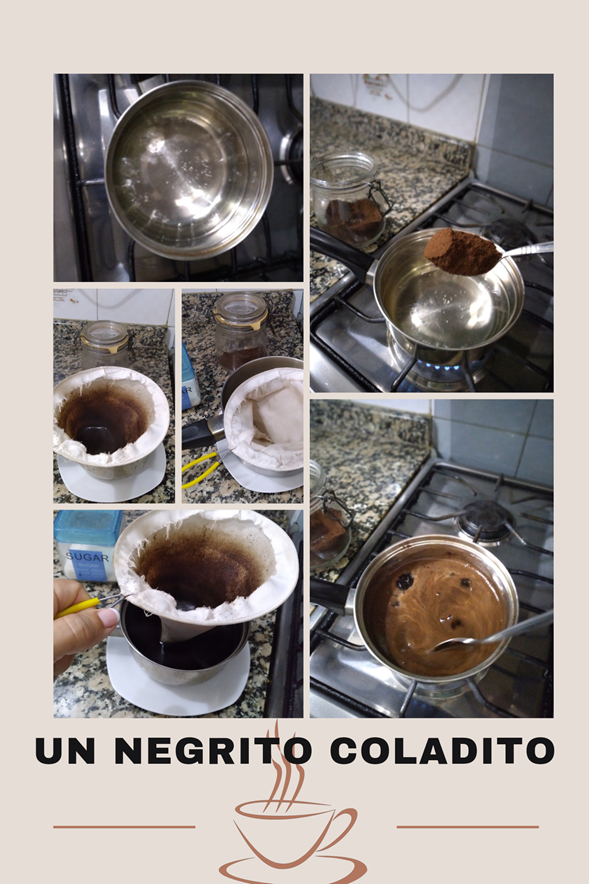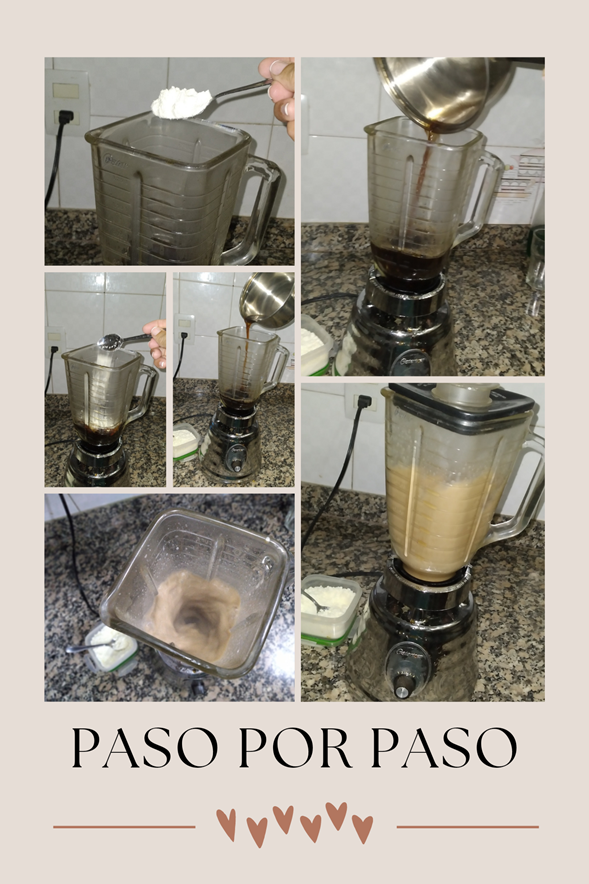 Después de verter el café negro en la licuadora y agregar la leche en polvo, licuamos suficiente hasta obtener bastante espuma, verificamos el dulce y listo….
Con esta maravillosa merienda alegré mi tarde, después de pasar un gran susto. Realmente el café para mi es mi mejor aleado en todo momento.
Chao, nos vemos en otro encuentro con café por supuesto!

Todas las fotos son propias, editadas en canva.
Usé Traductor Deepl.