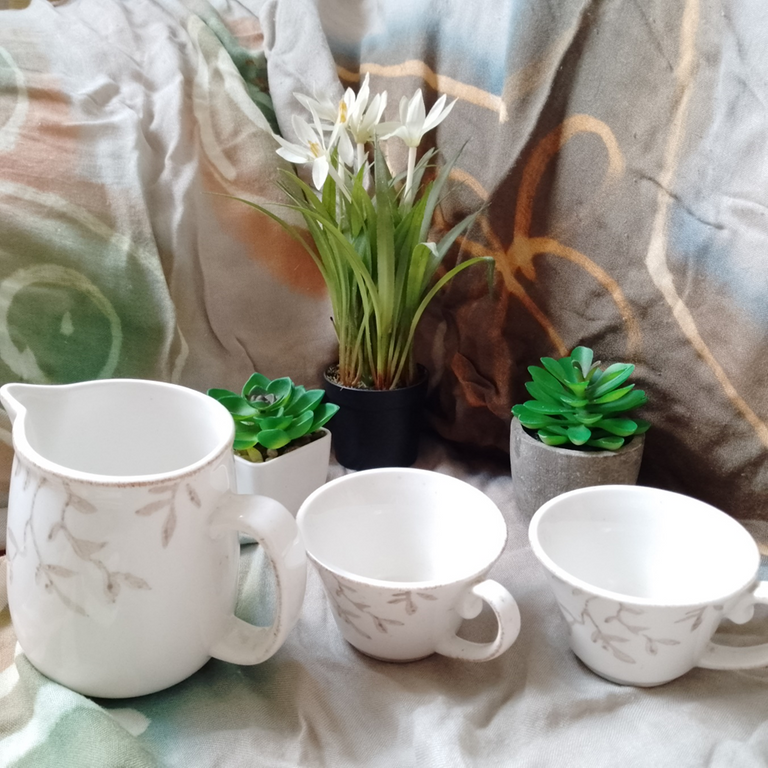 This Easter I had the joy of visiting my mother, who lives in another state from where I live, about 3 hours away by land, and I haven't seen her since December 2022.
We spent two wonderful weeks together, she is already complaining about her ailments (of course she will be 87 years old soon), but I did not let that become an excuse to chat with her while I told her funny things to make her laugh and leave aside her complaints about her ailments.
In those two weeks we went shopping, prepared different meals and desserts, and she even drank a few whiskeys with her coconut water while I drank a few beers, but mostly we drank coffee daily, when we got up and in the afternoons.



One day I was telling her about my new job at "HIVE" now that I am retired, I told her about this beautiful and friendly community, she was very interested and wanted me to take pictures of everything related to the coffee in her apartment.
I told her that all those beautiful cups and coffee pots she has are published on this platform, specifically in this community, that I had already had the opportunity to use them and take pictures of them to publish them, so I could not publish them again.
In the middle of a resounding silence my mother sighed and told me: "daughter I'm going to give you a big surprise, something that you can't even remotely imagine" I answered her with a lot of intrigue: what will it be mother? She said, "Wait for me here for a moment.
We were sitting on the sofa in the living room, she got up and went to her room, suddenly I heard a noise, she dropped some glass and it broke, I was very scared, my brother who was in the other room and I ran to where she was, she said: nothing happened, calm down and asked my brother for help to pick up the glass of a glass that fell, while she sent me out of the room so I would not ruin the surprise.
In minutes he came out smiling with a wrapper in his hands and gave it to me, I was already quite anxious to know what it was; I grabbed it and he told me: "be careful, it might break...".
Can you guess what it was about? It turns out that more than 30 years ago when I got married I was given many beautiful things made of crystal and very fine ceramics.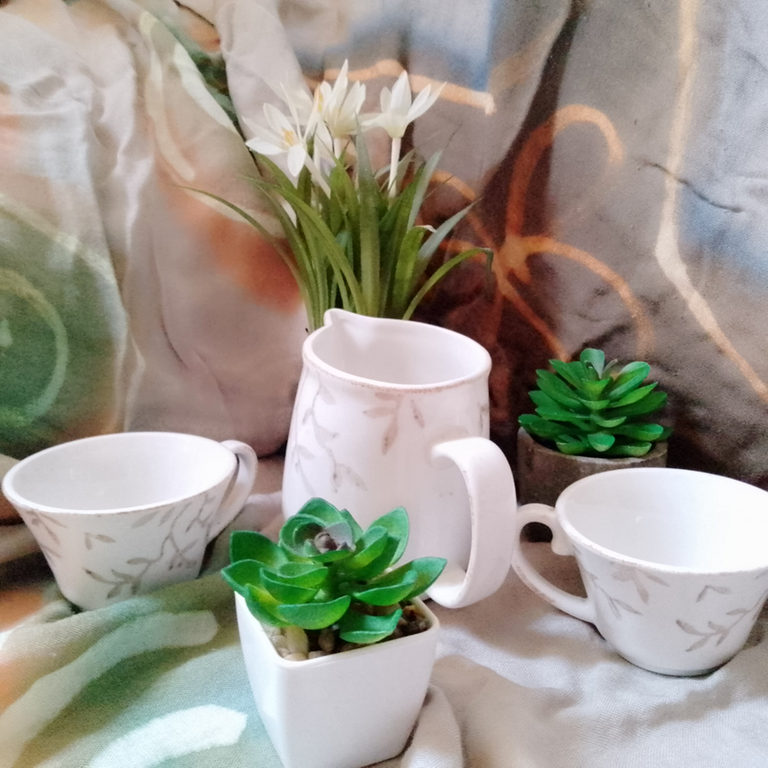 She was always a coffee lover and fell in love with a set of two small cups that came with a milk jug, at that time I was very young and the truth was not a coffee lover, so I decided to give it to her, that was something very significant for her, she was very happy.
I really didn't even remember that little set of cups, since she didn't have them on display or in use in her apartment.
My face was full of astonishment, I went back in my mind about 35 years and remembered that beautiful moment and even some tears rolled down my cheek, my mother also became a little melancholic and hugged me, saying: "here you go daughter so you can use them in your publications of that community that you are telling me you love, because I know you are passionate about coffee, but yes, "THEY ARE ON LOAN", she told me, hahaha .... When you finish your work you give them back to me.
That gave me much more feeling, I grabbed them, packed them again and put them in my bag because the next day I had planned to visit my beautiful and dear niece @lisrl26, it was at her house that I enjoyed them.
The next day at Lis's house I told her about my cups, we hugged and between laughter and tears we decided to make a coffee to enjoy that relic that my mother gave me back.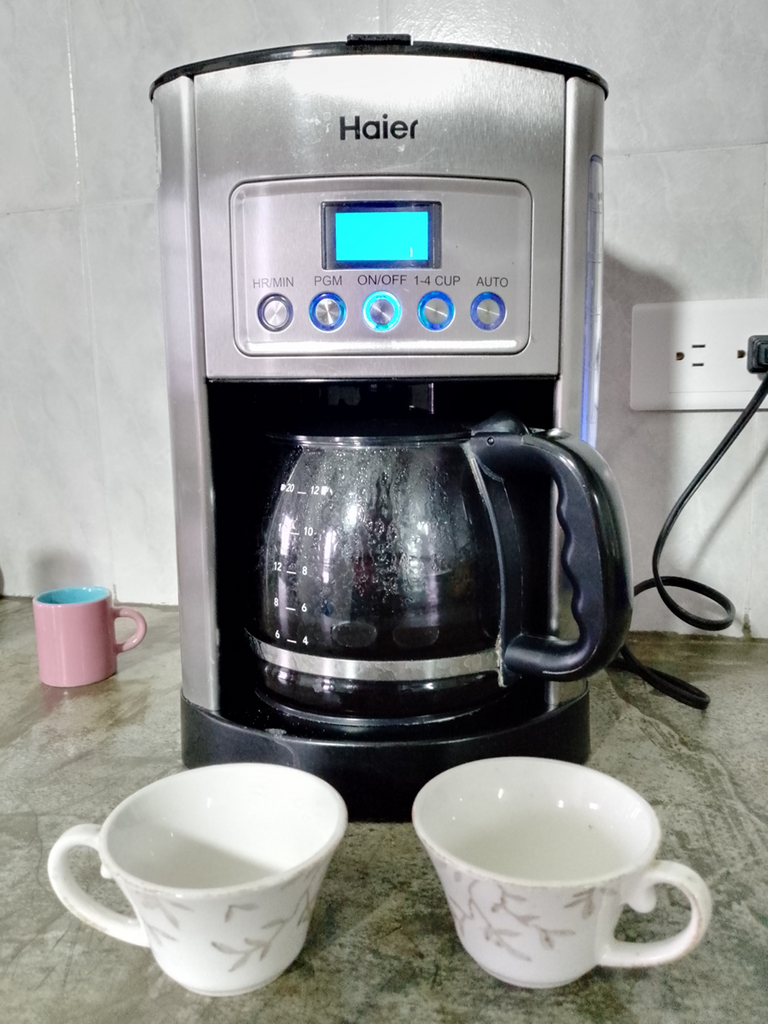 Since there were only two cups and Lis, her husband and I were there, I gave the pleasure to Jesus (Lis's husband) to taste the coffee with me in such honorable cups, Lis got that little pink cup that comes out in the background, hahaha.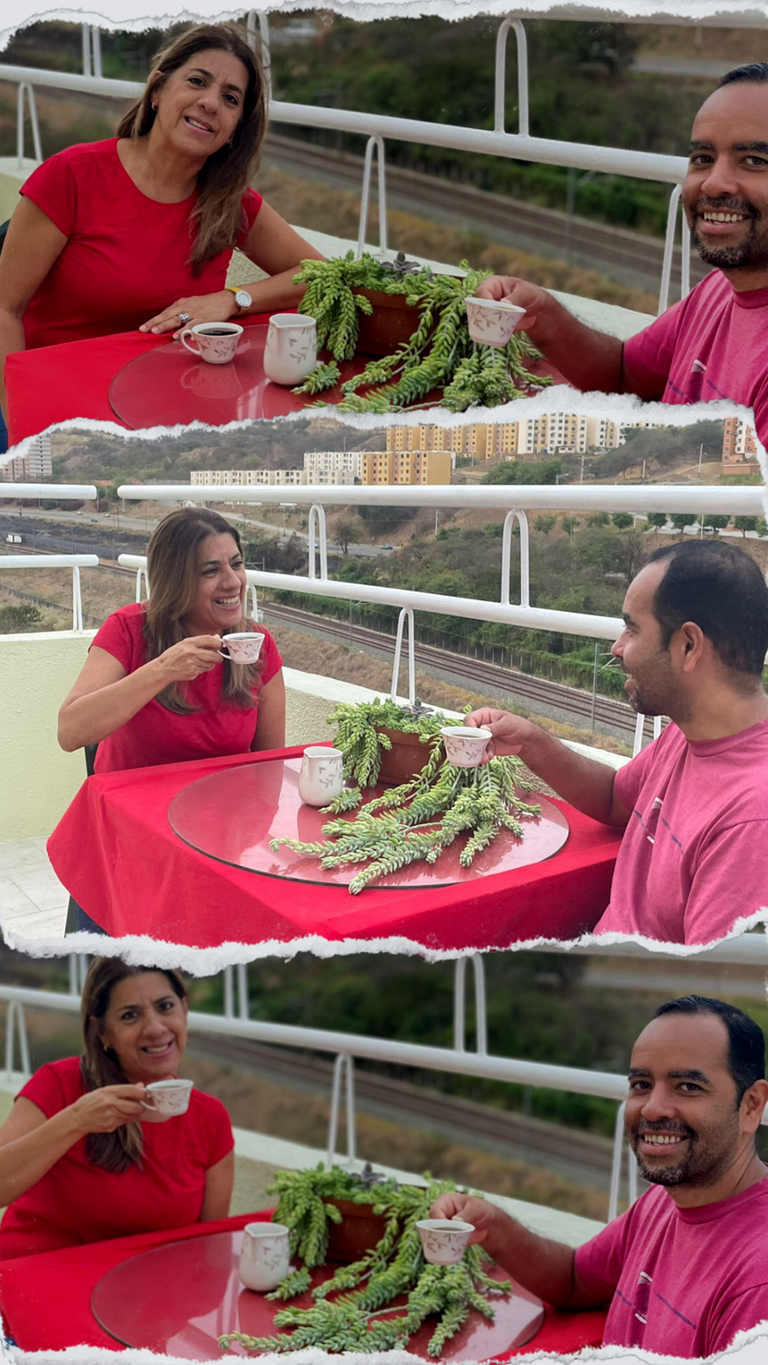 After washing the cups very well I packed them again to take them to my apartment, you can imagine how excited I am to have back that gift that more than 30 years ago for me was anything, but now has a great sentimental value, plus at this time if I'm going to enjoy them to the fullest. Hahaha.
I really feel very happy to be able to share this anecdote of my life with you, my coffee friends!
Now I say goodbye, wishing you all a great day. See you soon.
All photos are my own, taken from my TECNO POVA Neo cell phone, the collage edited in Canva in its free version.
I use Deepl Translator (free version) for my publications.