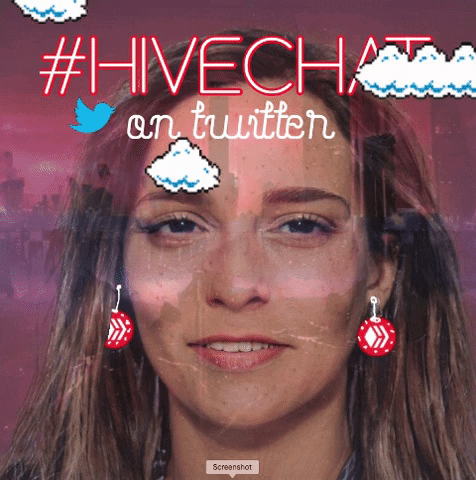 Thanks to @traciyork our amazing host for today's #HiveChat. It was perhaps the most enjoyable one yet! Traci, your GIF game is spot on. From what @jeanlucsr stated, there were about the same amount of #HiveChat hashtags counted from this one as compared to combined hashtags from previous two #HiveChats.
Thanks to everyone who participated and answered the questions! I saw some really good discussions emerge from today's event on Twitter. Also, I saw many brand new faces, which is a good sign that #HiveChat is reaching people who are new to Hive. I'm really excited about the momentum so far and now we have August's #HiveChat calendar to share with you today.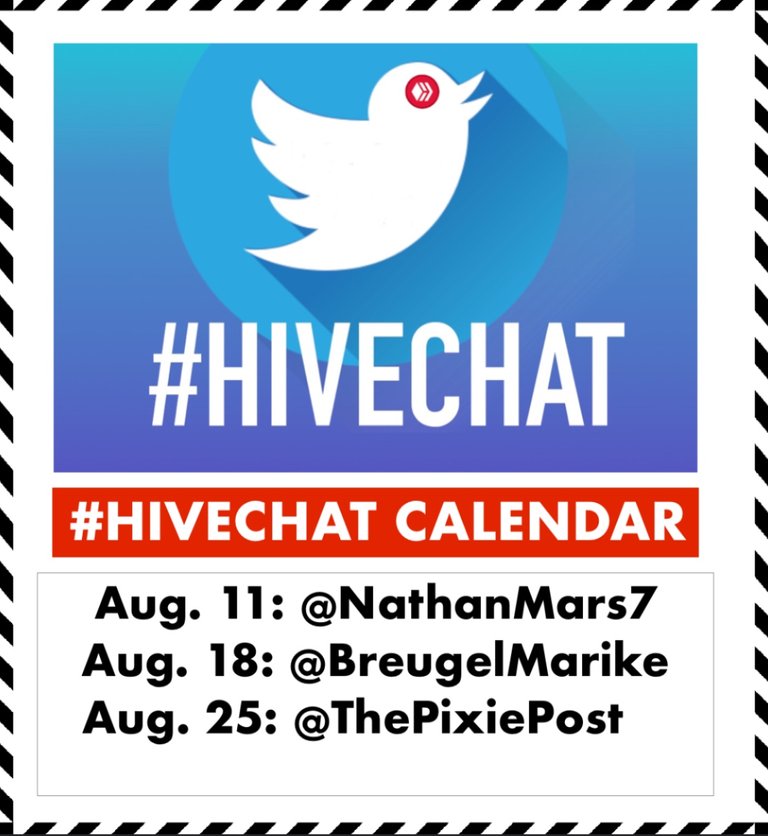 The account names on the #HiveChat poster above are their Twitter handles. Here are their Hive and Twitter accounts so you can follow the hosts:
Aug. 11: Nathan /// Twitter @NathanMars7 /// Hive @nathanmars
Aug. 18: Marike /// Twitter @BreugelMarike /// Hive @artemislives
Aug. 25: Jenn /// Twitter @ThePixiePost /// Hive @pixiepost
Things to do if you're a host:
Come up with 5 questions and submit them to @stellabelle via a DM on Twitter so I can create the graphic question cards.

When doing your first tweet, make sure and use the additional tag, #TweetChat because when I did this on the first one, someone with 50K followers rewtweeted me when I hosted one last week. Social media experts scan this tag for live examples of brands and communities doing TweetChats.

Let the audience know that our #HiveChat has these guidelines:
one hour long
new question every 10 minutes
5 questions total
use #HiveChat tag in all replies
If you would like to host a #HiveChat, join the discord to meet the Hive Marketing community first: https://discord.gg/7yYFEq3
Share the Gif for next week: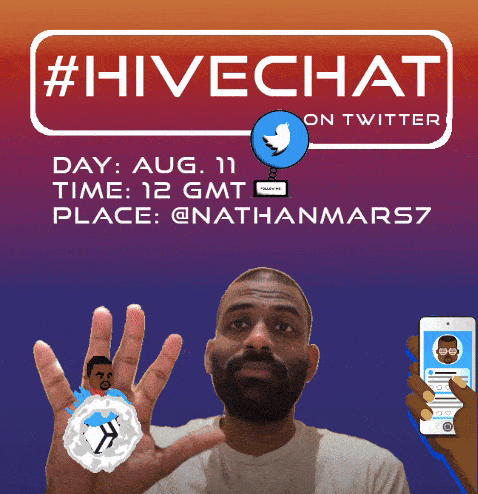 Also if you want to help with upcoming campaigns join the discord. We have something big brewing that @roomservice and @peakd have been working hard to create, and will need the entire community on board.
Cheers,
Hive People
Twitter
LBRY
YouTube