I say it with joy. The most beautiful autumn I have ever seen and felt is now consummating. Autumn is like summer, like a more compassionate and merciful summer. Autumn is so beautiful and so welcome in these difficult times, to mention only those who are forced to fight in a war. Autumn is so benevolent and warm at a time when the vast majority of people are fearfully thinking about their energy bills...
Such a beautiful autumn that is heaven for those who love to walk!
Walking can be like eating, like a certain kind of food that we can eat many times without getting bored of it. I meant that I can walk through the same place many times with the same pleasure, each time, and always discover new images and experiences. As it happens now, when I walked through the most attractive park in Bucharest. Herastrau Park!
That's what I wrote last week and it's still true this week. I've been back for a few hours from Herastrau Park, I've edited a lot of photos and now I choose a few to illustrate this walk today. Today when it was the warmest day this autumn, 27 degrees Celsius, clear skies, and a gentle sun.
As I have always said, I prefer this park because here is the largest lake in town. To be more precise, I say it is the biggest lake in a park in Bucharest because there is an even bigger lake that does not have a park yet.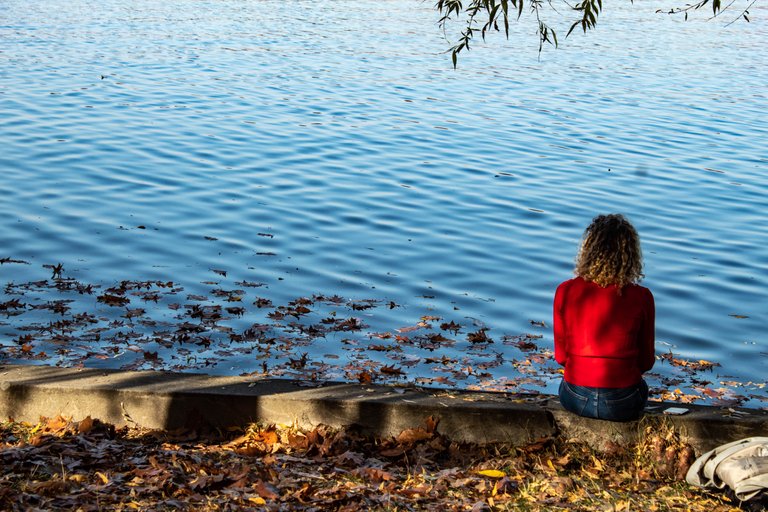 As you can see, I'm not the only one in love with this lake. Those of us who love the sea and can't see it too often have to be content to watch the water and the small waves made by the wind on our little lake.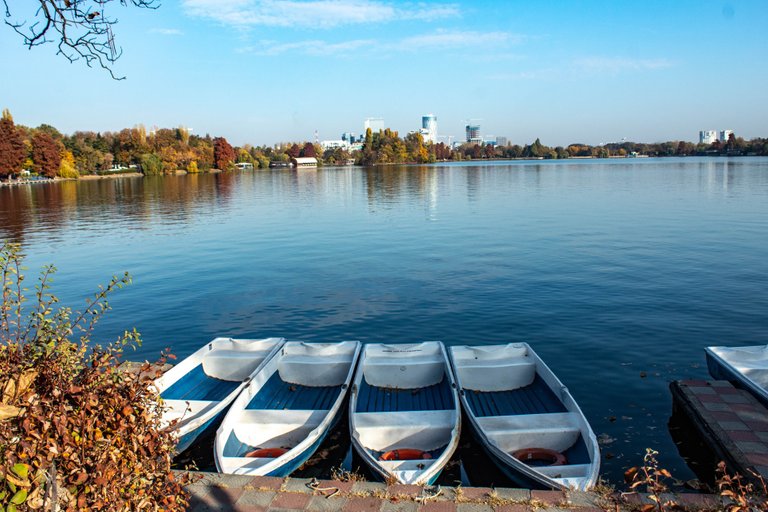 Like last week, I was also drawn to a special category of people in this place. I mean fishermen. Where there's water there are fishermen, right?
I remember a little joke...
"A fisherman looking for a place to fish finds a pond somewhere in a field. He sees a man nearby and asks him if there are any fish in that pond, and he replies that he doesn't know. All he knew was that before the rain the day before there was no pond there!"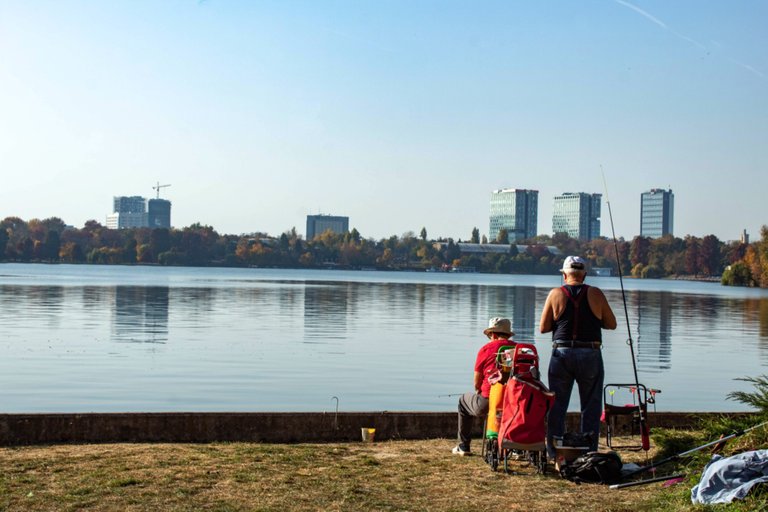 Well, there is plenty of fish in this park! That's why there are also a lot of fishermen that I can't help photographing...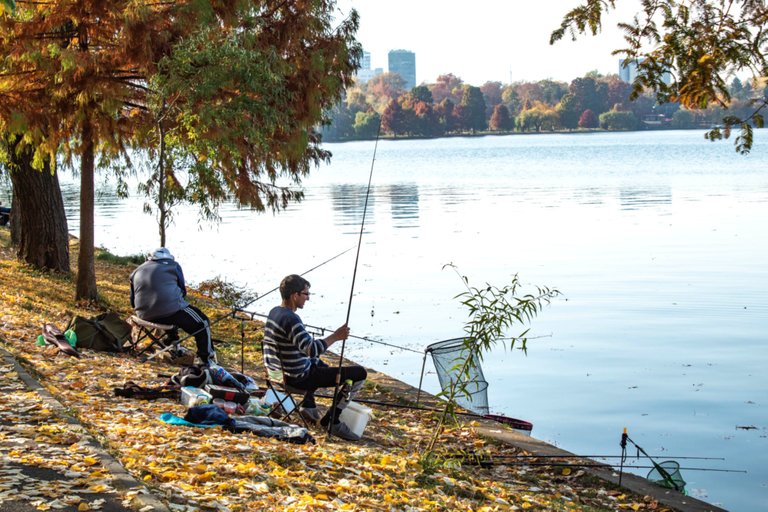 Yes, there are lots of fish in the lake, I even caught one "live"!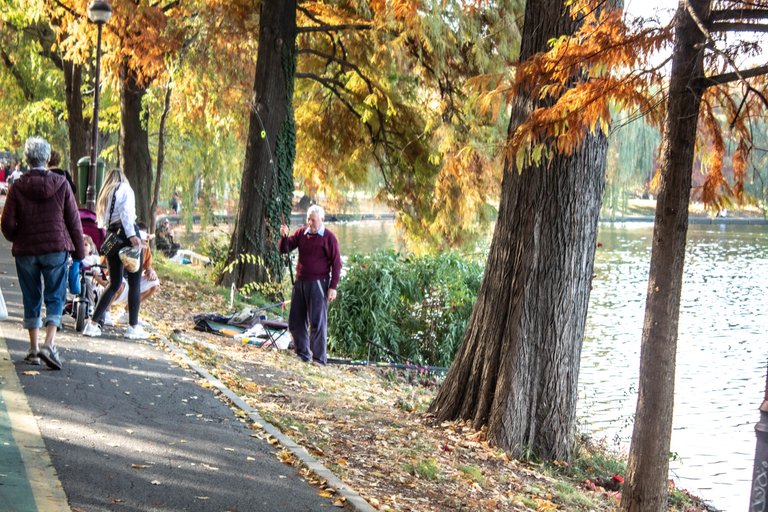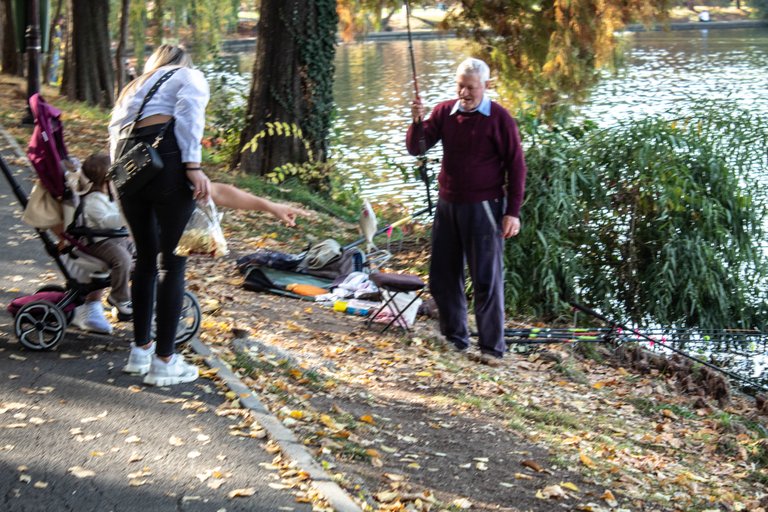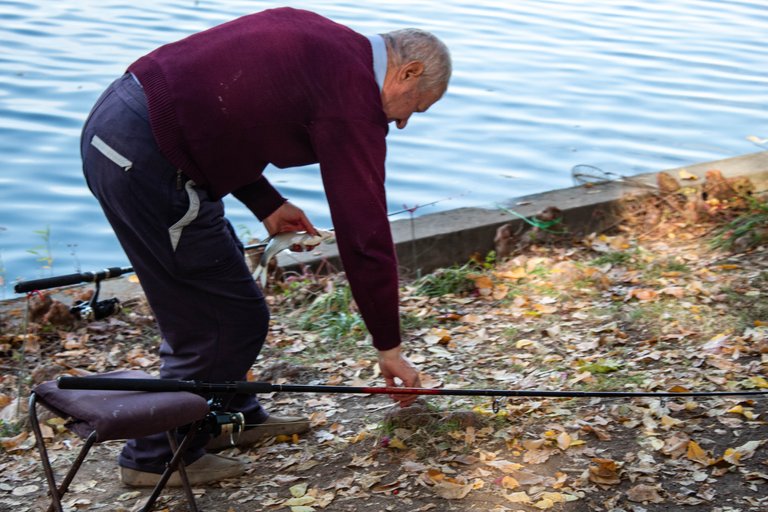 Leaving the fishermen to their work now, I return to the walkers. They are the most numerous, among them I try to catch them in my photos so that they don't see it. That's why I think I've become an "ass photographer", because I photograph their backs...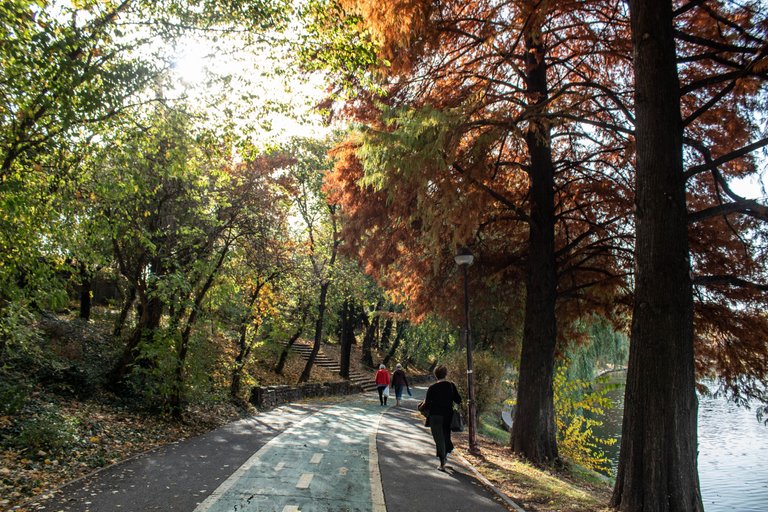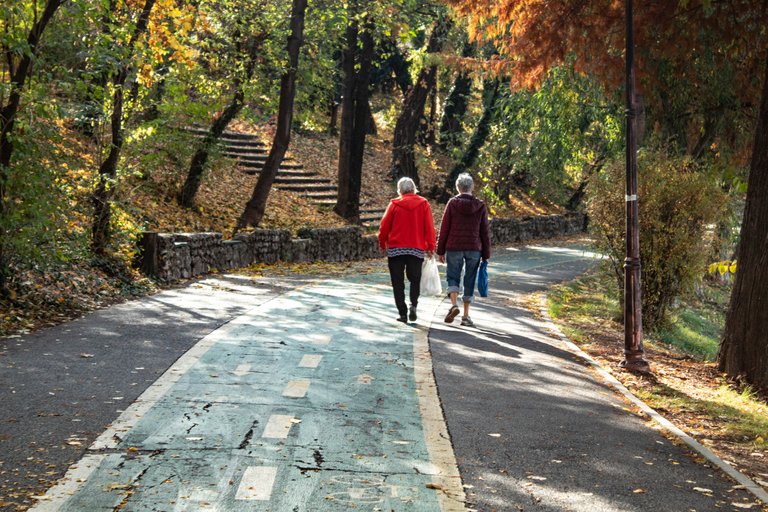 Because of a dike and a sluice, the walk is diverted for a few hundred meters on the boulevard that borders this park.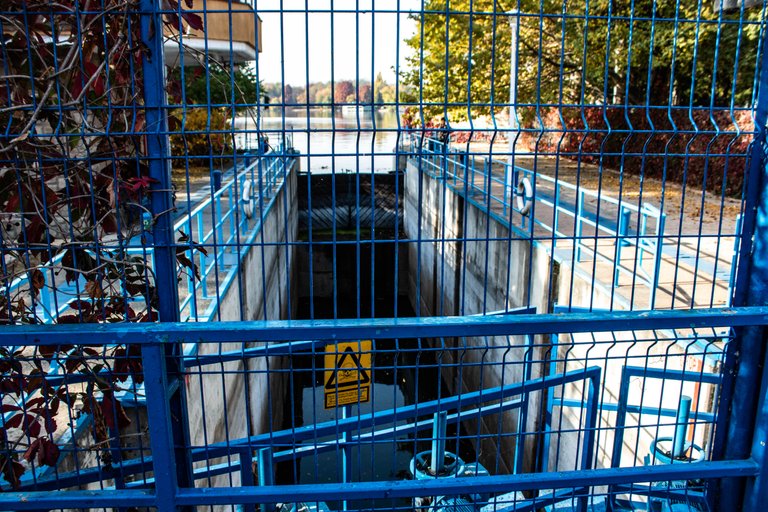 Enough to provide some more evidence of the photos from the back.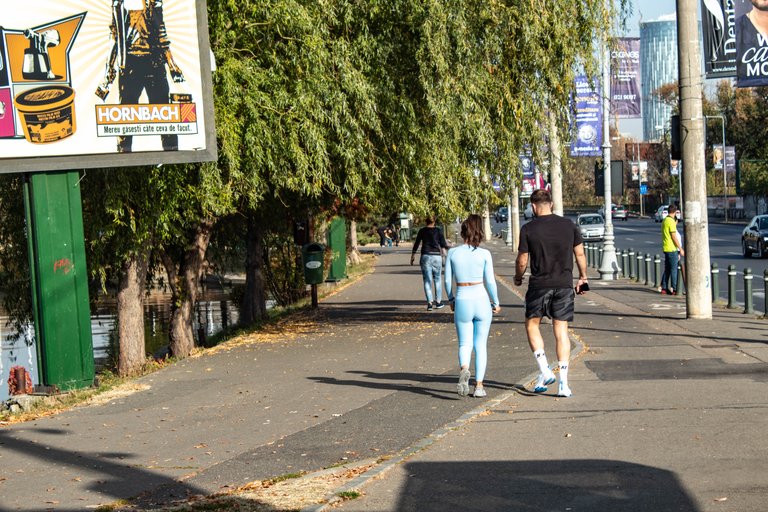 A family with three children. Passing near them I heard them speaking Ukrainian. There are many Ukrainian refugees in Romania, in Bucharest. I meet them everywhere, in public transport, in supermarkets, in cafés, but especially in parks, with children! I hope they feel comfortable in our country.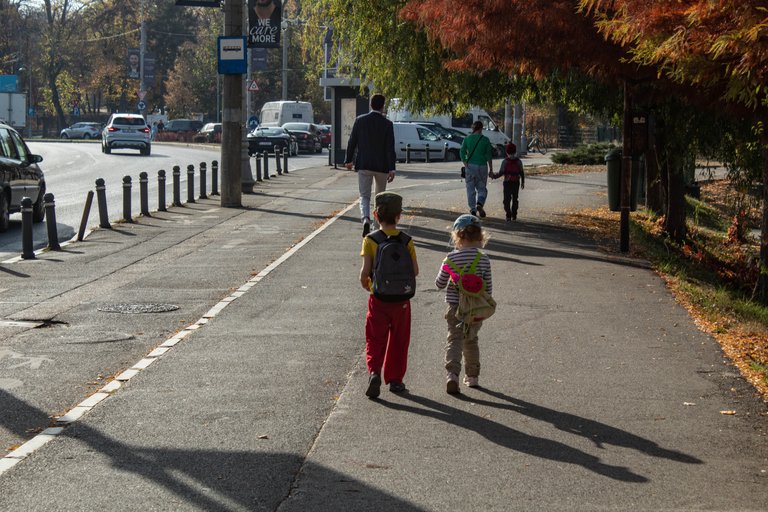 Autumn is beautiful, especially in the park. This time I chose to look more at the people than the scenery. I really like to photograph people in as natural a pose as possible and that's only possible if they don't notice they are being photographed. A few examples, even more, I even try to understand their feelings from what they are doing in this public place that is the park.
Melancholy, loneliness, poetry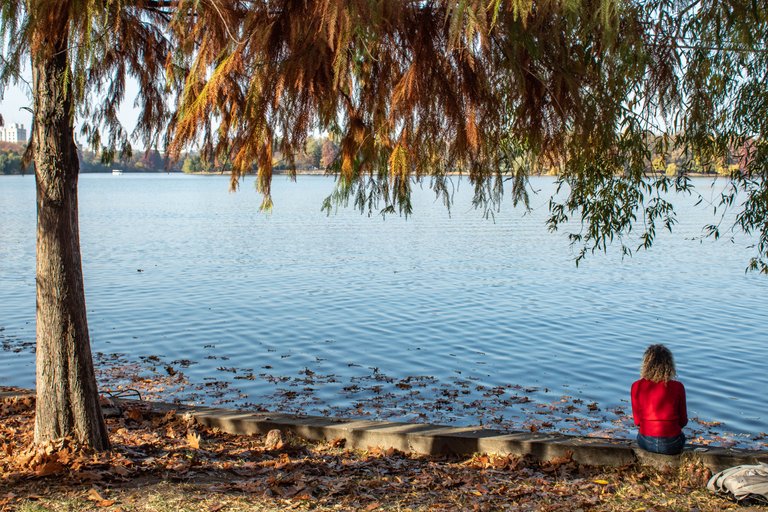 Love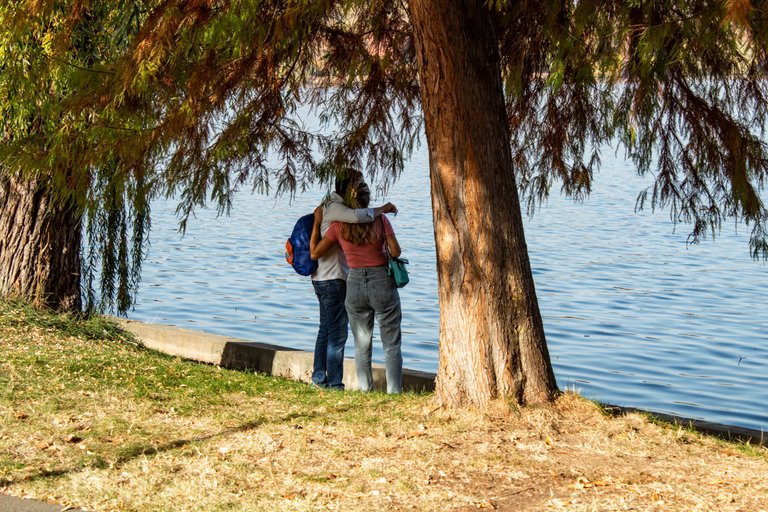 Relaxation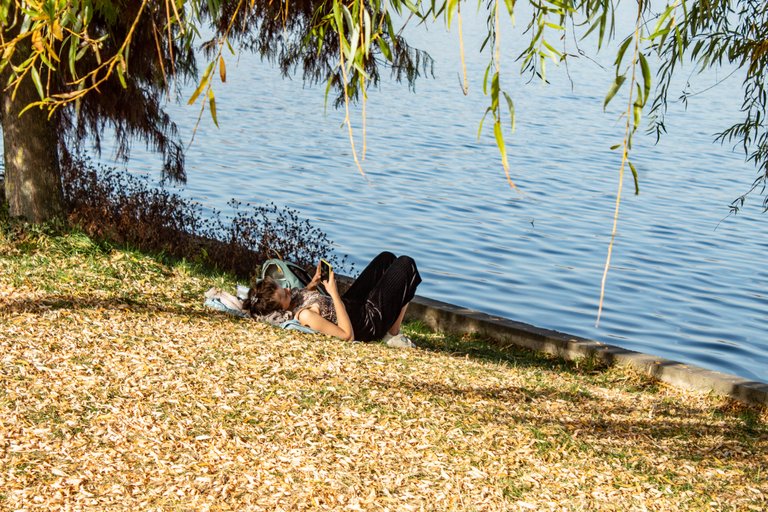 Patience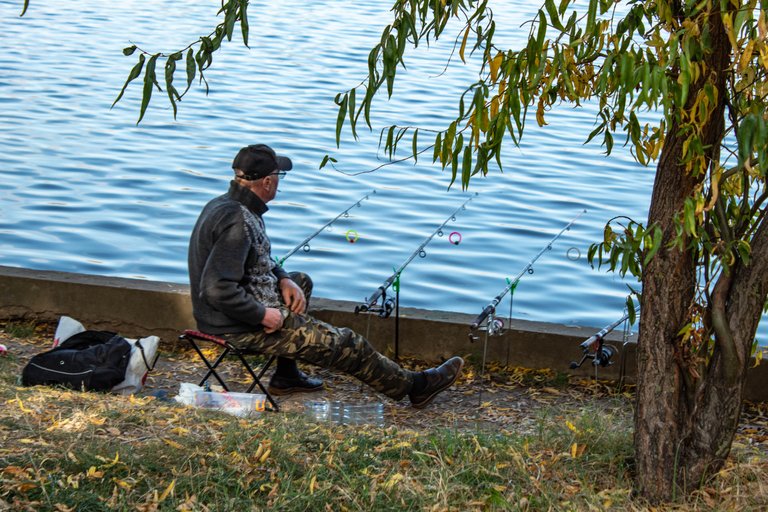 In this park you can't get bored. There are lots of things to see because there are hundreds of people to meet... and each one is unique. I'm thinking of leaving everyone to their own thoughts and business and looking at the scenery. Because this fall is gorgeous...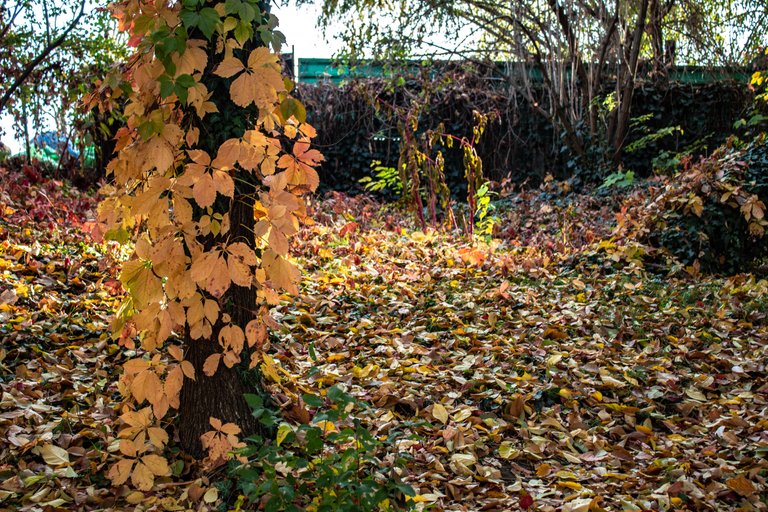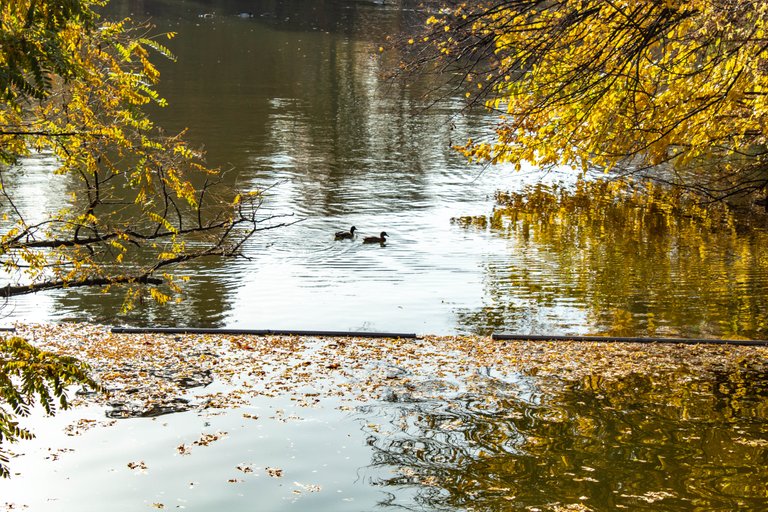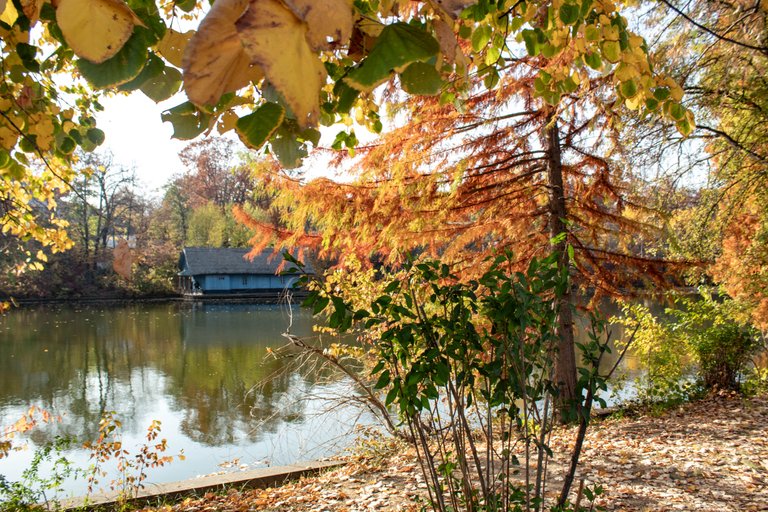 The existence of this park is a blessing for the inhabitants of the city. Next week I will definitely be taking my main walk of the week here.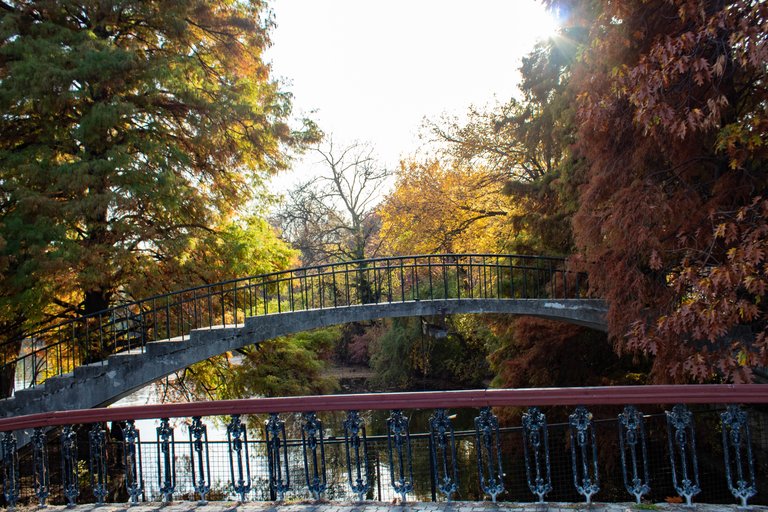 This simple and so generous idea. Invitation to go for a walk! The invitation to look around and look for something worth sharing with others. Through words and images. Thank you, @tattoodjay! The connoisseurs already know that it is Wednesday again, the chosen day!
I'll say it again and again, I've found that my main activity lately is... walking. Like all of you, I love to walk, but only now I have realized that walking has become my main mode of relaxation. Slowly, slowly overtaking the other pleasures I still have