Compañeros de Hive, esta semana se está ejecutando la ronda #10 del World Contest Photography - Flowers of the World, que organiza con excelente criterio nuestro apreciado amigo @marc-allaria.
Fellow Hive, this week round #10 of the World Contest Photography - Flowers of the World, organized with excellent criteria by our dear friend @marc-allaria.
---
Mi participación será con:
My participation will be with:
Lirio blanco / White lily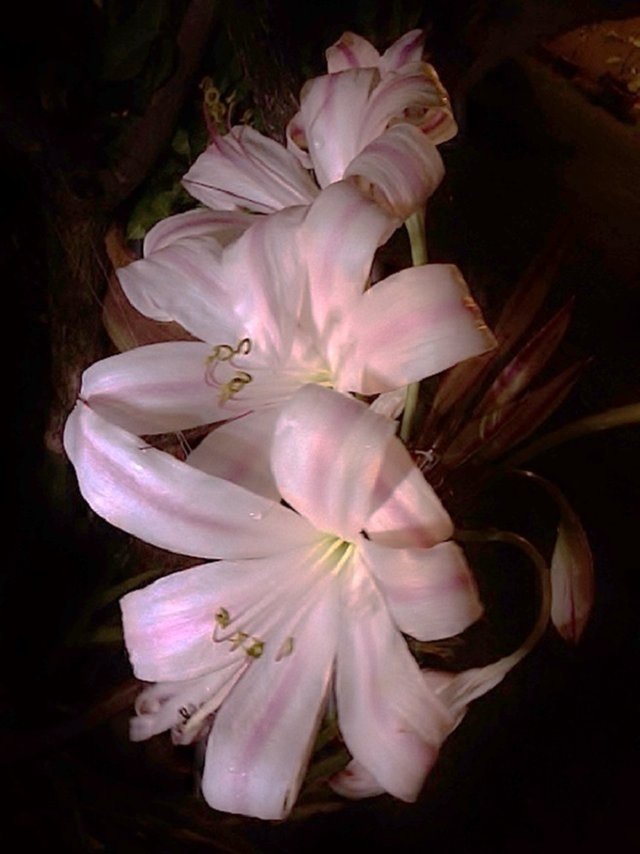 El lirio blanco, también conocido como azucena, vara de San José, rosa de Juno y otros nombres en distintos lugares, está relacionado con la fertilidad, el bienestar del hogar y la familia. Por la extraordinaria belleza y pureza de sus pétalos, surcados por tenues franjas color lila, desde hace mucho tiempo se ha constituido como un símbolo de la Virgen María.
The white lily, also known as lily, St. Joseph's rod, Juno's rose and other names in various places, is related to fertility, well-being of home and family. Due to the extraordinary beauty and purity of its petals, crossed by faint lilac stripes, it has long been a symbol of the Virgin Mary.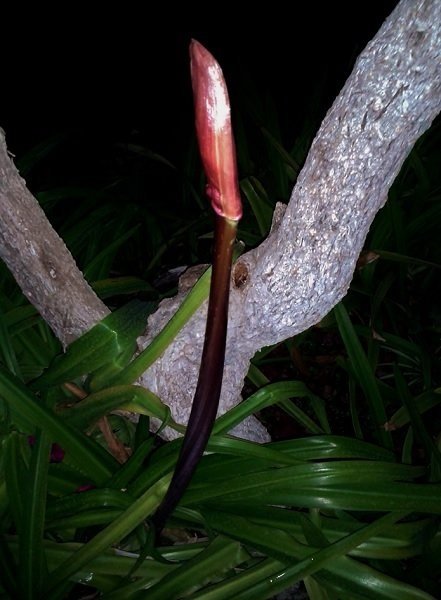 Lilium candidum, es el nombre científico de esta planta herbácea perteneciente a la familia de las liliáceas. En el jardín de nuestro hogar vemos surgir un bastón de tono oscuro, flexible, que crece erguido hasta alcanzar, aproximadamente, un metro de altura. Al cabo de tres o cuatro noches empieza a abrir sus cogollos que contienen entre diez y catorce flores cada uno para que presenciemos el milagro que nos proporciona muchas alegrías y nunca deja de embelesarnos.
Lilium candidum, is the scientific name of this herbaceous plant belonging to the Liliaceae family. In the garden of our home we see a cane of a dark tone, flexible, that grows upright until it reaches approximately one meter in height. After three or four nights, it begins to open its buds that contain between ten and fourteen flowers each so that we can witness the miracle that gives us many joys and never ceases to enthrall us.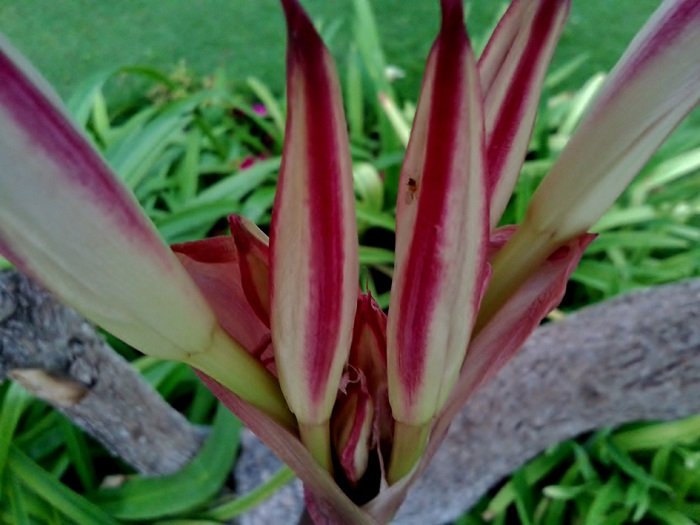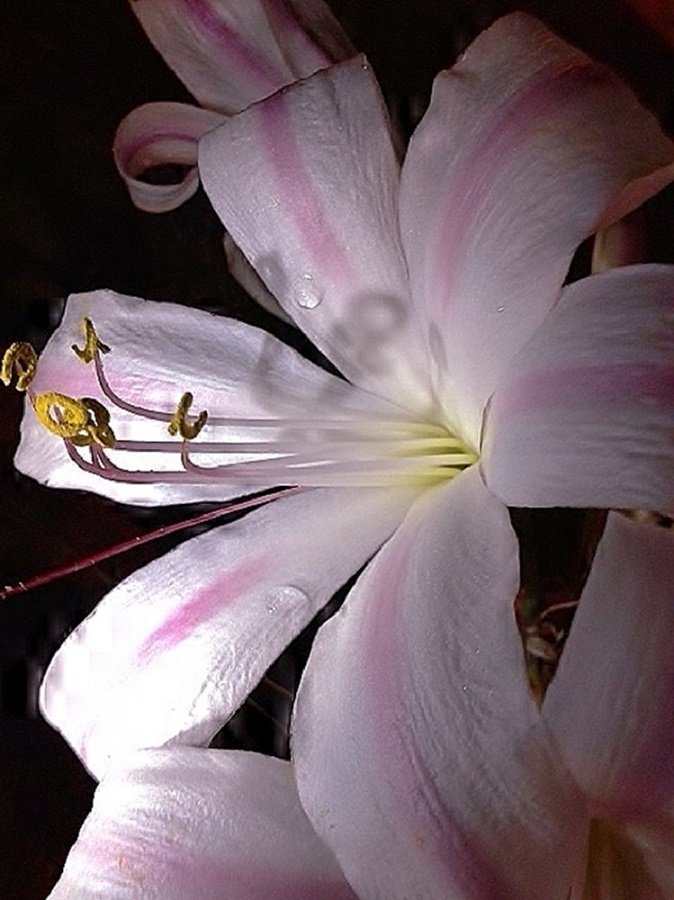 Tres o cuatro flores de cada capullo se abren en la noche, siempre en la noche, y se marchitan al día siguiente cuando son tocados por los rayos del sol. Por espacio de cuatro o cinco lunas el patio se llena de gracia con sus elegantes pétalos blancos y disfrutamos de su fino aroma delicado y penetrante al mismo tiempo.
Three or four flowers from each bud open at night, always at night, and wither the next day when touched by the sun's rays. For the space of four or five moons, the patio fills with grace with its elegant white petals and we enjoy its delicate and penetrating fine aroma at the same time.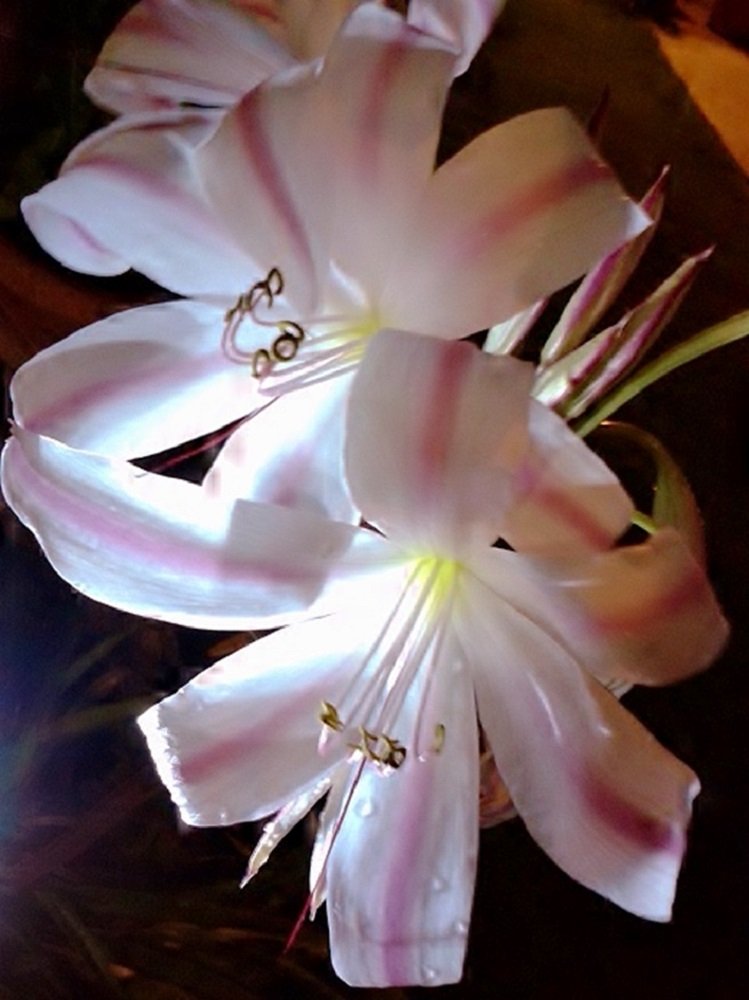 Esta flor de pétalos alargados tan efímeros, sencilla, sublime, de dulce y suave fragancia, bella en extremo, asociada a la fecundidad, nos proporciona muchas satisfacciones sensoriales cuando adorna nuestro huerto al mismo tiempo que nos obsequia sus propiedades curativas y medicinales.
This flower with elongated petals that are so ephemeral, simple, sublime, with a sweet and soft fragrance, extremely beautiful, associated with fertility, provides us with many sensory satisfactions when it adorns our garden while at the same time giving us its healing and medicinal properties.
English translation: Google translator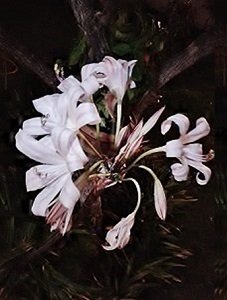 Todas las fotografías fueron tomadas
con mi teléfono celular Samsung, GT-I8160P