The last festival I live painted at was in Arizona beginning of Feb 2020; right before all hell broke loose and all my upcoming festivals were cancelled for the forseeable future. Gem and Jam. It was a wonderful last taste before Covid began.
As festivals finally are starting up again this summer ( I applied for a festival last week! fingers crossed) I wanted to share something I had meant to share after I had come home from Gem and Jam last year but never got around to it.
I had started the Arizona Mandala Band 2 weeks before heading out on my adventure (a 17 hour car ride I broke into 3 days while exploring Nevada, Sedona and Phoenix). It was my fastest painting I had made to date(still is!) from start to finish in just under 2 weeks. I had packed 130 hours of work into those 12 days, with very little sleep but it was worth it! I had started this piece with hopes of painting live a partner piece to the one I had just finished days before leaving. Arizona themed of course! One thing I love the most about going to Gem and Jam are the absolutely gorgeous breathtaking night skies. Super crisp and full 360 views. Its very magical. I couldn't help to make both my pieces with those gorgeous night skies.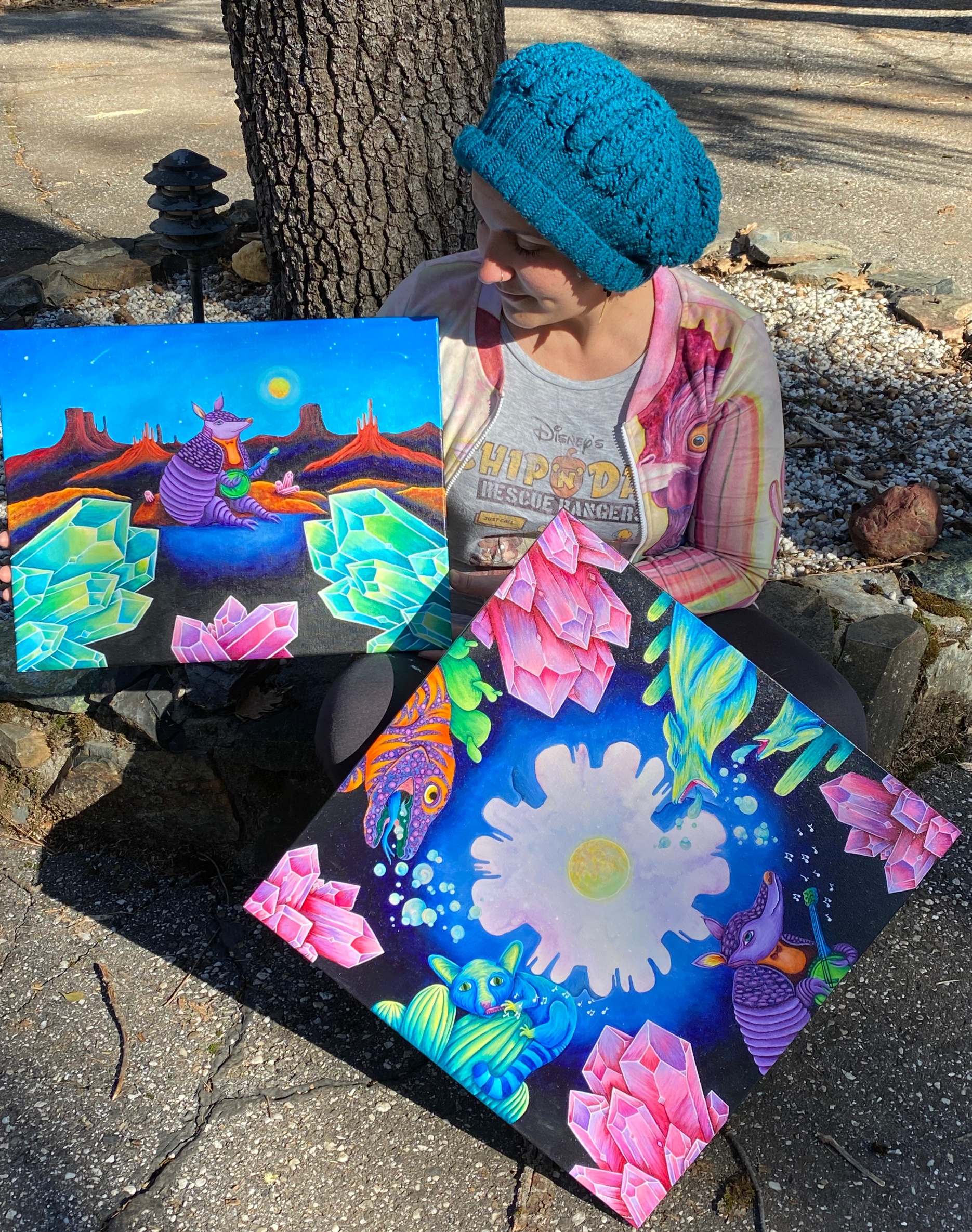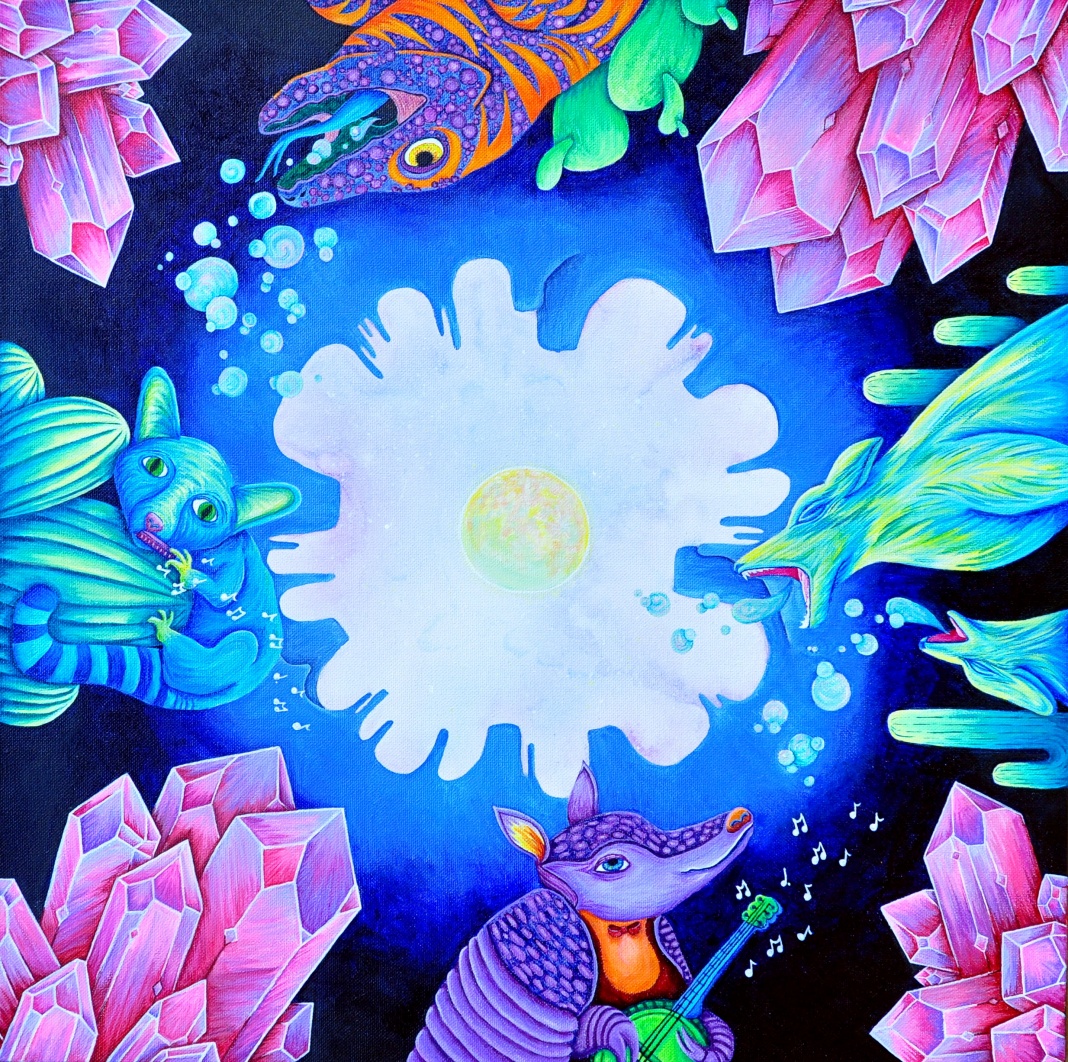 "Arizona Mandala Band"
This was the first time I had done live painting where I agreed to try to start and finish a painting in 3 days to put up for auction on the 3rd day. (Usually live painting runs a little different) so I was pretty stressed out about it. I had t least penciled the whole piece out before I left to help with the process, but I was so time crunched that it was pretty sloppy, but I finished. Yet, as it was so sloppy, I did not sell it at the auction. Womp womp. I was pretty disappointed in myself, but sometimes these failures are the best for growth. To pick yourself up by your bootstraps and do something about it.
And it worked out! As I was not satisfied with what I had produced there and knew I could do better; I took it home and spent another 2 weeks working out all the kinks, touching up spots and giving the little perfect details I didn't have time to do before and finally producing the lovely landscape you see below where our little armadillo friend serenades the stars while jamming to the gems.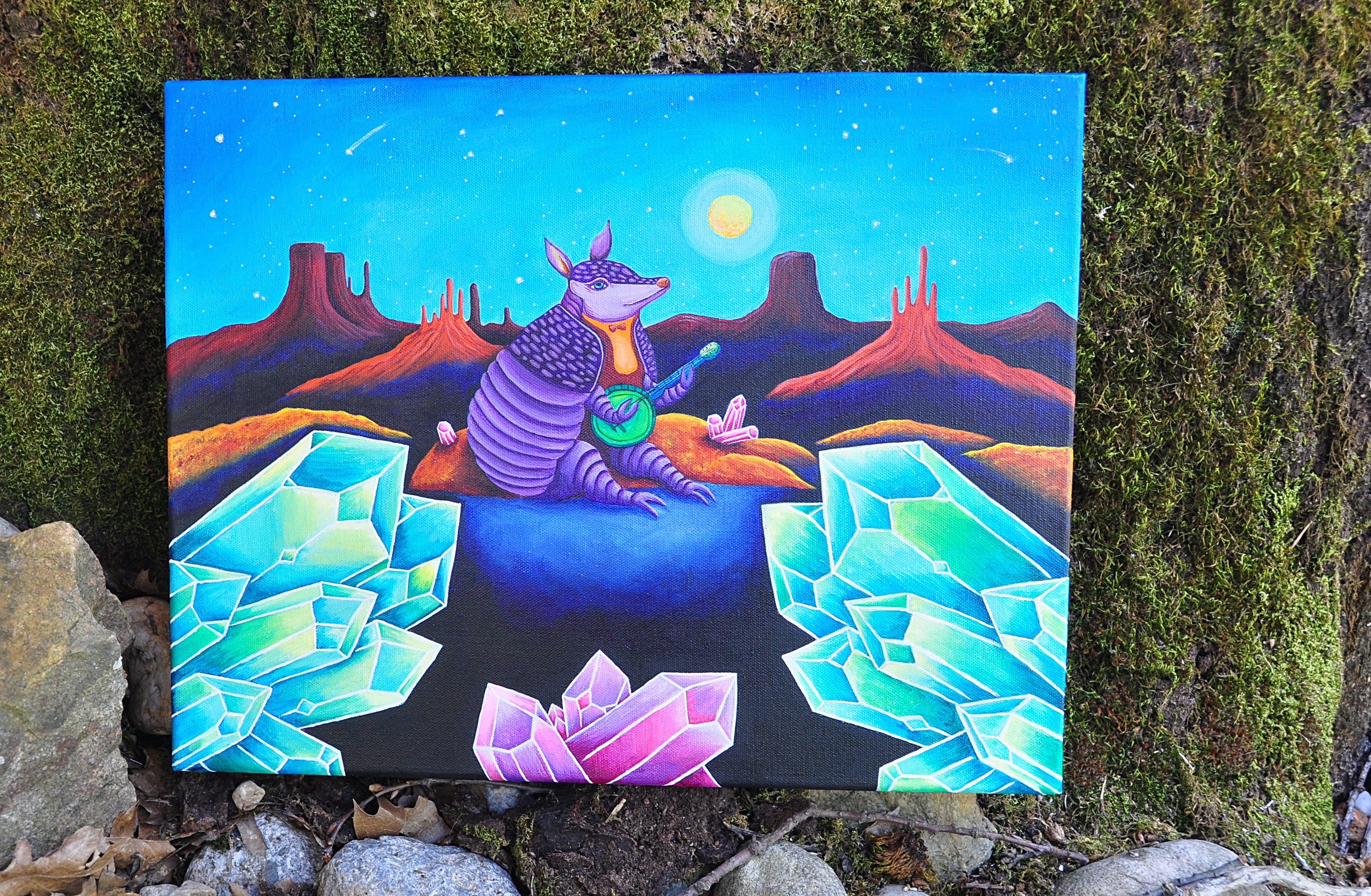 "Jamming to Gems"