Today I have a much more complex university work, and I have to admit that it was a very complete one. I will see how I summarize the whole process of making a wine label, if it works, give me an upvote ... if not, as well for trying?
It won't be easy but it's a challenge I'll accept.
Hoy tengo un trabajo universitario mucho más complejo, y e de admitir que sin duda muy completo. Vere como resumo todo el proceso de la elaboración de una etiqueta de vino, si funciona, denme un upvote... si no ¿también por intentarlo?.
No será fácil pero reto aceptado.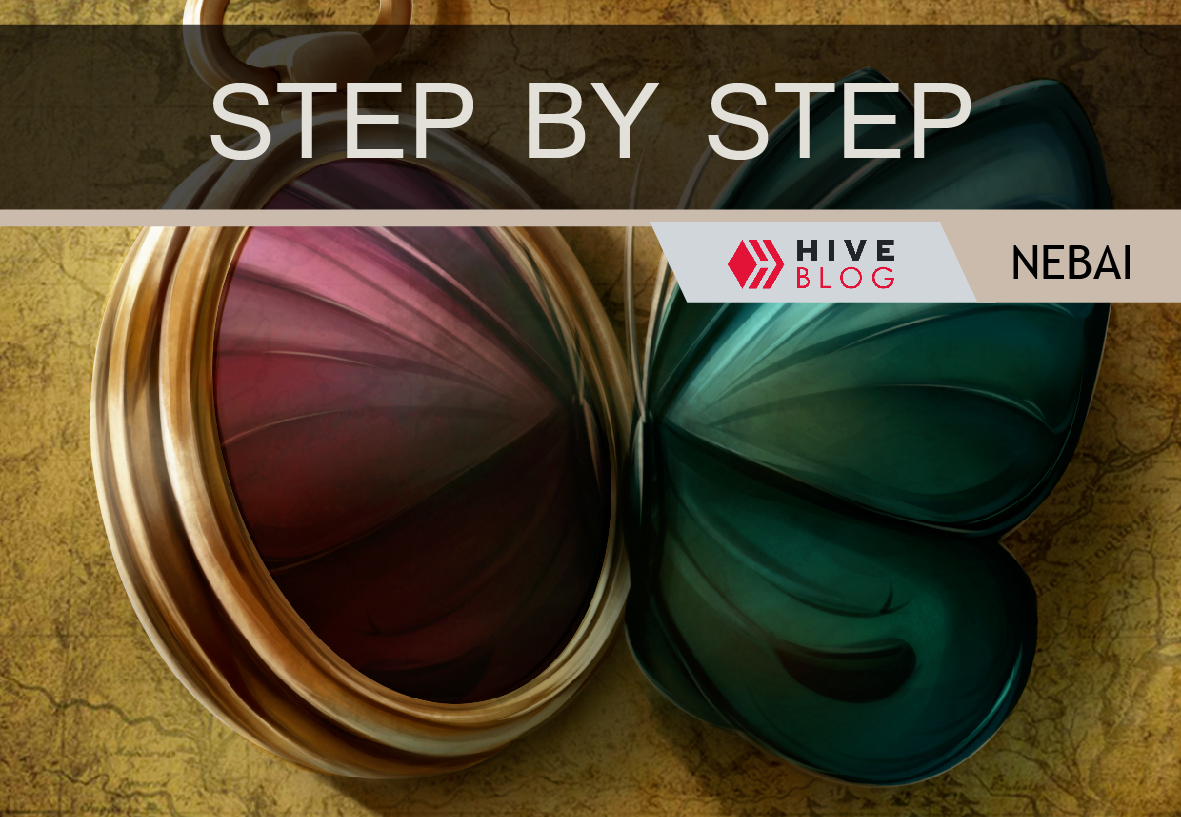 This project consisted in the elaboration of a wine label for a brand, for me it was Vau Vintage, perfect but... did I have to use a children's theme?, was the style strictly limited to a few techniques?, did I have to finish it after a week with everything included? Oddly enough, we were left to make it as we wanted...
Teacher, if you see this, I still want to give you a chocolate.
Este proyecto consistía en la elaboración de una etiqueta de vino para la una marca, para mi fue Vau Vintage, perfecto pero... ¿tenía que usar un tema de niños?, ¿el estilo era estrictamente limitado para unos pocas técnicas? ¿debía de terminarlo al cabo de una semana con todo incluido? Curiosamente nos dejaron todo a vía libre...
Profe si llegas a ver esto, aún quiero darte un chocolate.

Opciones/Options:
For the first phase we had to make options or possible designs available. I had a hard time getting ideas and I won't deny that one of these was just to say i made the homework. You will notice it yourselves when you see it, hehe.
Para la primera fase teníamos que hacer dar opciones o posibles diseños. Me costó conseguir ideas y no negaré que una de estas fue por relleno. Ustedes mismos lo notarán cuando lo vean, hehe.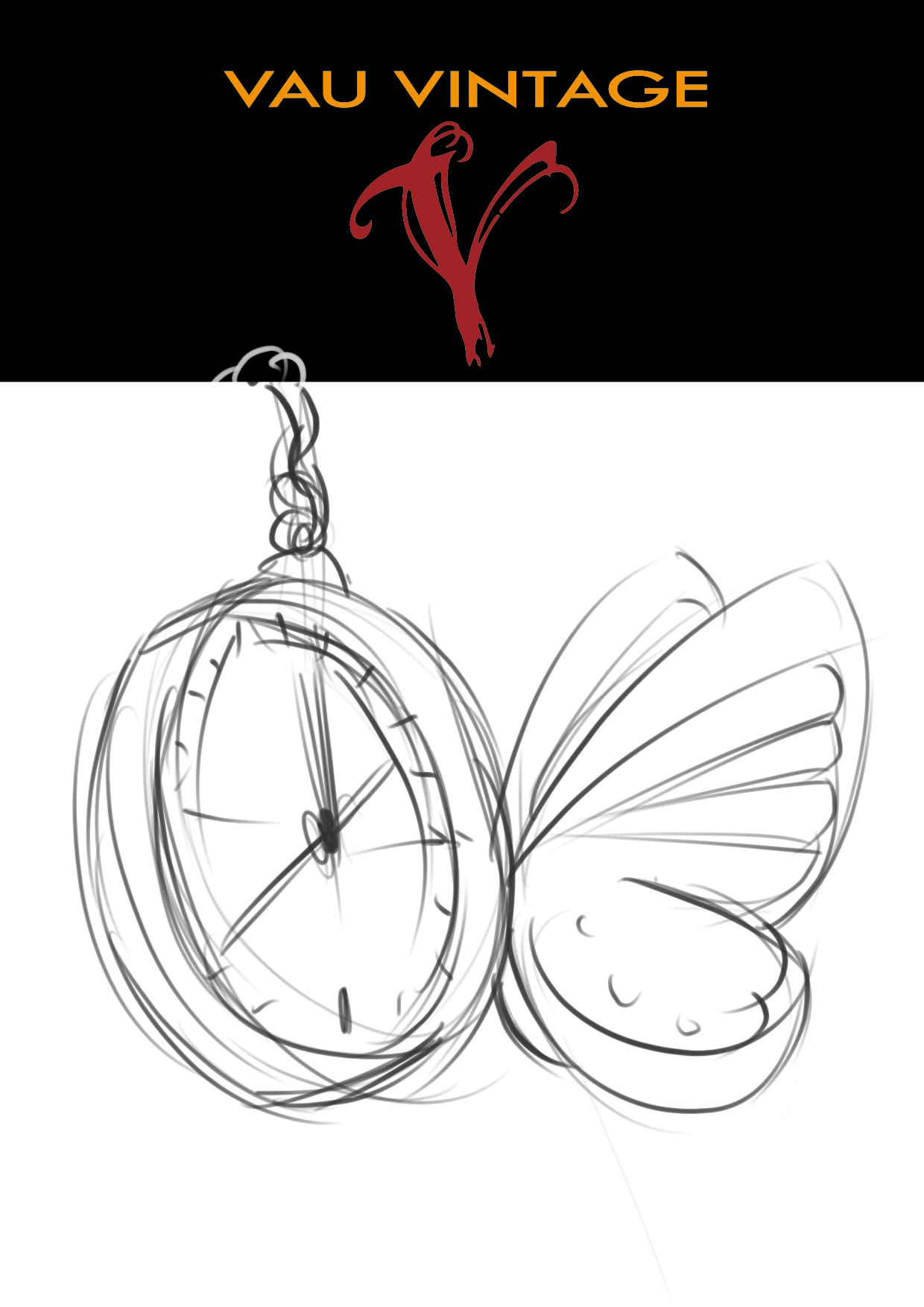 The elegant butterfly with a watch, I was looking for something abstract but showing a classic and polite style.
La elegante mariposa con un reloj, buscaba algo abstracto pero que muestre un estilo clásico y educado.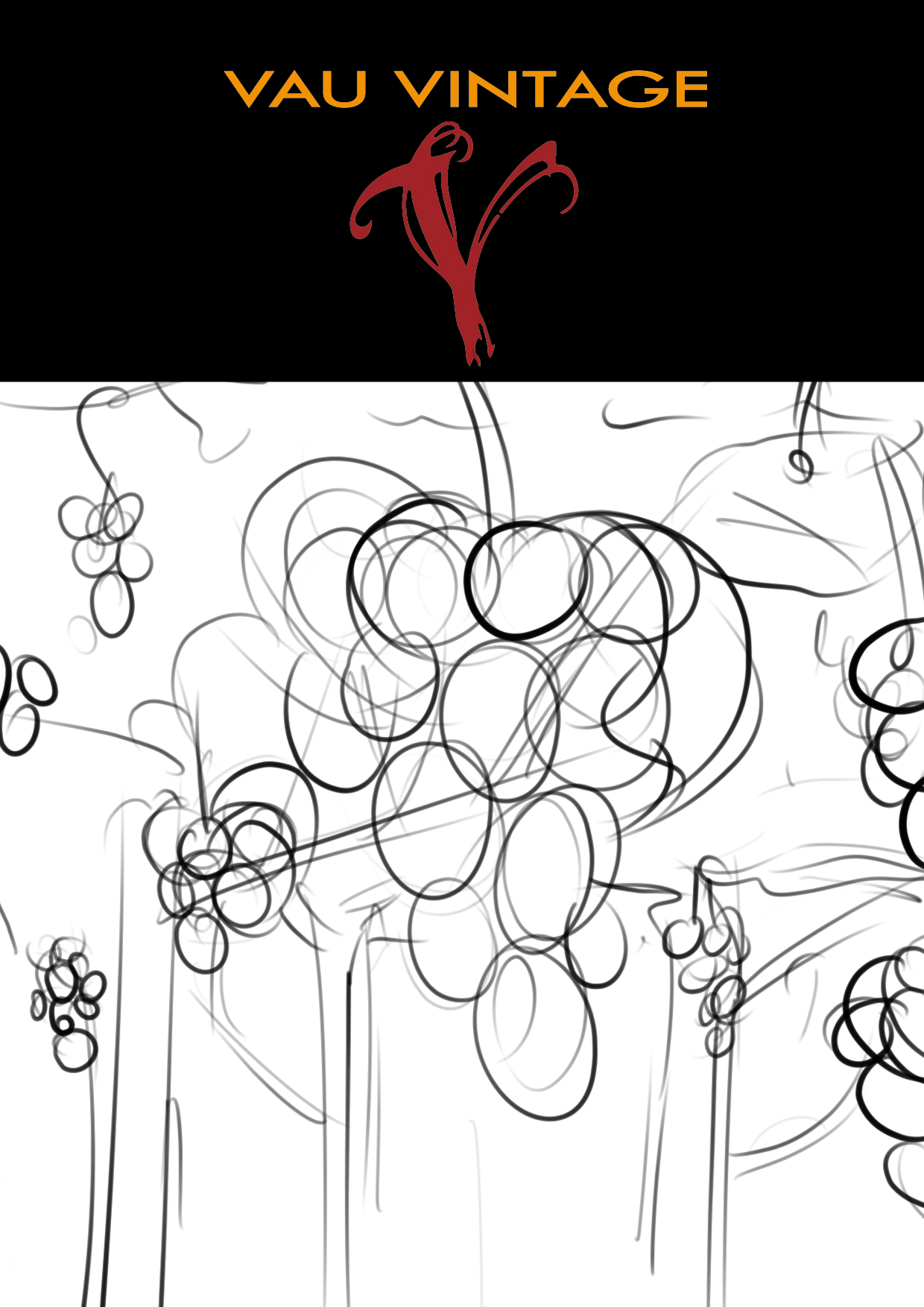 A little more direct and less boring but I think it would work well with the right set of lights.
Un poco más directo y menos aburrido pero creo que funcionaría bien con el juego de luces correcto.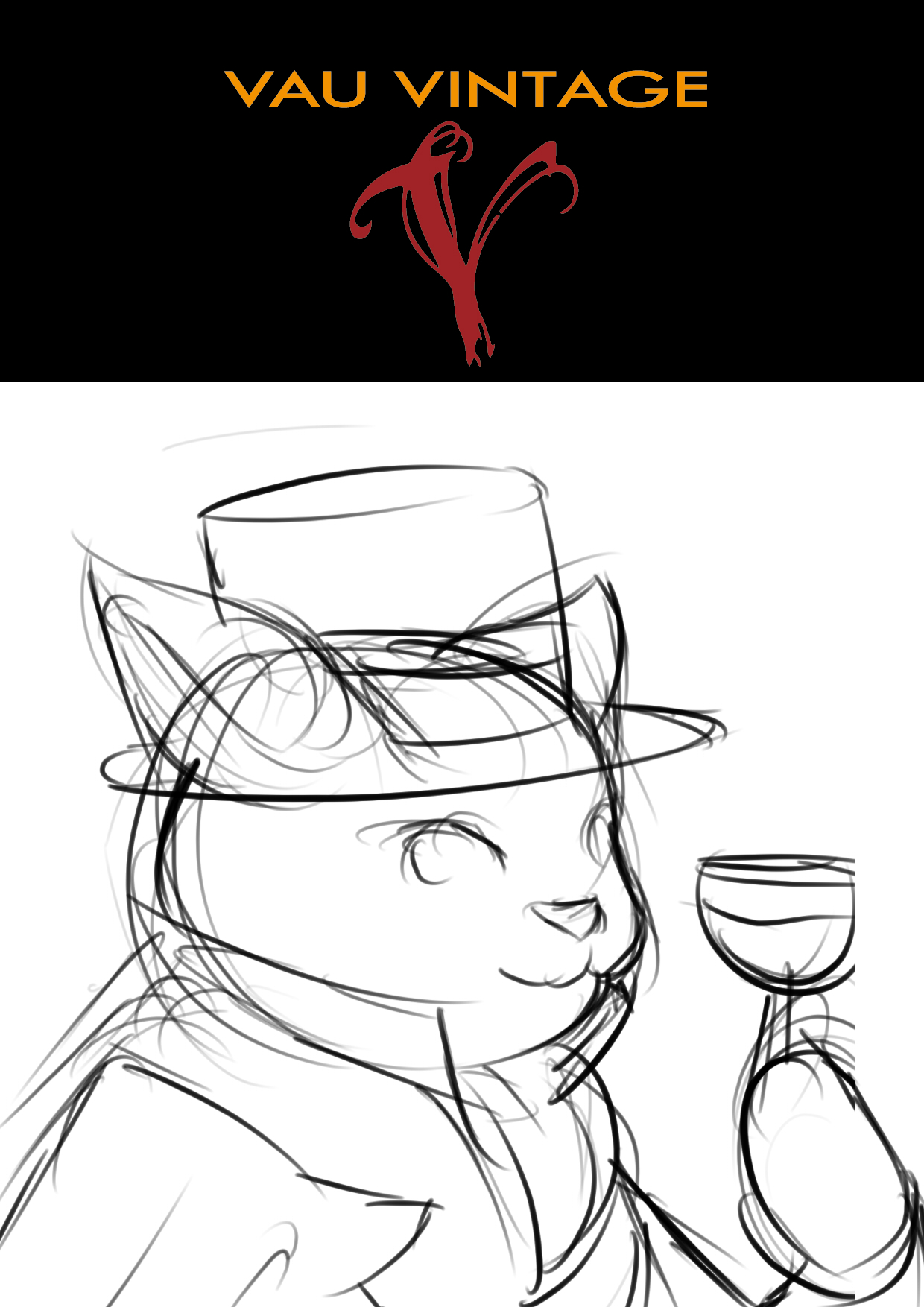 A fat cat with wine... but what message would it have behind? I don't know, it's a fat cat with wine.
Una gato gordo con un vino... ¿pero qué mensaje tendría detrás? No se, es un gato gordo con vino.

Proceso/Process:
It was the first one chosen of all, the butterfly and its elegance won.
Me escogieron la primera opción de todas, la mariposa y su elegancia ganó.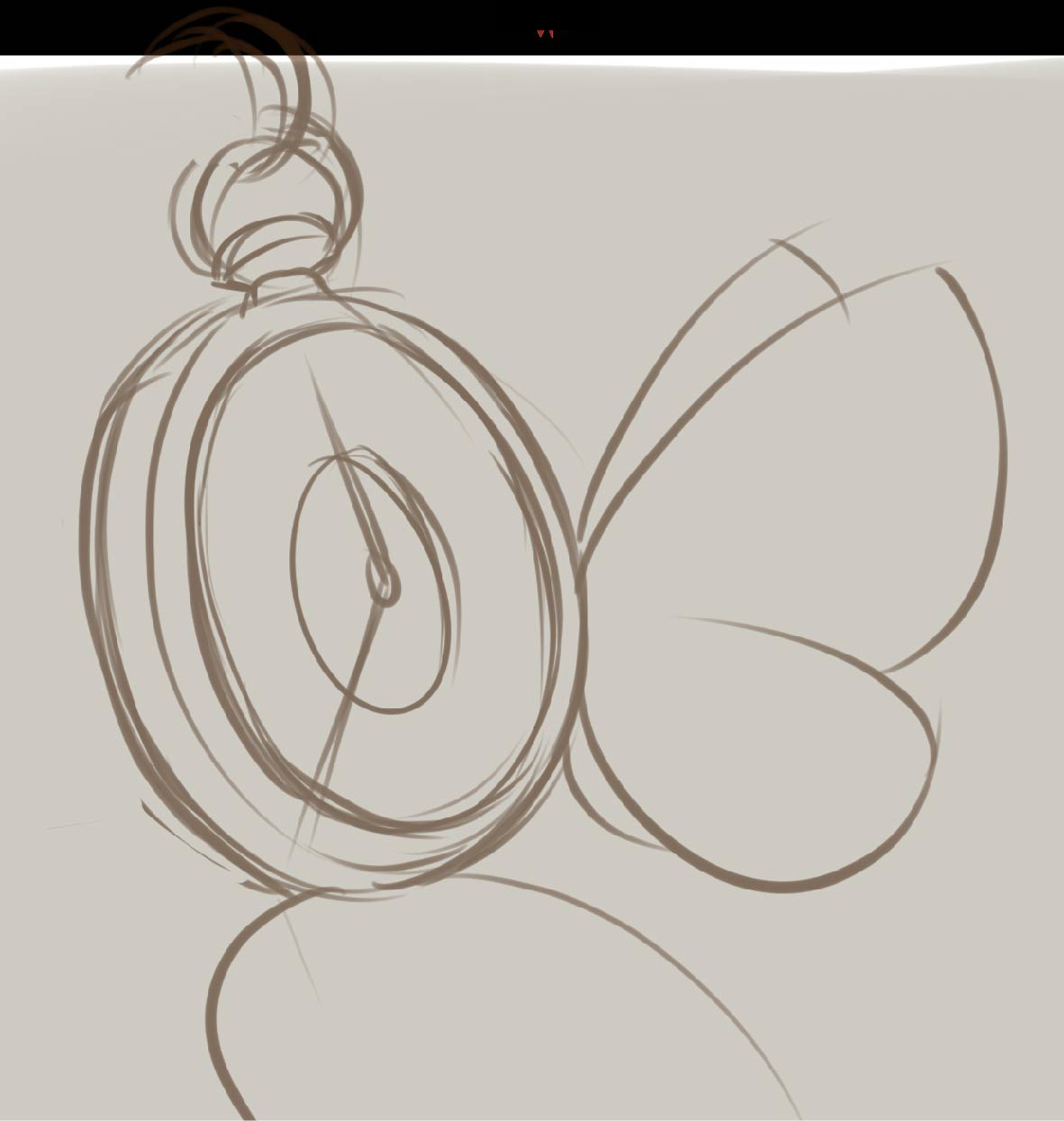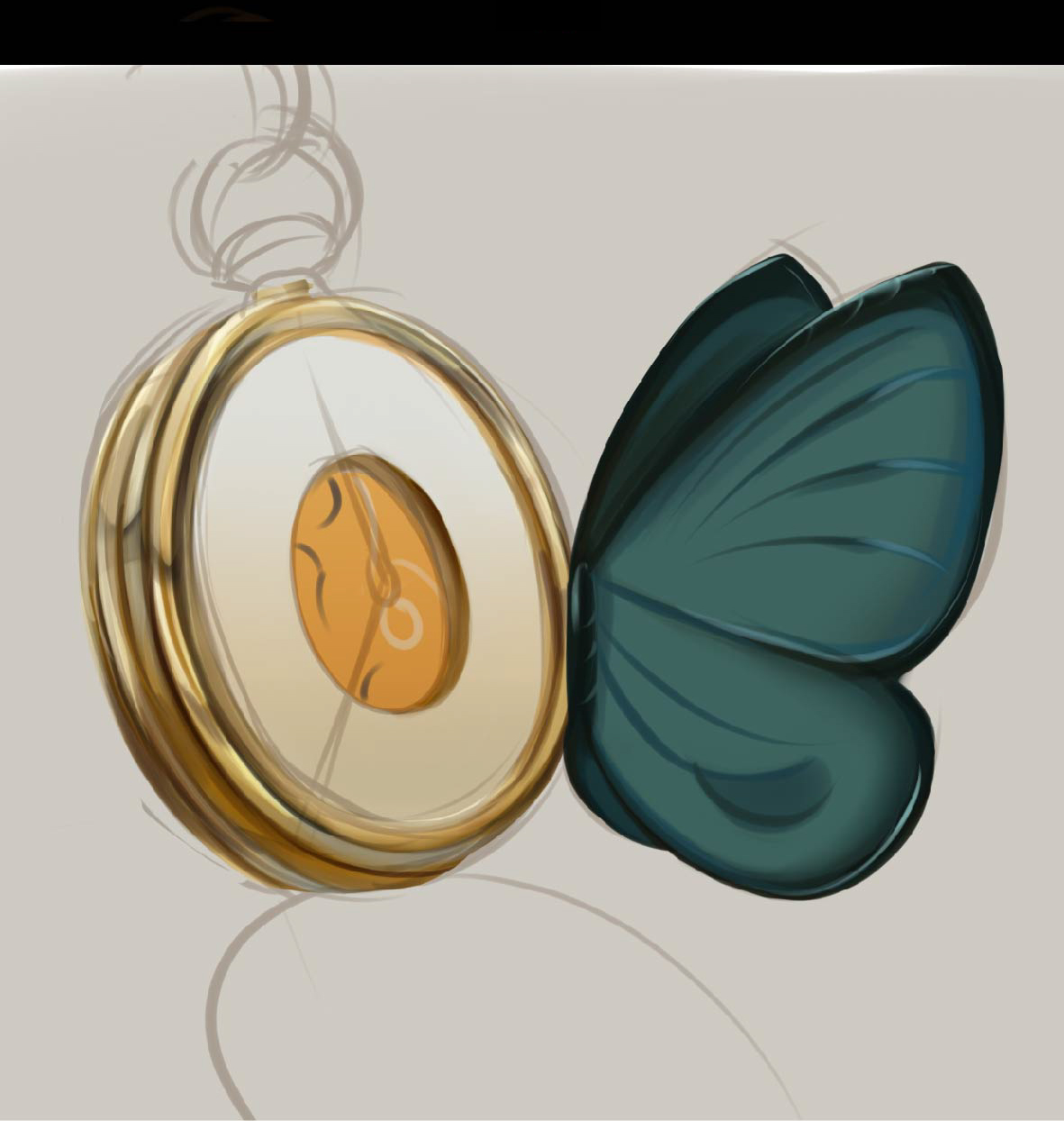 With the idea in mind I would only have to clean the strokes even more and start with the basic colors.
Con la idea en mente sólo tendría que limpiar los trazos aún más y comenzar con el bloque de colores.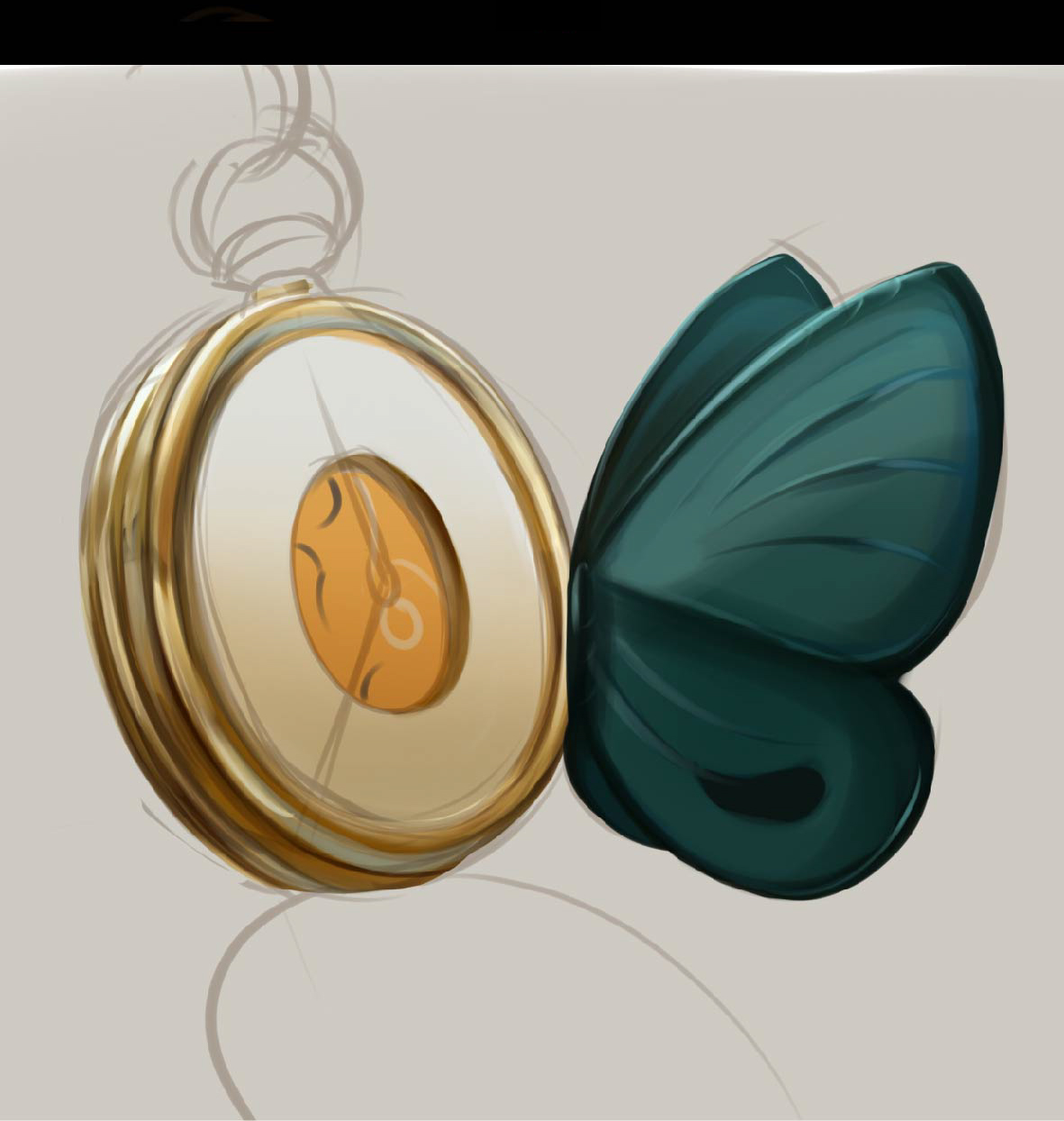 I was hoping to make the watch in a steampunk way, I always had a love for this style, but after giving my first strokes I noticed that by the time, it was going to take too long... so "plan B".
Esperaba poder hacer el reloj en una forma steampunk, siempre tuve un amor por este estilo, pero después de dar mis primero trazos note que el tiempo que iba a durar iba a ser más de lo que tenía... así que "plan B".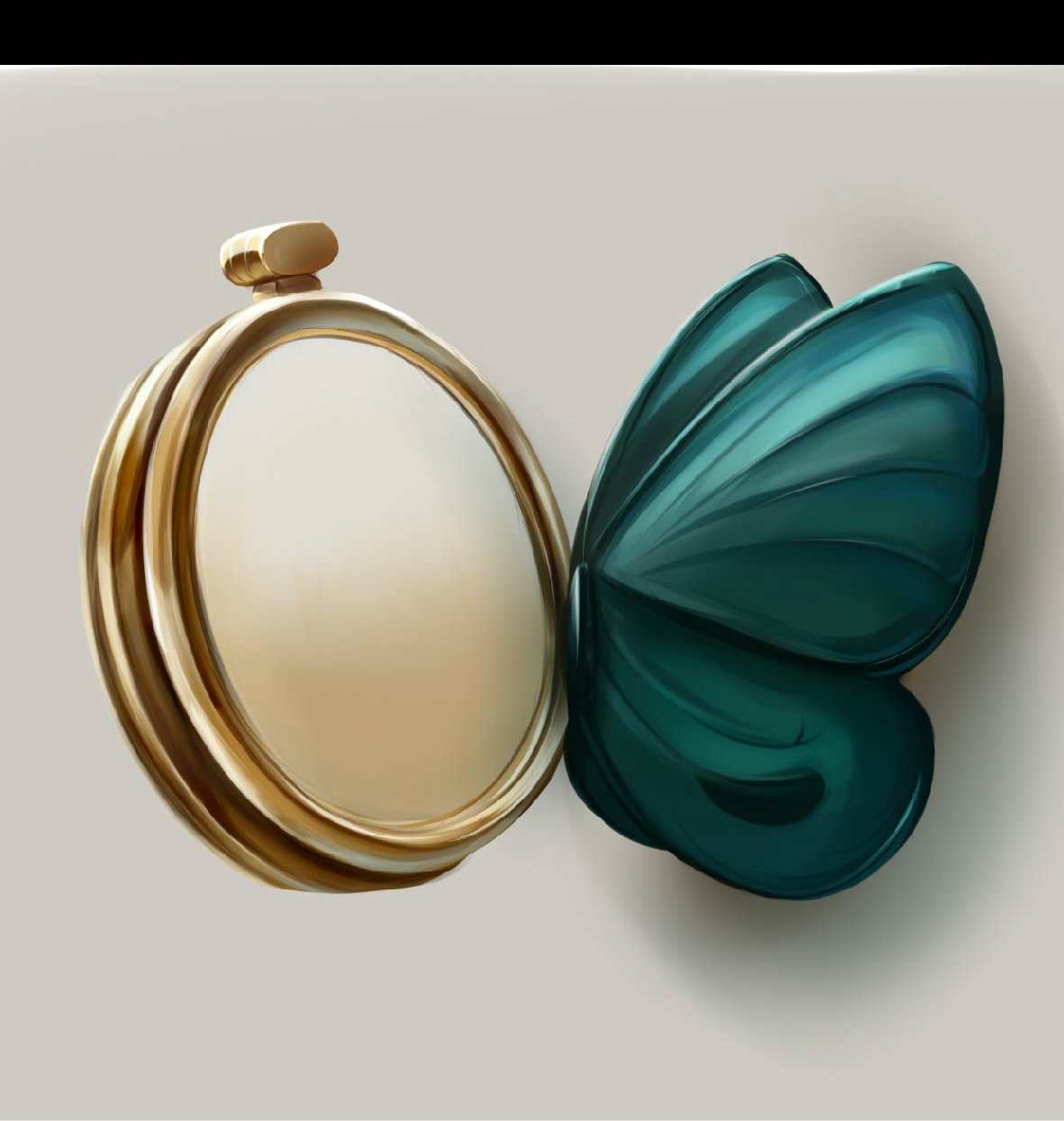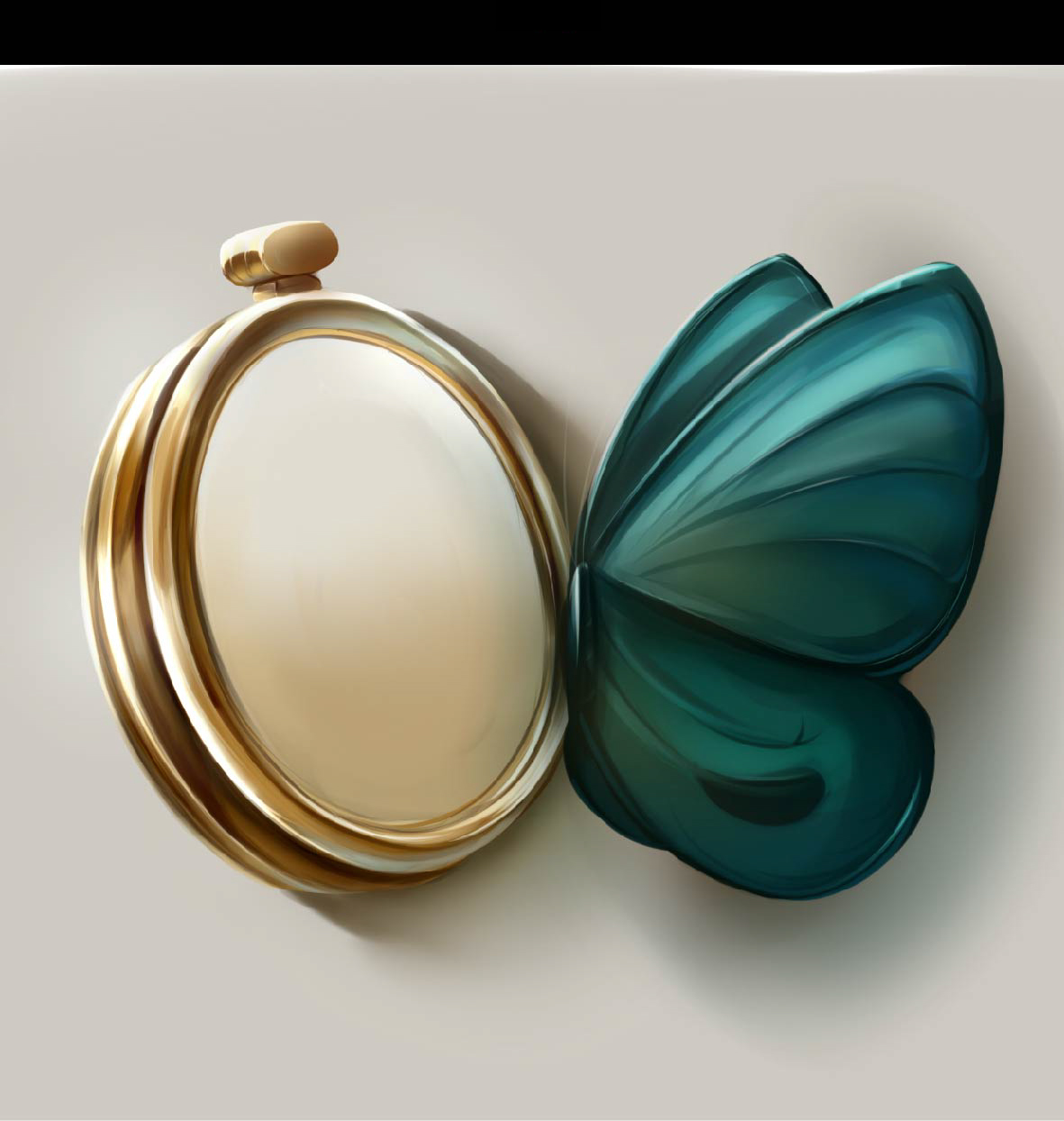 Never forget to put cast shadows and reflected lights on the paintings... it will allow you to give more credibility to the composition, I swear by the fat wine cat. I think here is a good example of this, where I put a little more yellow in the shadows of the butterfly (keeping the values similar) .
Nunca olviden poner sombras proyectada y luces reflejas a las pinturas... les permitirá dar más credibilidad a la composición, se los juro por el gato gordo vinero. Creo que aquí es un buen ejemplo de ello, donde pongo un poco mas de amarillo en las sombras de la mariposa (manteniendo los valores de forma similares) .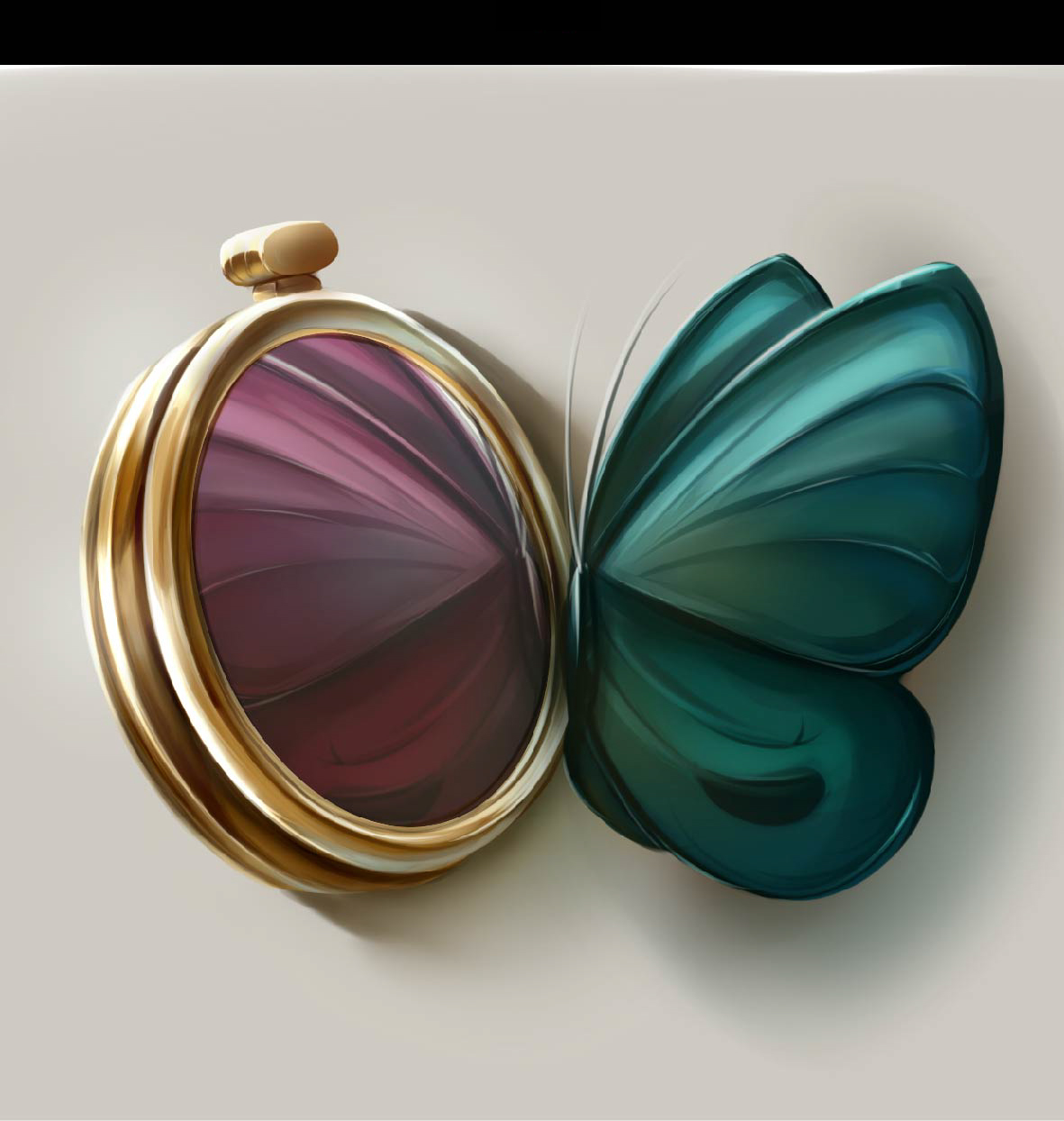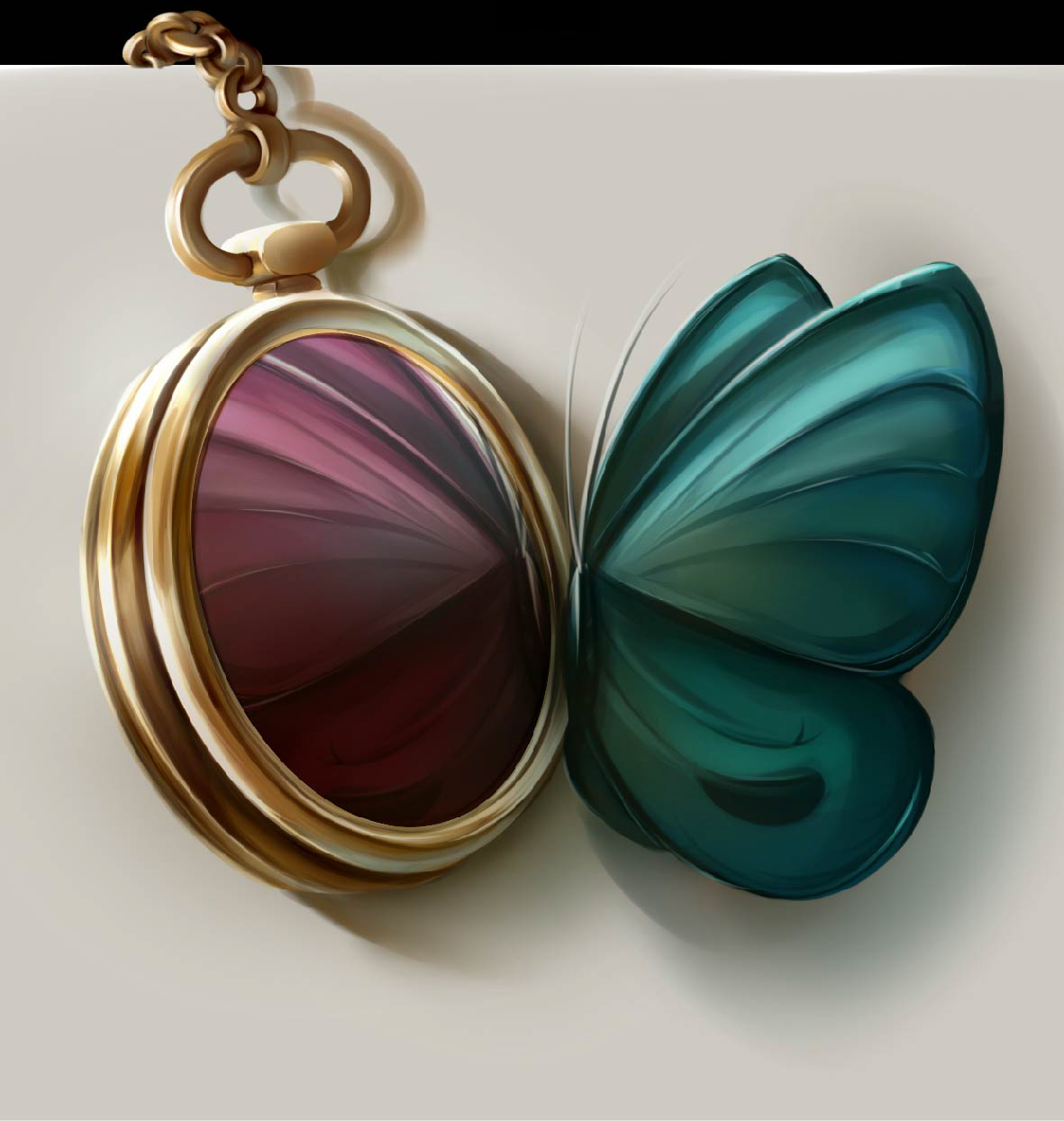 Since the clock was a discarted idea, the "plan B" would be the reflection of the butterfly in a more curious way ... in this case red in reference to the wine, or so I tried. As part of the constant recommendation I made, I added some green tones in reflection of the opposite butterfly.
I liked this idea, as if it were a view to another dimension.
Ya que el reloj era una idea cada vez más descartada el "plan B" sería el reflejo de la mariposa en un forma más curiosa... en este caso de color rojo en referencia del vino, o eso intentaba. Como parte de la constante recomendación también le puse tonos un tanto verde en reflejo de la mariposa opuesta.
Me gustó está idea, como si se tratara de una vista a otra dimensión.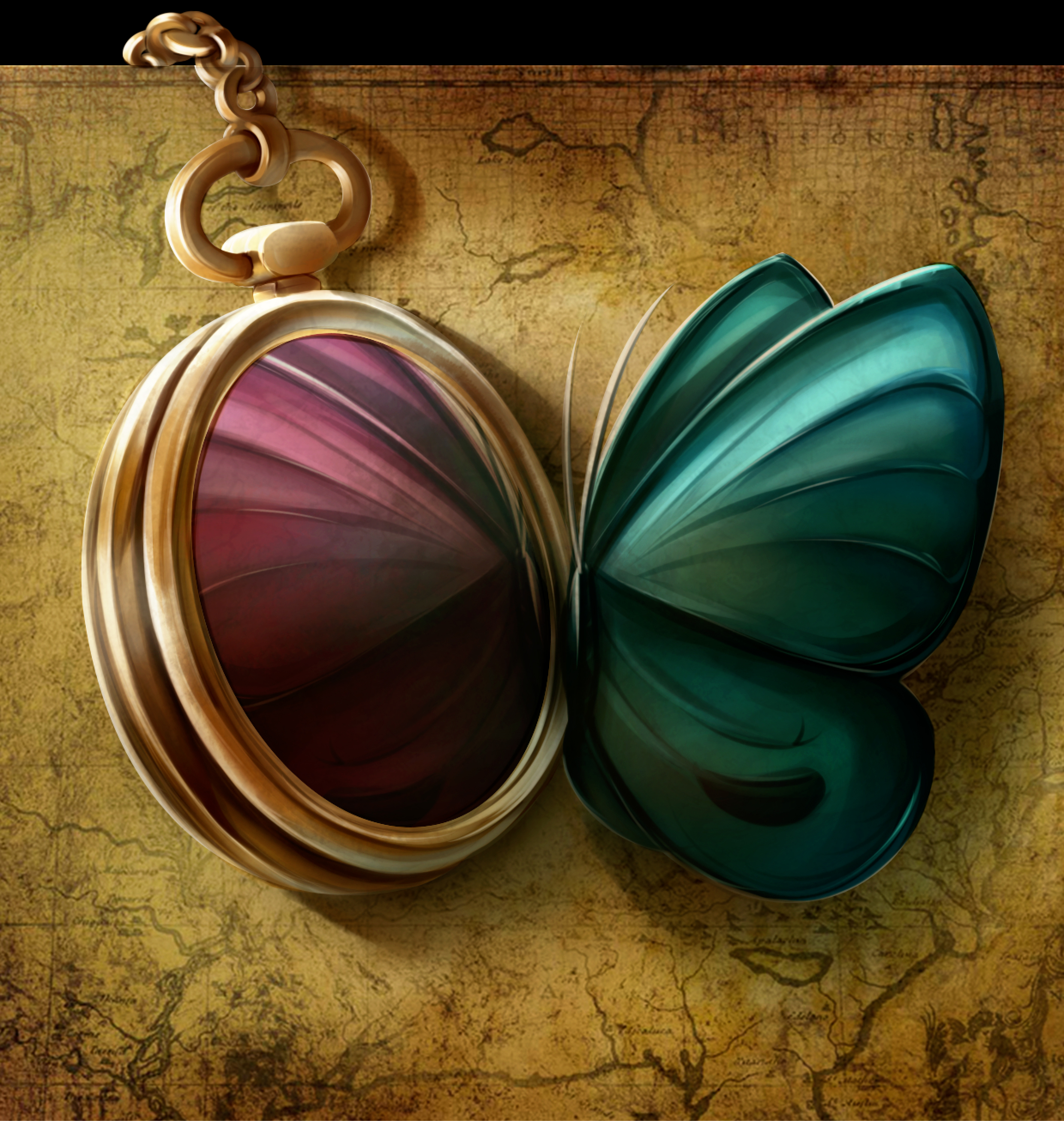 To give it a greater interest the background should not be missing. I was hoping to make an old-fashioned texture, but the map won hehe. This part was much easier, with an image in "multiply" and edited with brushes.
The cast shadow should never be missed, remember that in compositions each object reacts to the one next to it.
Para darle un mayor interés el fondo no debía de faltar. Esperaba hacer una textura de vejez, pero el mapa ganó hehe. Esta parte fue mucho más fácil, con una imagen en "multiplicar" y editado con pinceles.
La sombra proyectaba jamás debería de faltar, recordemos que en composiciones cada objeto reacción con respecto al que tiene al lado.

And the final design with everything; here would be my complete label, including the elaboration information. I would like to know your opinion, Would you like to see a design like this on a bottle?
Y el estilo final con todo; aquí quedaría mi etiqueta completa, incluyendo la información de elaboración. Me gustaría saber su opinión, ¿qué les parecería ver un dise lo así en alguna botella?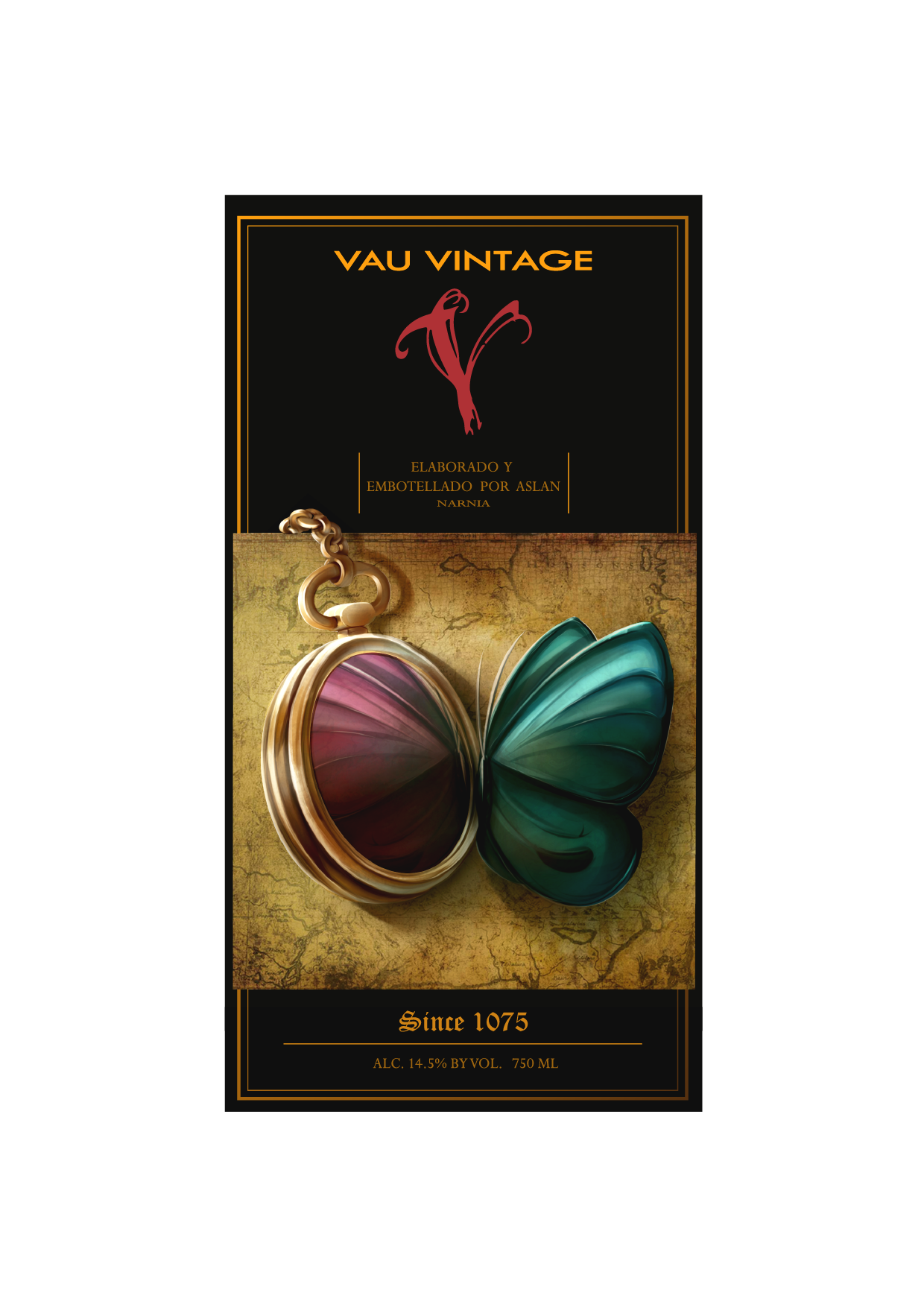 Herramientas / Tools:
Paint Tool Sai
Photoshop
20 x 21 cm / 300 ppi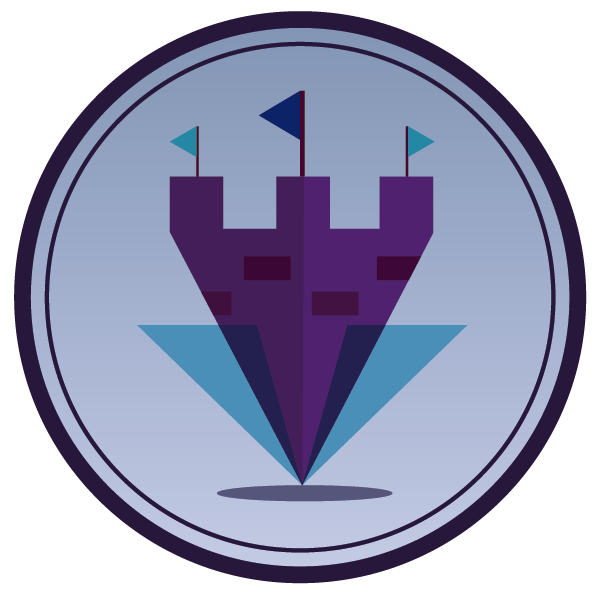 También estamos compartiendo un Grupo de Artistas para todas las plataformas. / We are sharing as well an Art Group for all platforms.
https://discord.gg/HYy6fkD

Si les gusta mis trabajos, su apoyo significaría mucho / If you like my work, your support would mean a lot.