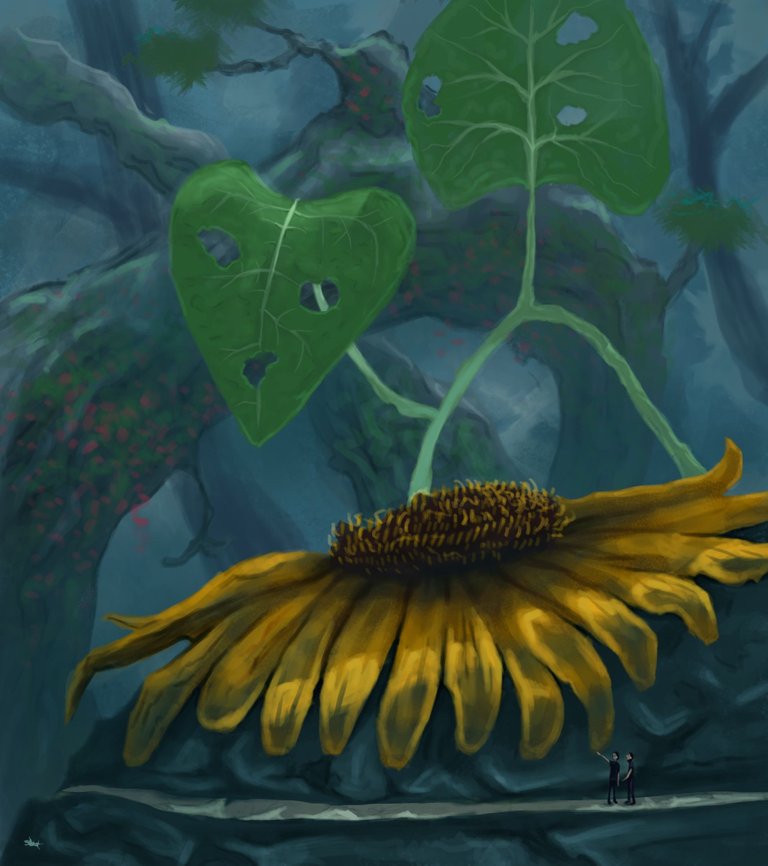 ¡Mis saludos cordiales a todos! Tengo que afirmar que la naturaleza me sorprende cada día, por ser tan impredecible con sus formas. Y es que no puedo evitar ser muy observador. En cada elemento siempre hay algo que me asombra, ya sean las texturas, los colores, cómo se comportan los cuerpos orgánicos en conjunto, lo que generan vitalmente entre otras cualidades que siempre van a ser interesantes. Soy un explorador y de ahí el enfoque de mis composiciones.
En este caso la protagonista de este dibujo es una flor muy popular en distintas culturas del mundo, porque las condiciones en las que se puede sembrar son muy versátiles, es la flor "girasol" de pétalos cálidos y polinio grotesco pero atractivo. En esta composición está representada en una escala monumental, pero ha de estar vencida a falta de sol en el interior del bosque, y ahí está, postrada pero llena de vida, porque aún hay pigmento en sus pétalos, y aún tiene la esperanza de ver la luz del día.
My best regards to all! I have to affirm that nature surprises me every day, for being so unpredictable with ways. And I can't help but be very observant. In each element there is always something that amazes me, be it the textures, the colors, how the organic bodies behave as a whole, which vitally generates among other qualities that will always be interesting I am an explorer and hence the focus of my compositions.
In this case the protagonist of this drawing is a very popular flower in different cultures of the world, because the conditions in which it can be sown are very versatile, It is the "sunflower" flower with warm petals and grotesque but attractive polynium. In this composition it is represented on a monumental scale, but it is defeated by the absence of sun within the forest, and there she is, prostrate but full of life, because there is still pigment in her petals, and she still hopes to see the light of day.
---

---

A la primera no se conoce la esencia de un elemento orgánico tan particular como un girasol, realice algunos bocetos para conocer la flor y su silueta. Ya mi cerebro internalizaba las cualidades que me importaron más para poder dibujarla a mi antojo.
At first the essence of an organic element as particular as a sunflower is not known, I made some sketches to know the flower and its silhouette. My brain was already internalizing the qualities that mattered most to me so that I could draw it however I wanted.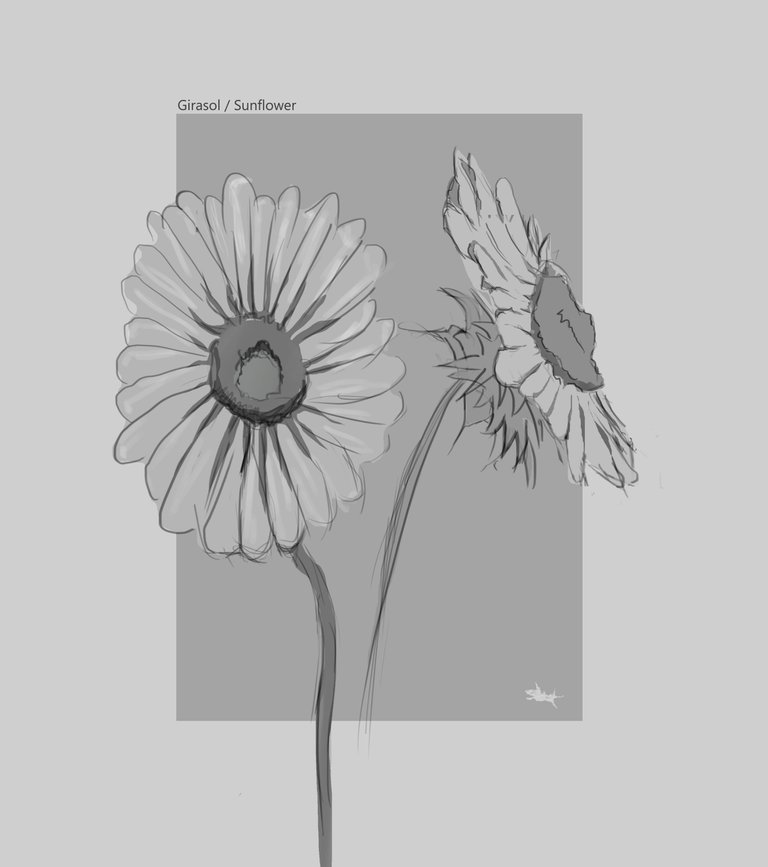 Mi referencia fue directa pues cerca de mi casa hay muchos hogares que tienen en su jardín girasoles y así que observé y les tome una fotografía:
My reference was direct because near my house there are many homes that have sunflowers in their garden and so I observed and took a picture of them:
Para iniciar las tres fases fundamentales para definir la composición fueron: el boceto, proponer el color atmosférico, y realizar las siluetas de los elementos.
To start, the three fundamental phases to define the composition were: the sketch, propose the atmospheric color, and make the silhouettes of the elements.
| | | |
| --- | --- | --- |
| Boceto / Sketch | Atmosfera / Atmosphere | Siluetas/ silhouettes |
Este dibujo para mí fue muy instructivo, sin hurgar nada me tope en estos días con un artículo de los pintores impresionistas y una cita de Manet que expresó:
This drawing for me was very instructive, without digging anything I come across an article by Impressionist painters and a quote from Manet that said: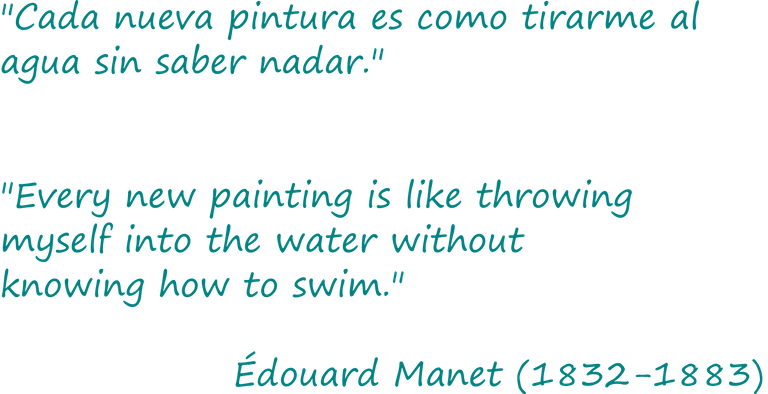 […] casual y atinado al momento.
[…] Casual and right at the moment.
---

---

El formato original de este proyecto es de:
4401 px Alto
3900 px Ancho
Si quieres tener acceso al original y ser propietario del NFT entra al siguiente enlace:
https://mintable.app/art/item/The-great-sunflower-prostrate--discovery/BcXbTpnFm2fLxJb
The original format of this project is:
4401 px Height
3900 px Width
If you want to be the owner of the NFT, go to the following link:
https://mintable.app/art/item/The-great-sunflower-prostrate--discovery/BcXbTpnFm2fLxJb
---
¡Muchas gracias por leer este post! ¡espero que te guste este dibujo del inmenso girasol!
Thank you very much for reading this post! I hope you like this drawing of the immense sunflower!