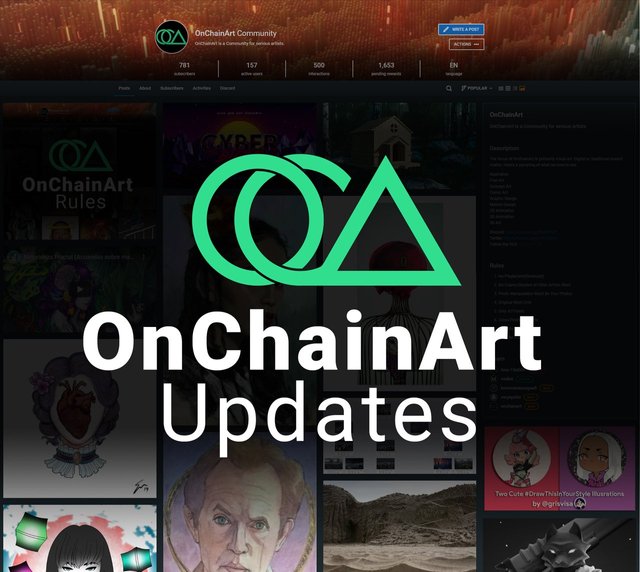 Hello OnChainArtists!
@midlet speaking and I want to let you all know about some exciting developments in the community. First off, check out the recent post by
OCD outlining the community incubation program sponsored by OCD.
https://peakd.com/hive-174578/@ocd/ocd-community-incubation-program-finalized
OCD has been supporting OCA from early days and the manner in which they're not only supporting OCA, but many other communities is evolving into what I feel will be a powerful stimulus to Hive overall.
The details are in that post, but I'll summarize things here. Moving forward the @onchainart account will be making *daily(as I'll be the only one composing these in the beginning I'll do my best to maintain that frequency) posts compiling the posts that have been curated by the @onchainart account, which is the official curation account of OCA.
The rewards for these posts will be used to fund and support a variety of community initiatives as well as grow the community curation account and pay the staff who actively moderate the community.
I'm no accountant so I still need to figure out the specifics, but some of the things I'm looking to do with these funds.
Grow the @onchainart account's stake for more power for curation.
Keep a reserve for tipping exceptional posts or activity
Pay OCA Staff
Start saving for the development of a custom OCA frontend.
These are the main things I'm interested in currently and where the money will be going.
Next on the list and related to the second bullet point above, in cooperation with @dalz, I'll also be sharing a weekly Analytics post showcasing the communities top performers in areas like:
Who's posted the most
Who's earned the most
Who's commented the most
Who's post got the most comments
As well as some other general Community data.
I'll be figuring out some way to reward the people who are at the tops of these metrics to gamify the community a bit, and the first of these posts is incoming soon.
All in all I think these changes will make the community more fun and engaging and I hope it's something that positively impacts the experience.
If you want to help out, you can follow the @onchainart trail here
https://hive.vote/dash.php?i=1&trail=onchainart
or delegate to @onchainart to give the community more power to reward community members. This account only votes on content in the OnChainArt Community except for a few exceptions where I've used it to support art posts either in a different art community or not posted in a community at all, but either way, it's ONLY used to reward art posts on Hive and just about exclusively in OCA.
This is a really good way to support the community if you're an artist here but don't have much time/energy for curation. You can delegate that work to us since we'll be doing it anyway.
Keep creating awesome work and sharing it far and wide. How long will it take to reach 10k subs in OCA???