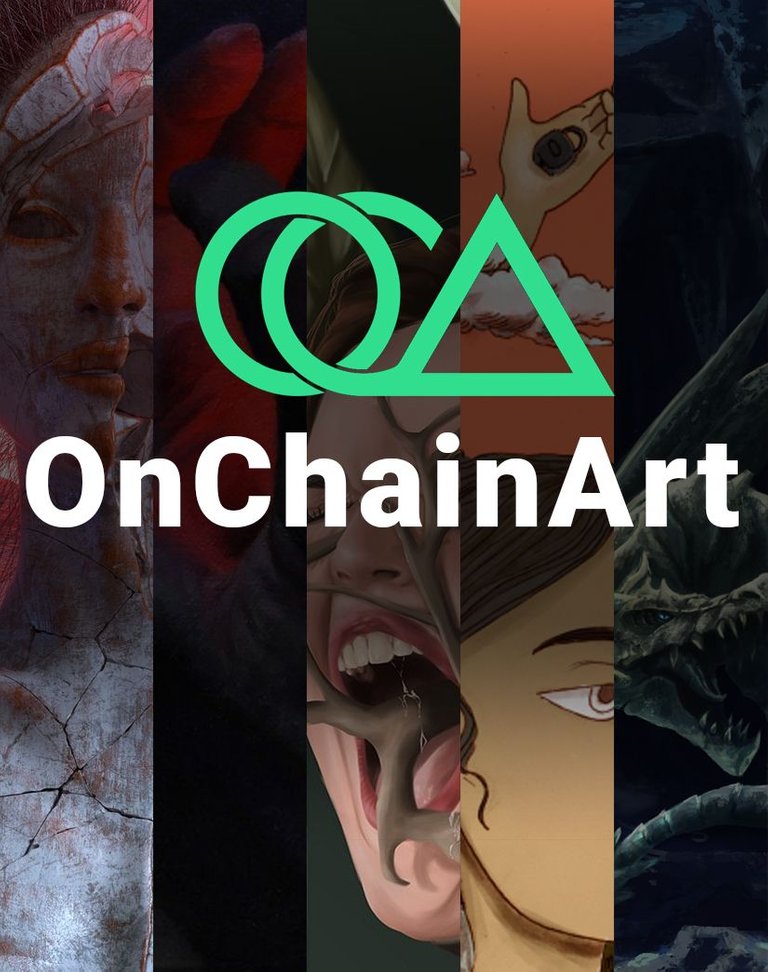 Greetings art fans and artists.
This is going to be great. The authors that we will present today have excelled in different forms and types of art, the variety that we show ranges from traditional art, acrylic painting, traditional art and the wonderful world of Render and photoshop, as well as the different techniques that show with a clean, neat and perfect finish like gods capturing their ideas, a great creativity that will delight our eyes and make our minds explode.
You will see a lot of conceptual art, fantasy, comic style and we close with a lot of humor from the hand of a trend that was marked in the 50's and is still in force today, as we notice the influence of pop art in the designs of the artist that we will present at the close.
Dear visitors, sit back, relax and enjoy...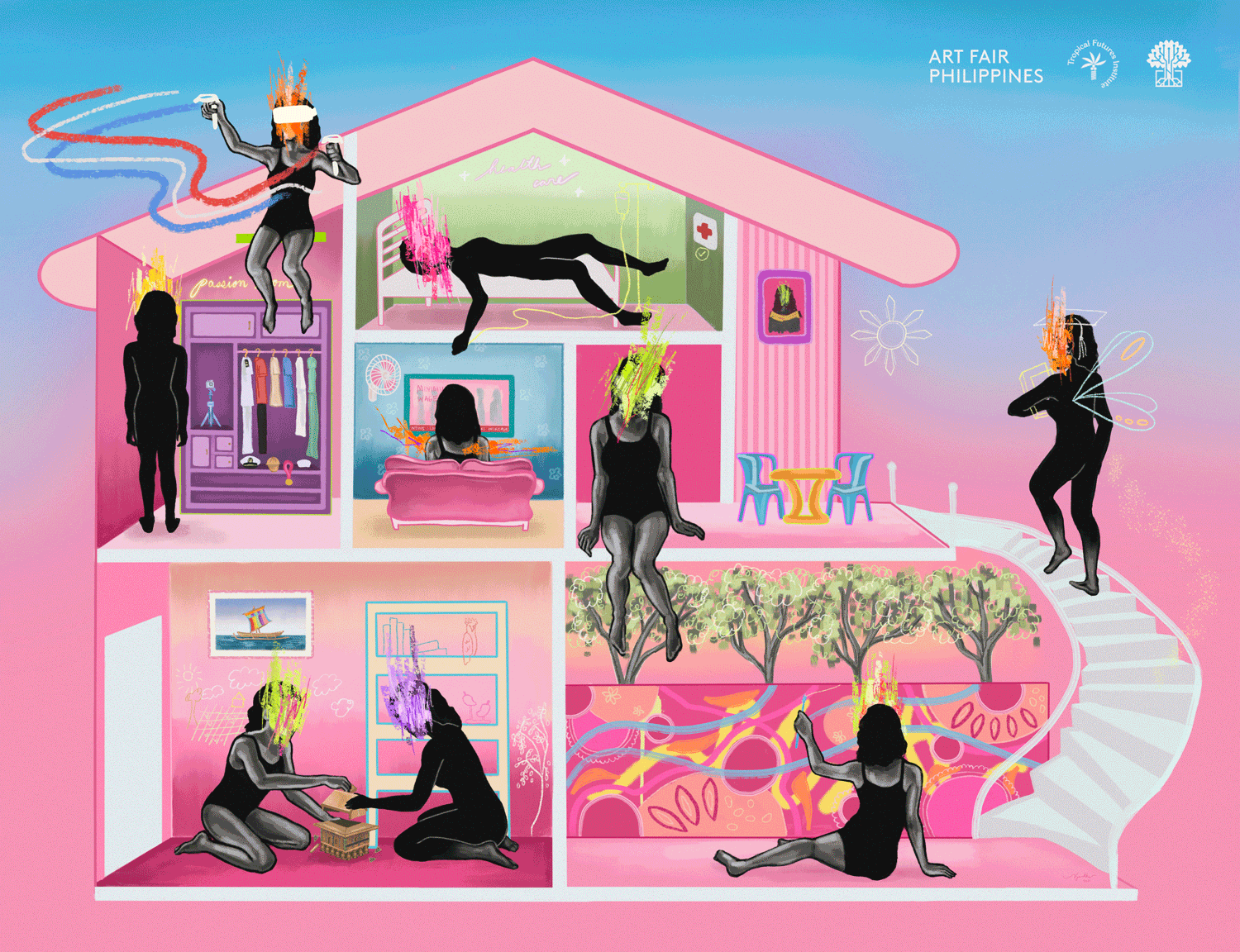 OMG! it's getting a little hot around here.
@hiddenblade brings us an incredible concept art that conveys ideas, emotions, which we can enjoy from the sketch to the end, given the amount of information that the author provides in detail through its step by step, whose structure is quite orderly and explained with videos and screenshots.
The concept of a comfortable house, full of all the services, from the pleasure of resting, to health care within it, so that you do not need or want to leave, where you can work comfortably without stress and there is space for art and entertainment. It is the house of dreams.
The colors are sweet, pastel tones for the setting, the characters have that monochrome look that makes them stand out, they are weaving their dreams and having the time of their lives.
The author has tokenized this great work which is available for your collection.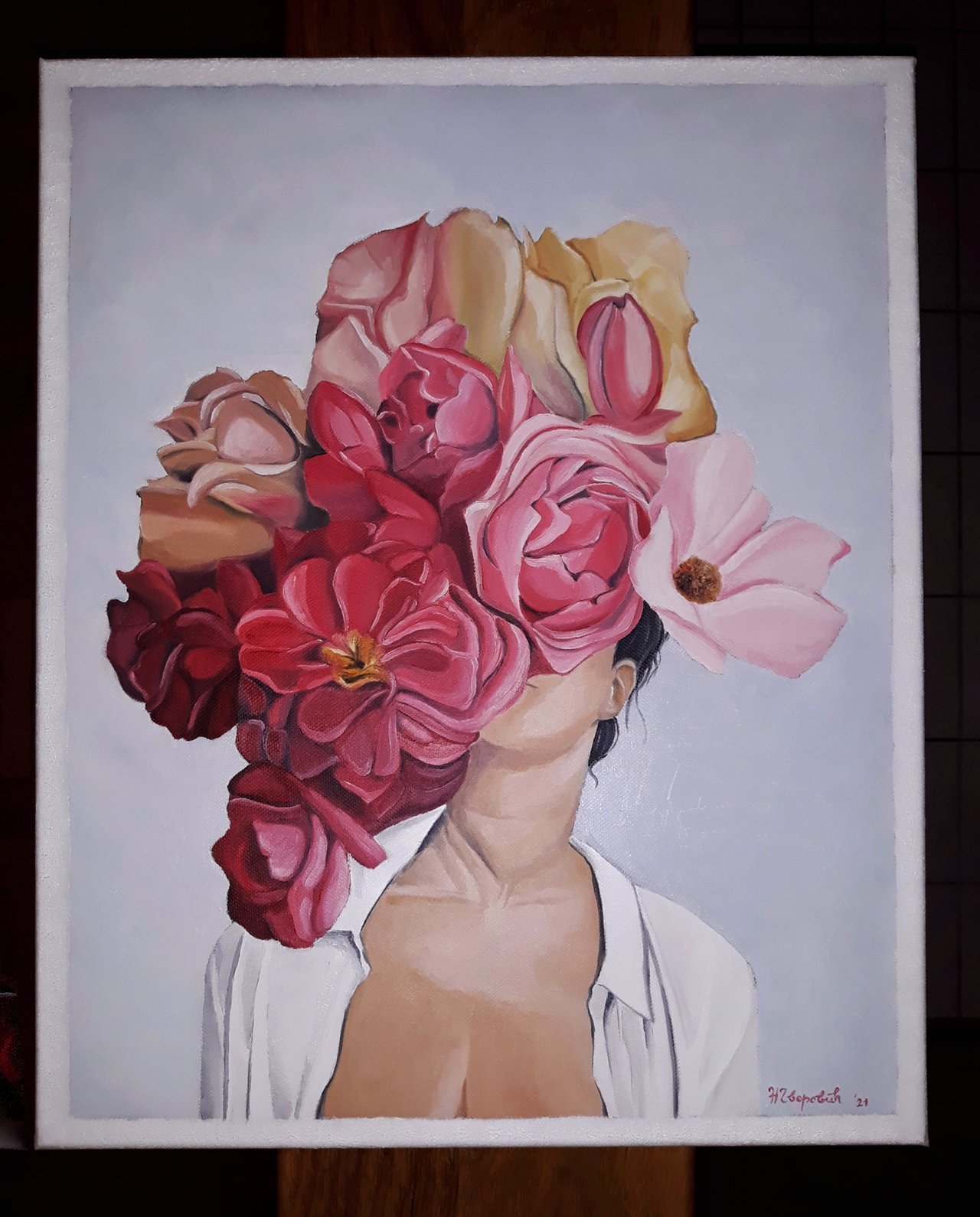 ... "When we have positive thoughts our ideas blossom, pleasant feelings grow like a bud until they give rise to a beautiful flower"....
Good vibes transmits us the splendid art of @nesni996, made in acrylic paintings on canvas. It shows us the strength we must have to continue in the present, filling us with positive thoughts that give us energy to achieve our goals.
The theme of beautiful flowers and the simple and relaxed look of the woman drawn in the background invites us to relax, take time to think about things and make sure that these thoughts are uplifting.
The author encourages us to think that we should look at everything that happens to us from a positive angle, because despite any problem we are going through, for everything there is a solution, after the storm there will always be calm. And it is precisely her beautiful art that conveys the feeling of staying calm.
Her technique is amazing, she did not leave the work space free, the fluency she shows with the brush and the mixture of colors, excellent mastery of the techniques of dry brush and undiluted paint in water in combination with the wash mixture, gives rise to the variety of textures in this beautiful piece.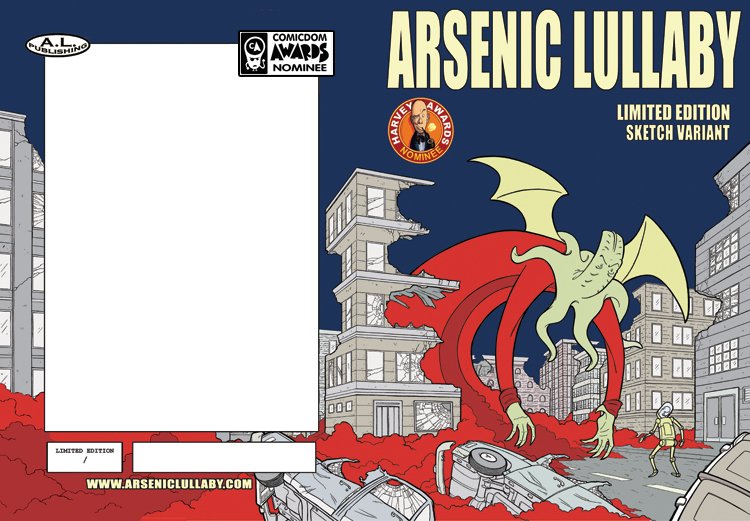 We love the variety, the different way artists show us their work in so many ways, from painting on canvas to the wonderful world of traditional art.
Arsenic Lullaby (@arseniclullaby) delights us again with a spectacular artistic work made in graphite pencil, markers and nib.
---
He has tokenized his piece, beautiful to collect. The exposed theme made as a comic strip, comic type, contains a lot of details of which we appreciate the hours of dedication he put on it.
Having this piece in digital or physical format is a marvel, it is an illustration that generates a lot of visual impact and accompanied by the great enthusiasm that Arsenic shows when presenting his artistic work, it provides us with a great journey through imagination.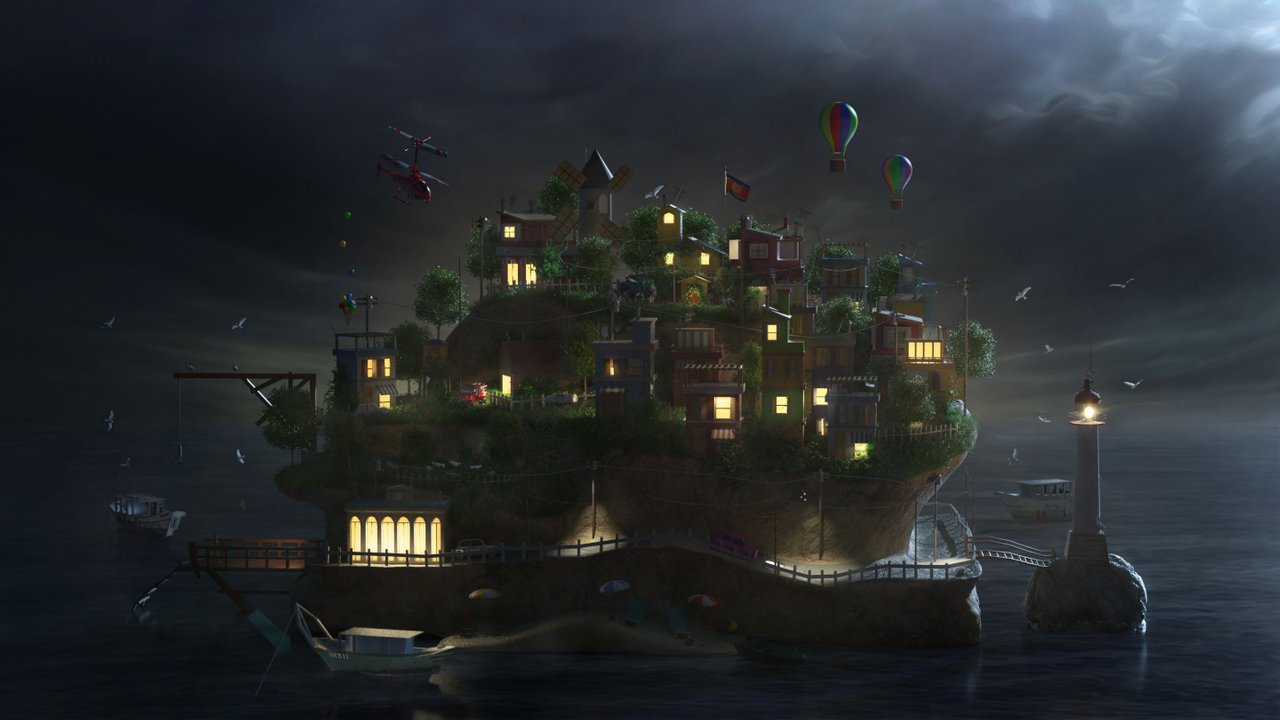 Now we move on to digital art by the hand of the artist Ahmad Turki (@ahmadturki), he has created a wonderful fantasy environment as any artistic work he does, they are always a dream.
A remote island, in a cold and nocturnal environment, presents us with a light and hope in a shipwreck or on a cloudy night, where it seems a very friendly environment and willing to receive us with joy.
Despite the above, the author's intention in his work is to show the need to be alone in a time and dedicate it to his thoughts and spiritual needs, to enjoy his own self and his own real environment to relax.
Ahmad is wonderful with the rendering of Maya and working together in Photoshop and although the environment is a bit cold, he is always very warm in his presentation and you can see the love and affection he dedicates to each piece of art.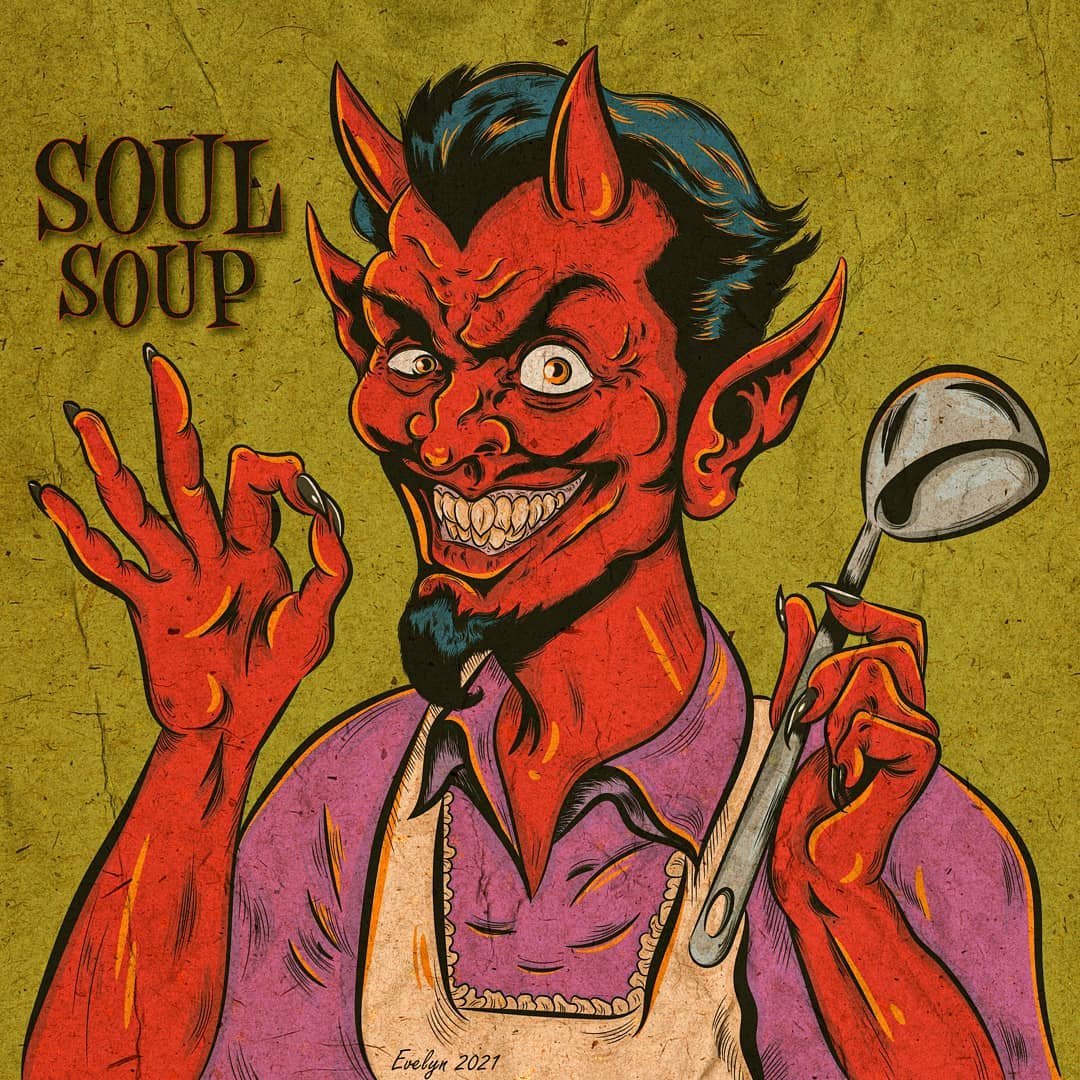 We close our presentation of the day's favorites with another spectacular artwork full of black humor, which despite being a little devil is quite charming.
That's right, the wonderful piece brought to us by @extractum-lunae with those amazing pop art touches in both color and details.
The little devil cooking a succulent soup, being this the character we could be a little afraid with the ingredients he will use, but as the author says, he does not escape from the daily needs, he has to eat and prepare his own food, he prepares a soup after a night full of alcohol and lack of control, good to regain energy.
This artistic work has left us with a good taste in our mouths!
It has been a spectacular trip, very entertaining and varied, I hope you enjoyed it a lot, because we were amazed and ecstatic.
We enthusiastically invite you to keep an eye out for our next publications and to support these artists.