Hola nuevamente
En ocasiones me encuentro algo indecisa sobre que dibujar, suelo ayudarme con art-promts, o rehaciendo algún dibujo realizado hace años (son muchos, tristemente no los tengo conmigo, cuando me mude quedaron en casa de mis padres en otro estado, pero logre traer algunos conmigo), en fin, yo entre a mi facebook y revise las fotos y en mis dibujos encontré una donde están las siluetas de los cuatro hermanos que cree hace años, aproximadamente en el 2014, y pensé en dibujarlos nuevamente, no tienen una historia muy establecida, me enfoque mas en crear sus personalidades y luego podría crear sus historias, pero... nunca paso y bueno no se si esta vez me anime a hacerle sus historias.
Hello again
Sometimes I find myself somewhat undecided about what to draw, I usually help myself with art-promts, or remaking a drawing made years ago (there are many, sadly I do not have them with me, when I moved they stayed at my parents' house in another state, but I managed to bring some with me), anyway, I entered my facebook and checked the photos and I found a drawing where the silhouettes of the four brothers that I created years ago, approximately in 2014, and I thought about drawing them again, they do not have a very established history , I focused more on creating their personalities and then I could create their stories, but ... it never happened and well, I don't know if this time I would be encouraged to do their stories.


Esta es la imagen que tome de mi Facebook
This is the image i took from Facebook
De esta forma, el primero que les mostrare es el mayor de los cuatro, (es el tercero contando de izquierda a derecha, solamente tengo esta imagen de los cuatro juntos, pero no guarde imagen de dos de los hermanos siendo este uno de los que perdí), en su momento su apariencia era un poco diferente, igual que su vestuario, lo cambie un poco, mas adelante me gustaría hacer un dibujo de cuerpo completo.
In this way, the first one that I will show you is the oldest of the four, (it is the third counting from left to right, I only have this image of the four together, but do not save an image of two of the brothers, this being one of those who I lost), at the time his appearance was a little different, like his wardrobe, I changed it a little, later I would like to do a full body drawing.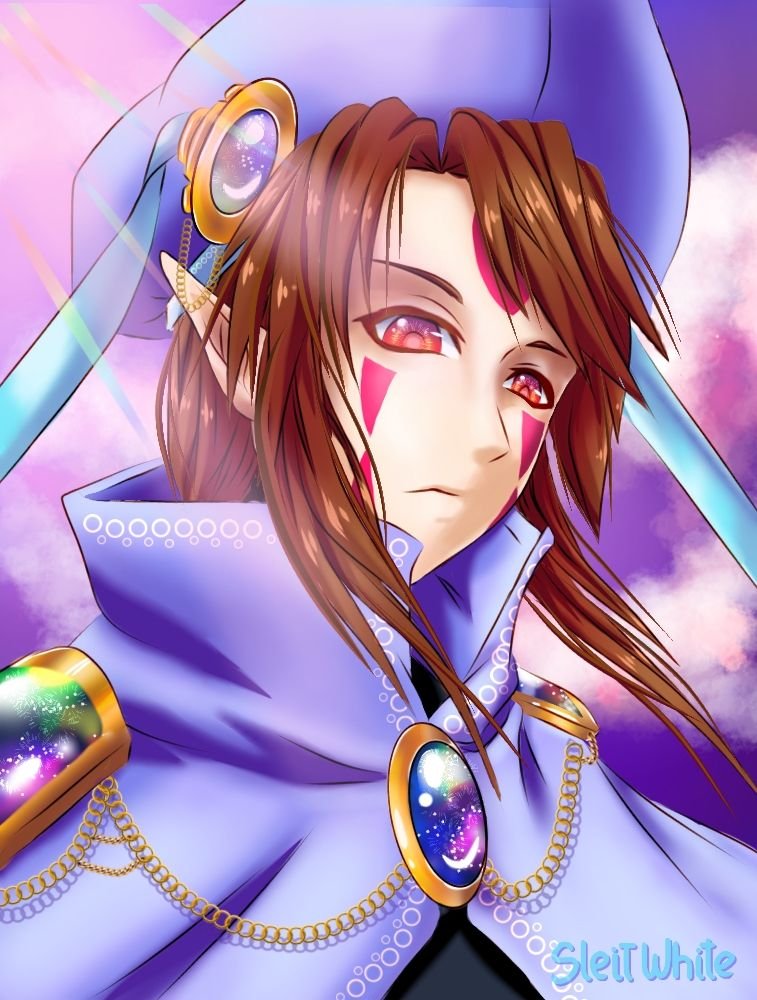 Una pequeña introducción de este personaje, él nombre que le asigne hace 7 años es Arcaster, su personalidad es fría, siempre calmado, es el intelectual del grupo, su fuerte es la magia, siempre evita el esfuerzo físico, le encantan los libros, tiene conflicto con uno de sus hermanos, el cual es algo inestable mentalmente, esto provoco que Arcaster le encerrara por 20 años.
A small introduction of this character, the name I assigned him 7 years ago is Arcaster, his personality is cold, always calm, he is the intellectual of the group, his strength is magic, he always avoids physical effort, he loves books, he has Conflict with one of his brothers, who is somewhat mentally unstable, this caused Arcaster to lock him up for 20 years.
Bueno esto es todo por ahora, espero que les guste, seguire practicando para mejorar mi dibujo, aun me falta camino por recorrer, las criticas constructivas son apreciadas. Este dibujo lo realice en la aplicación para teléfono Ibis Paint X desde cero.
Well this is all for now, I hope you like it, I will continue practicing to improve my drawing, I still have a way to go, constructive criticism is appreciated. I made this drawing in the Ibis Paint X phone application from scratch.
Gracias por tomarte tu tiempo en leer, te deseo un feliz día/noche, cuídense hasta la próxima.
Thank you for taking your time reading, I wish you a happy day / night, take care of yourselves until next time.