---
Hi
I also mentioned to you in my previous articles, my wooden workshop. Apart from the products I designed for our customers, I like to reveal different things in the workshop. However, this time I will talk about a product that we actively sell, and I prepared a mini brochure for its sales abroad. If I briefly describe the product, human-like silhouettes of stainless steel and brass pipes. These products can also be used as beverage dispensers. I made the drawing of the glass section and made it as someone else. We remove the lower floor wood section in our Cnc machine in the workshop, print the laser logo and lubricate it. Then we fix the finished product, which we usually call "robot", to the wooden floor with the help of a flange. After applying acrylic varnish and some of the last details, our product is ready for use. I have many products of this type, after I do the photo shoots, I will share them on Hive.
---
- TR

Selamlar

Sizlere daha önceki yazılarımda da bahsetmiştim ahşap atölyesi işlerimden. Atölyede müşterilerimiz için tasarladığım ürünler dışında farklı şeyler de ortaya çıkarmayı seviyorum. Ancak bu sefer satışını da aktif olarak yaptığımız bir üründen bahsedeceğim, yurtdışına satışı için de mini bir broşür hazırladım. Ürünü kısaca anlatacak olursam, paslanmaz çelik ve pirinç borulardan oluşan, insanımsı silüetler. Aynı zamanda bu ürünler içecek dispenseri olarak kullanılabilmekte. Cam bölümünün çizimini yapıp, başkasına olarak yaptırdık. Alt zemin ahşap bölümünü atölyede Cnc makinemizde çıkarıp, lazer logosunu basıp, yağlıyoruz. Sonra bitmiş olan ve genellikle ''robot'' olarak adlandırdıgımız ürünü flanş yardımıyla ahşap zemine sabitliyoruz. Akrilik vernik ve son bazı detayları uyguladıktan sonra ürünümüz, kullanıma hazır hale geliyor.Yapım aşamalarından bazı görselleri sizlere sunuyorum. Bu tarz bir çok ürünüm bulunmakta, fotoğraf çekimlerini yaptıktan sonra, paylaşımlarını Hive'de yapacağım.
---
Images of the product that I named Ghost Hunter
Note: We can also say firefighter. :)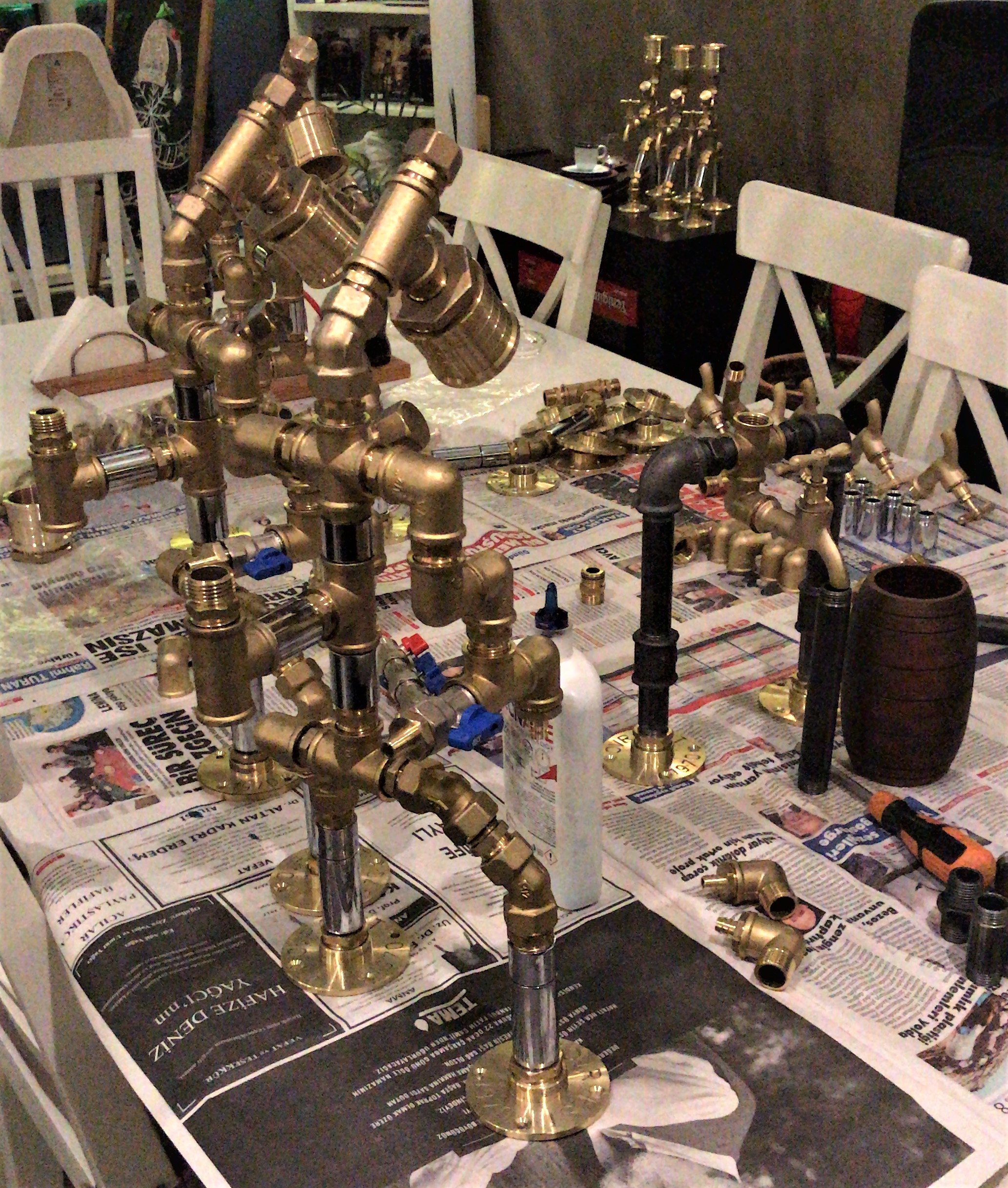 ---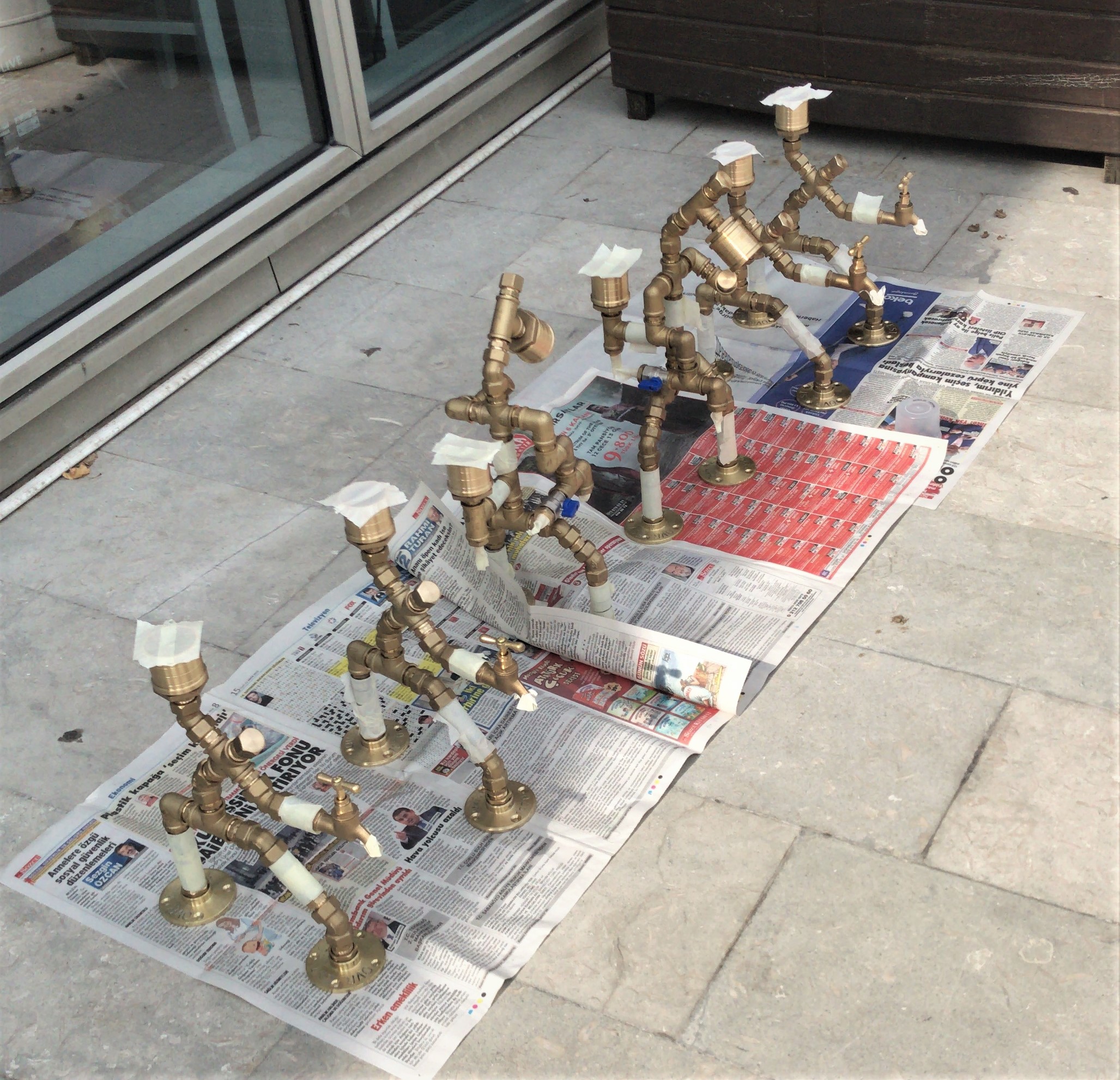 ---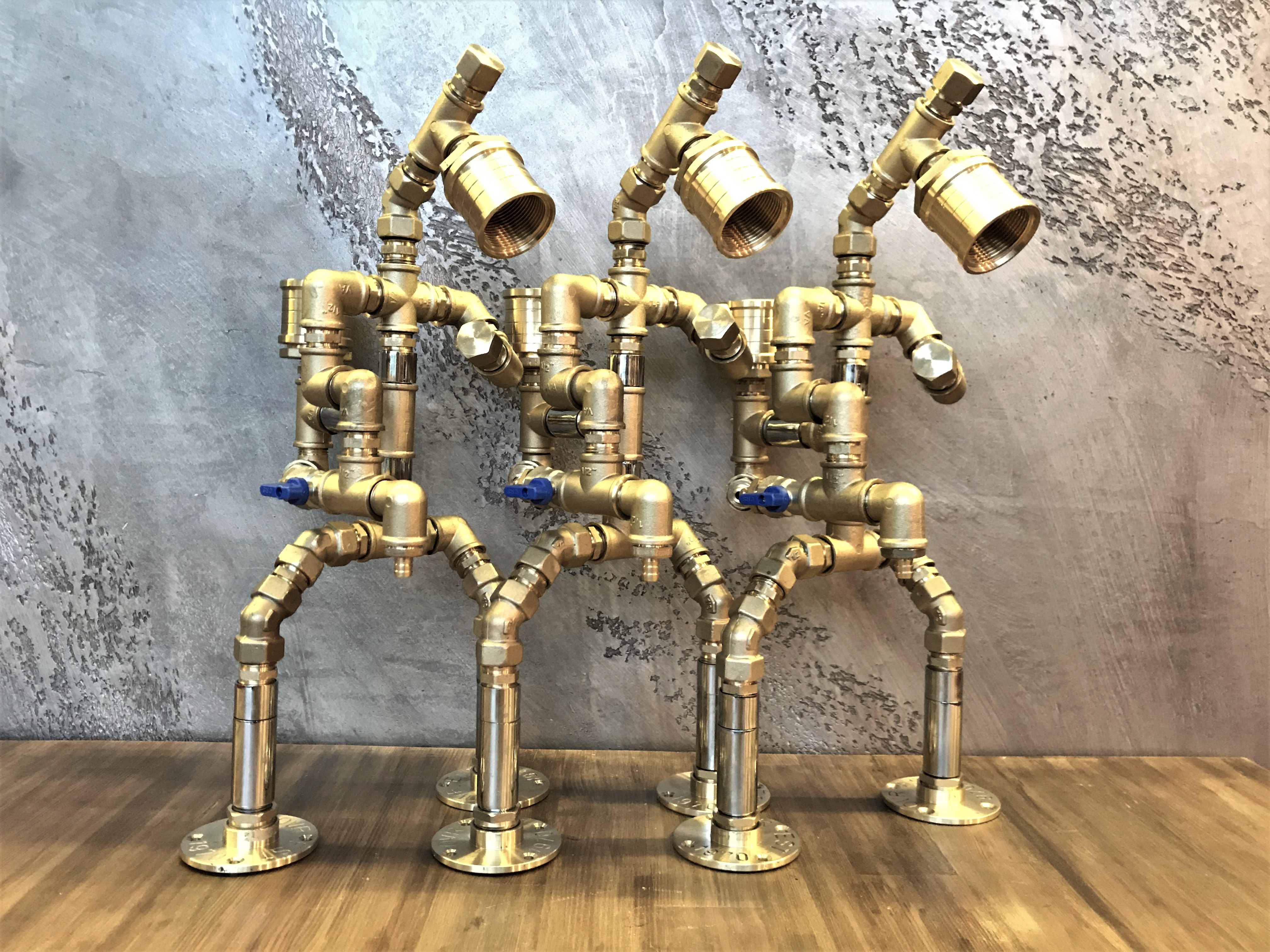 ---
You can use it with your own drinking bottle.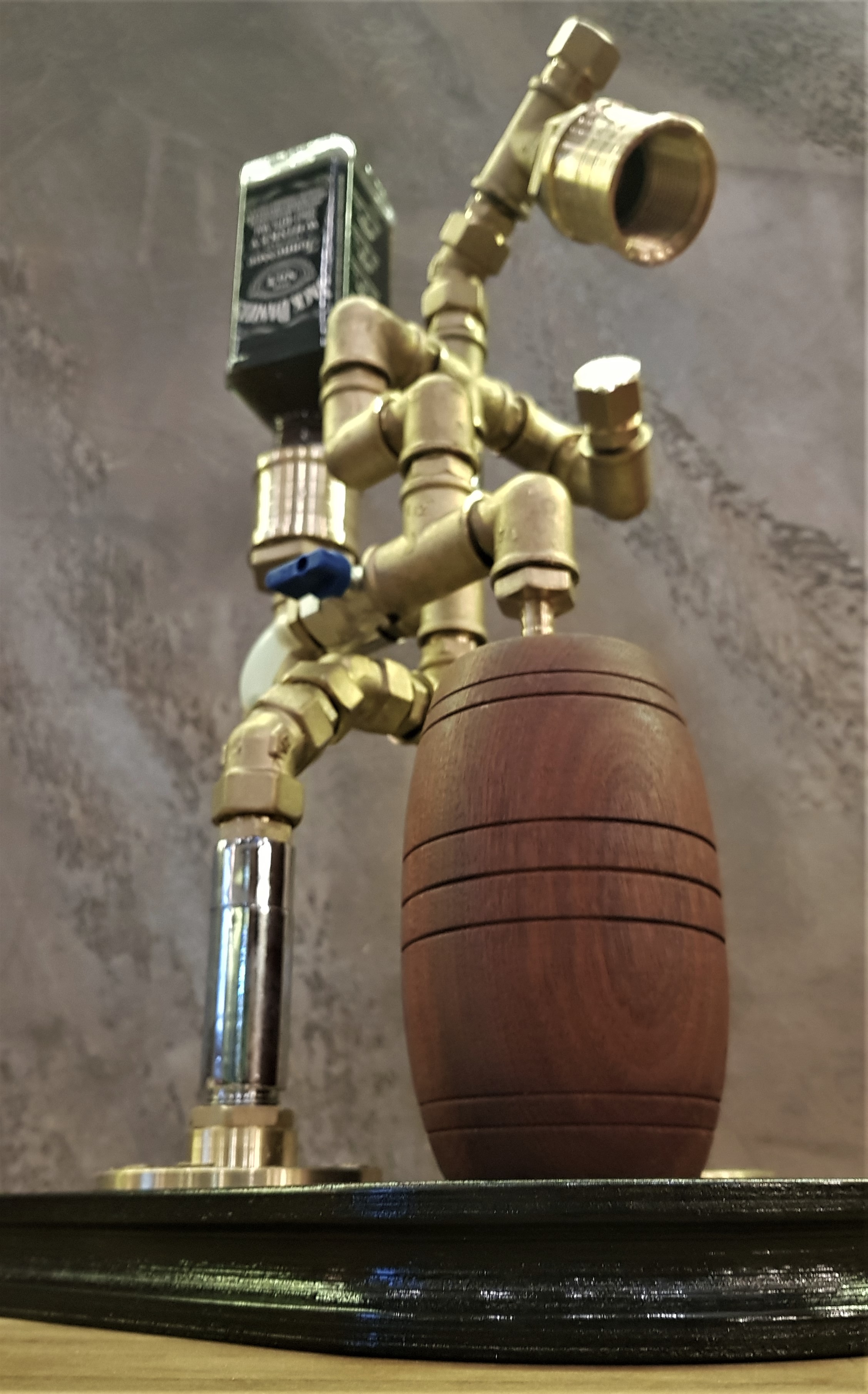 ---
or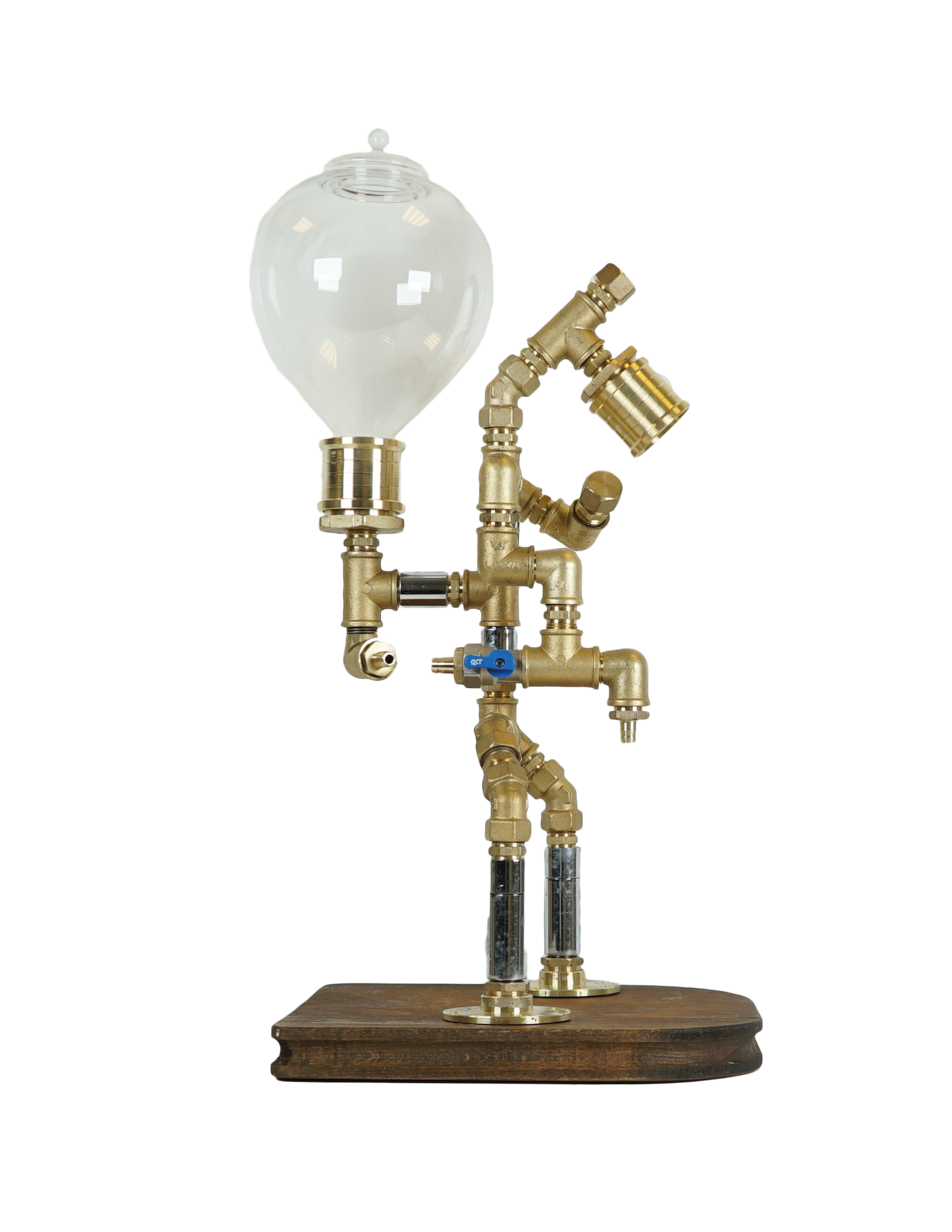 Thank you...
Teşekkürler