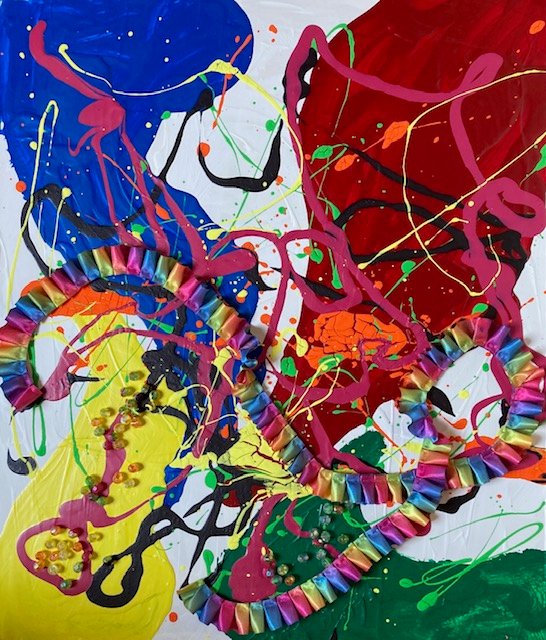 (ENG)
This is my original artwork.
"Ability To Expand"
Mixed Media,45.5x53cm,2021
Humans have lived and prospered to this point by creating various tools to expand their abilities from what would have been a weak body without them. I, too, have expanded my ability to paint by acquiring tools such as paints and brushes. Now that I've come this far, I want to paint better, so I want to expand my ability to paint more. This picture was painted with these thoughts in mind.
---
Akiko Yada's solo exhibition "Let your cerebral cortex be your guide
Period: 26(Tue) October - 31(Sun) October, 2021, 11:00 - 20:00
Venue: Room_412
(Room 412, Takagi Building, 15-8 Sakuragaoka-cho, Shibuya-ku, Tokyo)
---
(JPN)
これは私が創った作品です。
「拡張する能力」
ミクストメディア、45.5x53cm、2021
人間は、何もなかったら弱々しい身体であったものを、色々な道具を作って能力を拡張して、ここまで生きて繁栄してきました。私も絵の具や筆という道具を得て、絵を描く能力を拡張しました。ここまで来たら、もっといい絵が描きたいから、もっと絵を描く能力を伸ばしたいです。この絵はそんなことに思いをはせながら描いた絵です。
---
★矢田明子 個展「大脳皮質をあそばせて」
会期:2021年10月26日(火)-10月31日(日)11-20時
会場:Room_412
(東京都渋谷区桜丘町15-8 高木ビル412号室)
---