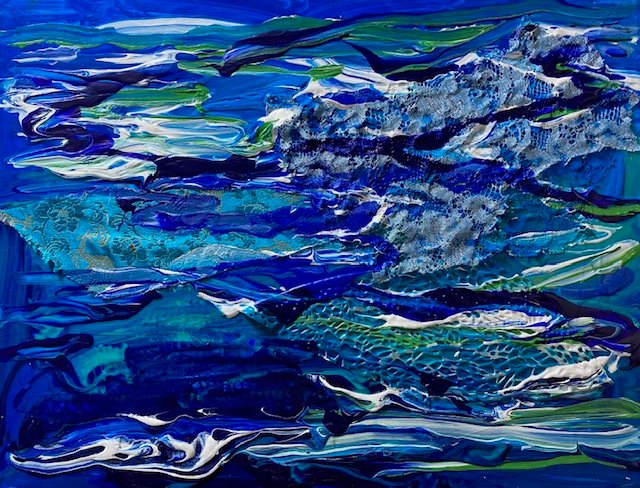 (ENG)
This is my original artwork.
"Accumulation of Changes"
Mixed Media,31.8x41cm,2021
This was purely coincidental, and I had no intention of doing so, but when I looked at the painting again after it was completed, it looked like the sea to me. Like a blue sea with craggy rocks and islands. Is it a picture between concrete and abstract? Nature, the world, and the universe, which I am interested in, approach and disassemble concrete objects, and they approach to abstraction. The opposite is also true.
I was organizing my pictures in the morning and drawing in the afternoon today. I moved the pictures and inspected them, so I'm very tired. So after eating and taking a nap, I drew a picture. I'm exhausted today.
(JPN)
これは私が創った作品です。
「変化の蓄積」
ミクストメディア、31.8x41cm、2021
これは全くの偶然で、私にはそんなつもりは全くなかったのですが、絵が出来上がって改めてこの絵を眺めてみると、私には海のように見えました。ゴツゴツした岩や島が浮かぶ青い海のように。具象と抽象の間の絵と言えるでしょうか。そもそも私が興味がある自然とか、世界とか、宇宙とかは、一見具象的なものも接近したり分解したりしてみたら抽象に近づいていきますからね。逆もまた然りです。
今日は午前中は絵の整理をして、午後からは絵を描いていました。絵の整理は絵を移動して検品したりするので、すごく疲れました。それでごはんを食べて昼寝をしてから、絵を描きました。もう今日はぐったりです。
---
My Website / 私のウェブサイト
https://ydart.exout.net/
My Artwork sales site / 私の絵の販売サイト
https://ydart.stores.jp/