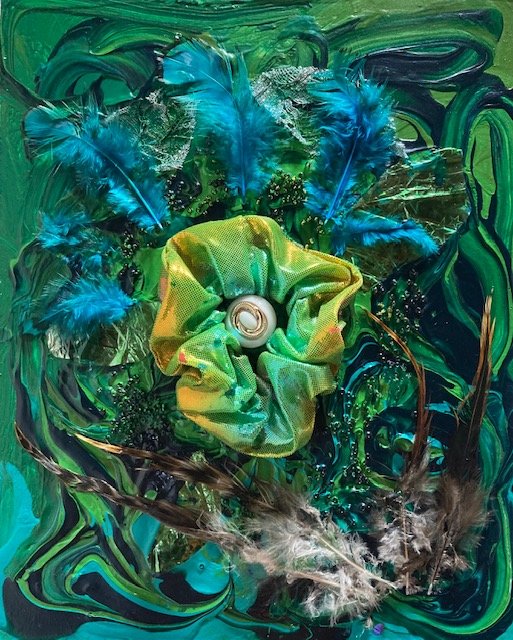 (ENG)
This is my original artwork.
"Bird's Eye"
Mixed Media,22x27.3cm,2021
I used white buttons as eyeballs and attached them to the holes of the chou chou, and surrounded them with bird feathers.
By using mainly green, I wanted to represent the birds that live in the forest and hide in the forest.
I have started to prepare for my solo exhibition in Tokyo in late October. However, it is very hot in the daytime now, so I am preparing for the exhibition in the morning when it is relatively cool, and in the afternoon I am painting on the second floor where there is air conditioning. I am worried about whether I will be able to hold the exhibition in Tokyo. At any rate, the spread of the new corona infection has not abated.
---
Exhibition this summer
"Graphic Art exhibition" 2021.August
---
(JPN)
これは私が創った作品です。
「鳥の眼」
ミクストメディア、22x27.3cm、2021
白いボタンを目玉に見立てて、シュシュの穴の部分に貼り付け、周りを鳥の羽根で飾りました。
緑色を主にした絵にすることで、森の中に住む、森にひそむ鳥を表したかったのです。
そろそろ10月下旬の東京での個展に向けて準備を始めています。ただ今は昼はすごく暑いので、個展の準備は比較的涼しい午前中にやって、午後はエアコンのある2階で絵を描いています。だけど、東京で個展ができるか心配です。なにしろ新型コロナの感染拡大がおさまりませんから。
---
この夏参加する展覧会
★Graphic Art exhibition <2021.August>~クリエイティブ表現の現在~
日時:2021年8月3日(火)-8月7日(土)※日・月・祝日休廊 
平日(火曜日 ~ 金曜日)12:00~18:00、最終日(土曜日)12:00~15:30
会場:RECTO VERSO GALLERY(東京都中央区日本橋茅場町2-17-13第2イノウエビル401)
参加作家:矢田明子/ヤマナカ ハルナ/希美/SASANA
---
My website / 私のウェブサイト
https://ydart.exout.net/
I am available for orders of abstract paintings. / 抽象画のオーダー承ります。
https://ydart.exout.net/order.html
Call for Mail Art! / メールアート募集中!
https://ydart.exout.net/mailart.html