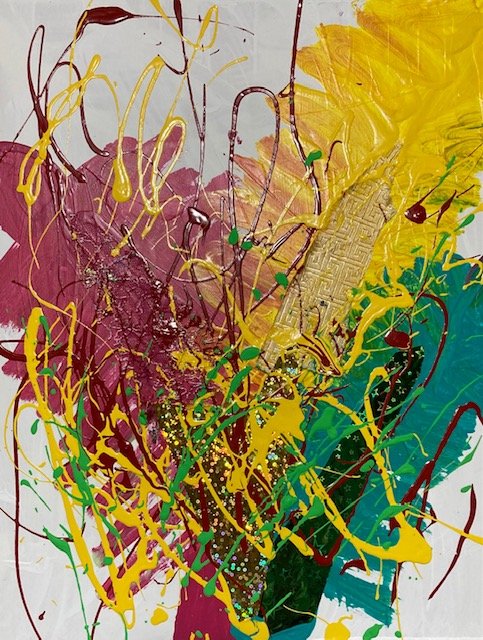 (ENG)
This is my original artwork.
"Conductor"
Mixed Media,31.8x41cm,2021
This is an abstraction of an orchestra conductor. The tip of the conductor's tact showed its trajectory, which sometimes moved slowly and sometimes violently. I also depicted the shaking of the conductor's body in picture. I wanted to express a complex rhythm.
(JPN)
これは私が創った作品です。
「指揮者」
ミクストメディア、31.8x41cm、2021
これはオーケストラの指揮者を抽象化した絵です。指揮者の振るタクトの先端が、時に緩やかに、時に激しく動くその軌跡を映し出しました。また指揮者自身の身体の揺れも取り混ぜて絵に表しました。複雑なリズムを表現したかったのです。
---
Akiko Yada Solo Exhibition "waxing and waning of mind"
Date: Wednesday, May 12, 2021 - Monday, May 17
11 : 00 - 19 : 00 (Last Day 17: 00)
Venue: Art Gallery Kitano
(439 -4 Ebisu-cho, Kawaramachi Higashi-iru, Sanjo-dori Street, Nakagyo-ku Ward, Kyoto City)
---
矢田明子個展「こころの満ち欠け」
日時:2021年5月12日(水)~5月17日(月)
   11:00~19:00(最終日17:00まで)
会場:アートギャラリー北野
   (京都市中京区三条通河原町東入ル恵比須町439-4 コーカビル)
---
Call for Mail Art! (There are some changes in April 3)
メールアート募集中!(4月3日一部変更点あり)
https://ydart.exout.net/mailart.html