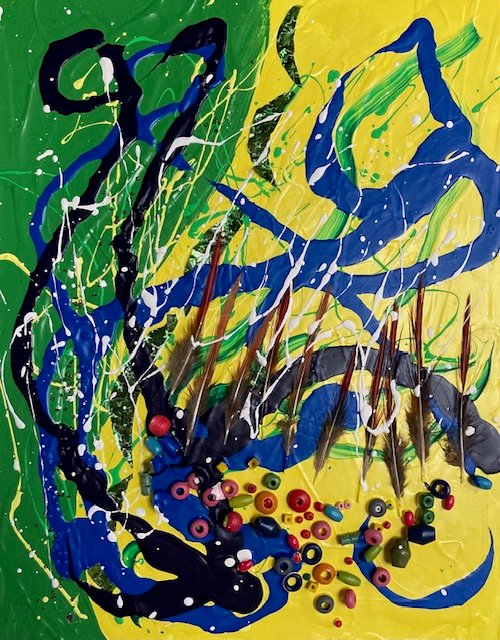 (ENG)
This is my original artwork.
"Cozy"
Mixed Media,31.8x41cm,2021
Now is this place cozy or not? The feathers of the birds in the row look soft, but they are also sharp and look painful. The paints still run in all directions and seem to be playing.
Today I was making captions, profiles, and statements for the paintings I'll be showing at the exhibition. Tomorrow I will print them out and put them on a styrene board to make panels.
---
Akiko Yada's solo exhibition "Let your cerebral cortex be your guide
Period: 26(Tue) October - 31(Sun) October, 2021, 11:00 - 20:00
Venue: Room_412
(Room 412, Takagi Building, 15-8 Sakuragaoka-cho, Shibuya-ku, Tokyo)
---
(JPN)
これは私が創った作品です。
「居心地」
ミクストメディア、31.8x41cm、2021
さてこの場所は居心地がいいのか悪いのか。並んでいる鳥の羽根は柔らかそうにも見えますが、尖っていて痛そうにも見えます。相変わらず縦横無尽に走る絵の具は、遊んでいるようにも見えます。
今日は個展に出す絵にキャプションと、プロフィールとステートメントのデータを作っていました。これを明日プリントアウトしてスチレンボードに貼ってパネル化します。
---
★矢田明子 個展「大脳皮質をあそばせて」
会期:2021年10月26日(火)-10月31日(日)11-20時
会場:Room_412
(東京都渋谷区桜丘町15-8 高木ビル412号室)
---