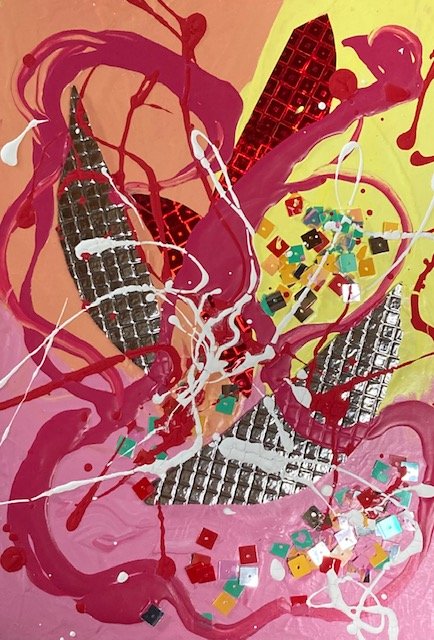 (ENG)
This is my original artwork.
"Cross Section of Cake"
Mixed Media,15.8x22.7cm,2021
When you cut the cake, you will see a cross section. Depending on the cake, it seems to be filled with fruit and cream, sweetness and richness, and I can't stop eating it. I'm diabetic, and if I eat cakes all the time, my disease will get worse, so I'll hold off until Christmas next time.
---
Akiko Yada's solo exhibition "Let your cerebral cortex be your guide
Period: 26(Tue) October - 31(Sun) October, 2021, 11:00 - 20:00
Venue: Room_412
(Room 412, Takagi Building, 15-8 Sakuragaoka-cho, Shibuya-ku, Tokyo)
---
(JPN)
これは私が創った作品です。
「ケーキの断面」
ミクストメディア、15.8x22.7cm、2021
ケーキを切ると断面が出てきます。ケーキにもよりますがそこには果物やクリームなどがいっぱい詰まっていて、甘さやコクも詰まっているようで、食べたら最後止められません。糖尿病の私はケーキをしょっちゅう食べていたら病気がひどくなってしまうので、次はクリスマスまで我慢します。
---
★矢田明子 個展「大脳皮質をあそばせて」
会期:2021年10月26日(火)-10月31日(日)11-20時
会場:Room_412
(東京都渋谷区桜丘町15-8 高木ビル412号室)
---