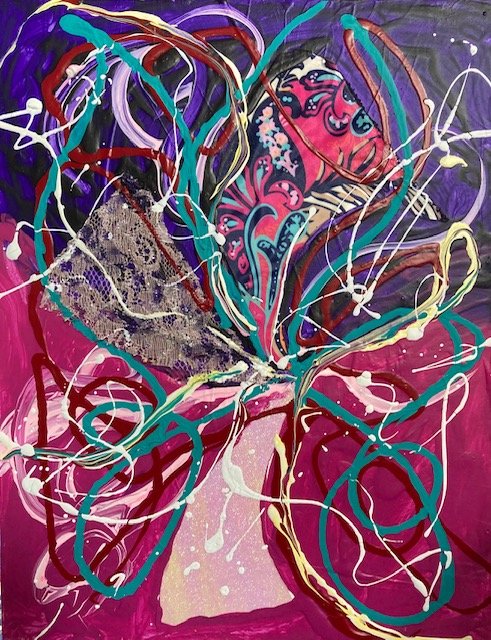 (ENG)
This is my original artwork.
"Filial Piety"
Mixed Media,31.8x41cm,2021
I couldn't be filial to my parents. My mother died when I was a very young child before I knew the word filial piety.
I couldn't do much to show filial piety to my father either, but for about half a year before my father died, when he was hospitalized for cancer, I worked with my brothers to wash my pajamas and underwear as hard as I could, and to buy what I was asked for. I may not have done it without my brother's cooperation, but now I think so.
It is often said that when you want to be filial to your parents, you have no parents. Well, I think you should do what you can.
(JPN)
これは私が創った作品です。
「親孝行」
ミクストメディア、31.8x41cm、2021
私は、母親については、親孝行はできなかったです。私が親孝行という言葉を知る前のすごく小さかった頃に母は亡くなったので。
父親についてもあまり親孝行はできませんでしたが、父が亡くなる前の約半年間、父が癌で入院した時に、パジャマや下着をせっせと洗濯したり、頼まれたものを買ってきたりとか、それは兄弟と協力してやりました。兄弟と協力してじゃないとできなかったかもしれない、今となってはそう思います。
「親孝行したい時には親はなし」とよく言われます。まあ、できる時にできることはしておいた方がいいと思います。
---
Akiko Yada Solo Exhibition "waxing and waning of mind"
Date: Wednesday, May 12, 2021 - Monday, May 17
11 : 00 - 19 : 00 (Last Day 17: 00)
Venue: Art Gallery Kitano
(439 -4 Ebisu-cho, Kawaramachi Higashi-iru, Sanjo-dori Street, Nakagyo-ku Ward, Kyoto City)
---
矢田明子個展「こころの満ち欠け」
日時:2021年5月12日(水)~5月17日(月)
   11:00~19:00(最終日17:00まで)
会場:アートギャラリー北野
   (京都市中京区三条通河原町東入ル恵比須町439-4 コーカビル)
---
Call for Mail Art! / メールアート募集中!
https://ydart.exout.net/mailart.html