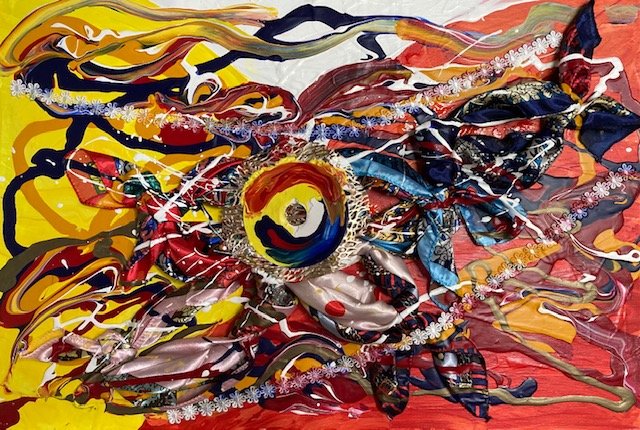 (ENG)
This is my original artwork.
"Fresh"
Mixed Media,60.6x41cm,2021
I drew this picture imagining the scene of several fishes vigorously biting the food. I tied and pasted the cloth, which is mainly used for scarves, but it was difficult to make the picture. In reality, the unevenness of the picture is interesting, but unfortunately it is not clear in the image. But I think it turned out to be a very colorful picture.
---
Akiko Yada's solo exhibition "Let your cerebral cortex be your guide
Period: 26(Tue) October - 31(Sun) October, 2021, 11:00 - 20:00
Venue: Room_412
(Room 412, Takagi Building, 15-8 Sakuragaoka-cho, Shibuya-ku, Tokyo)
---
(JPN)
これは私が創った作品です。
「活きがいい」
ミクストメディア、60.6x41cm、2021
何匹もの魚が威勢よく餌に食いついている光景を想像して描きました。主にスカーフに使われる布を結んで貼り込んでいますが、絵作りが難しかったです。実際には絵の凸凹が面白いのですが画像ではよくわからず残念です。でも色鮮やかな絵に仕上がったと思います。
---
★矢田明子 個展「大脳皮質をあそばせて」
会期:2021年10月26日(火)-10月31日(日)11-20時
会場:Room_412
(東京都渋谷区桜丘町15-8 高木ビル412号室)
---