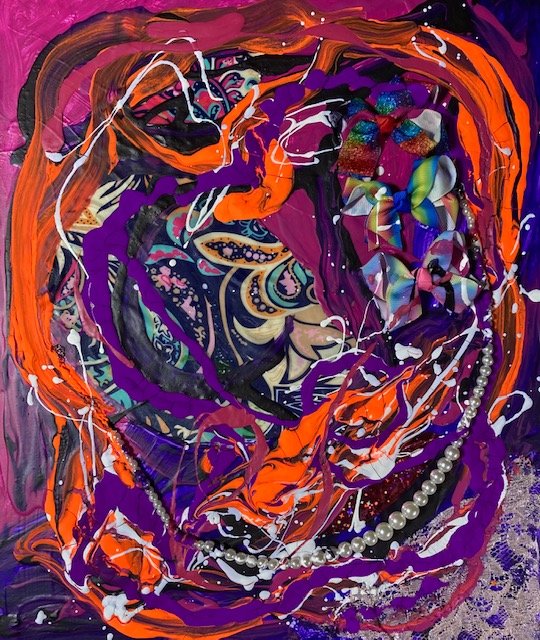 (ENG)
This is my original artwork.
"I Can't Live on Kindness Alone"
Mixed Media,38x45.5cm,2021
I wish I could live on kindness. It was a reality that didn't work out that way, and I wrote about the anguish I felt when I saw that reality. There are cut necklaces and ribbons on it, and I think it expresses a weapon to survive in a world where kindness alone cannot survive.
Today, I posted on Blurt the mail art that I received on May 11 out of the mail art I received during my personal exhibition. See https://blurtter.com/art/@yadamaniart/mail-art-20210520-20210528-20210520-20210528-eng-jpn for details. We are still recruiting mail art. The application requirements are at https://ydart.exout.net/mailart.html .
(JPN)
これは私が創った作品です。
「優しさだけでは生きていけない」
ミクストメディア、38x45.5cm、2021
本当は、優しさだけで生きていけたらいいのですが。そうはいかない現実、そういう現実を目の当たりにした苦悩を描きました。ネックレスを切ったものや、リボンなどを貼り込んでありますが、これは優しさだけでは生きていけない世の中を生き抜くための武器を表現したつもりです。
今日は個展期間中に頂いていたメールアートのうち、5月11日受け取り分のメールアートをBlurtに載せました。詳細は https://blurtter.com/art/@yadamaniart/mail-art-20210520-20210528-20210520-20210528-eng-jpn をご覧ください。まだまだメールアートは募集中です。募集要項は https://ydart.exout.net/mailart.html にあります。