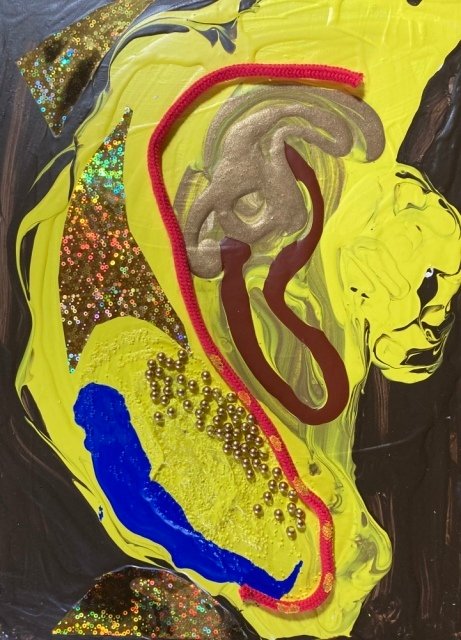 This is my original artwork.
"Jar with a human face"
Mixed Media,24.2x33.3cm,2022
Yes, by chance, a human face appeared from the right side of the jar. In Japan (I don't know about the rest of the world), there are animals with human faces, such as human-faced dogs and human-faced fish, which are kind of like urban legends. I thought I'd take a cue from that and make something interesting and sell it for about a million yen 🤣 (just kidding).
But if you look carefully, you will find that "vase-shaped earthenware with human face" has been unearthed mainly from sites in eastern Japan. It's not a coincidence like this picture, but it has a human face on it. In the Yayoi period, there was a custom of burying ossified human bones in an urn (urn coffin) and burying them in a pit.
I thought I was joking, but it turned out to be a serious story.
(JPN)
これは私が創った作品です。
「人面壺」
ミクストメディア、24.2x33.3cm、2022
はい、偶然にも壺の右側から人の顔が現れました。日本には(日本以外はどうか知りませんが)人面犬や人面魚といった人間の顔をした動物という、まあ都市伝説みたいなものがあります。それに倣って、まあ面白いものができたから100万円ぐらいで売ろうかなと思って投稿しました🤣(冗談です)
でもよくよく調べてみると、主に東日本の遺跡から「人面付壺形土器」というのが出土しているのです。この絵みたいな偶然じゃなくてきちんと人の顔を描いてあります。弥生時代に、再葬墓(さいそうぼ)と言って、骨化した人骨を再び壷(壷棺)に入れ、穴の中に埋めるというならわしがあったようです。
ふざけたつもりが、真面目な話になってしまいました。
---
My Website / 私のウェブサイト
https://ydart.exout.net/
My Art shop / 私のアートショップ
https://yadamaniart.com/