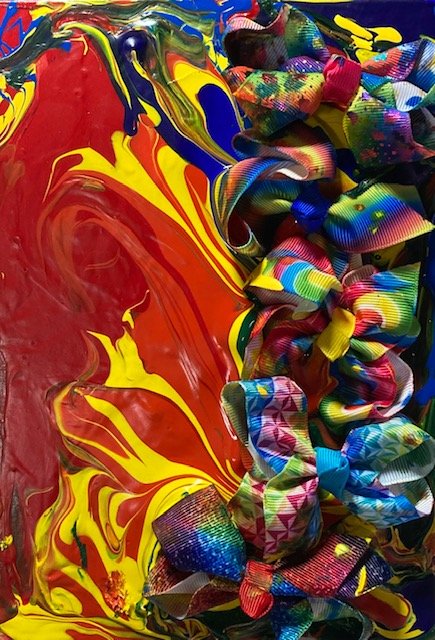 (ENG)
This is my original artwork.
"Melting"
Mixed Media,15.8x22.7cm,2021
When I came up with the word "melting", I thought of melting metals at high temperatures to make them liquid. However, when I did some research, I found out that there was also molten slag, which is made by melting and solidifying waste and its incinerated ash. It was written that this is the ultimate recycling that can also become stone and sand. I started to get interested in it, and I drew pictures of things melting by heat.
Come to think of it, I received mail art today too. See https://blurtter.com/art/@yadamaniart/mail-art-6-letters-20210408-6-20210408-eng-jpn for details. I am still looking for mail art. The application requirements are at https://ydart.exout.net/mailart.html .
(JPN)
これは私が創った作品です。
「溶融」
ミクストメディア、15.8x22.7cm、2021
「溶融」という言葉を思い浮かべた時、金属などを高温で溶かして液体にする様子を思い浮かべましたが、もっど調べてみると、溶融スラグと言って、ごみやその焼却灰を溶かして固めたものもあり、それは石や砂にもなる、究極のリサイクルだと書いてあったのです。なんだか、興味が湧いてきて、モノが熱で溶ける様子を絵に描きました。
そういえば今日もメールアートを頂きました。詳細は https://blurtter.com/art/@yadamaniart/mail-art-6-letters-20210408-6-20210408-eng-jpn をご覧ください。まだまだメールアートは募集中です。募集要項は https://ydart.exout.net/mailart.html にあります。
---
Akiko Yada Solo Exhibition "waxing and waning of mind"
Date: Wednesday, May 12, 2021 - Monday, May 17
11 : 00 - 19 : 00 (Last Day 17: 00)
Venue: Art Gallery Kitano
(439 -4 Ebisu-cho, Kawaramachi Higashi-iru, Sanjo-dori Street, Nakagyo-ku Ward, Kyoto City)
---
矢田明子個展「こころの満ち欠け」
日時:2021年5月12日(水)~5月17日(月)
   11:00~19:00(最終日17:00まで)
会場:アートギャラリー北野
   (京都市中京区三条通河原町東入ル恵比須町439-4 コーカビル)
---