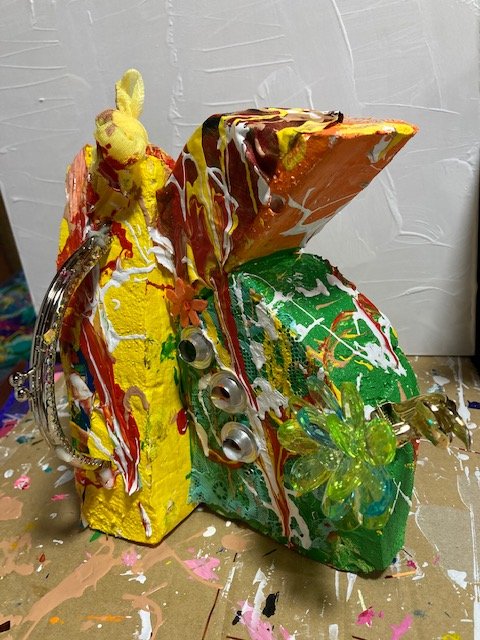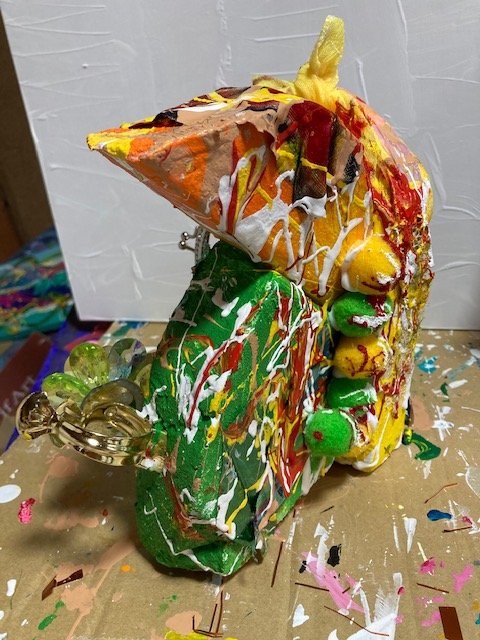 (ENG)
This is my original artwork.
"Memory Pool"
Mixed Media,2021
Thank you for waiting. I will show you a three-dimensional work. The core material is Styrofoam and acrylic paint is applied or dripped over it. And the 3D version of the collage is called Assamblage, and I did this from various angles.
The picture is not a studio but a studio, so I'm sorry that the paint is scattered. It will be the first time in about a year to create three-dimensional works. Last year, I created one at the beginning, but I gave up on my private exhibition once, so I didn't want to create one afterwards. This year, I made it so that I wouldn't get upset. With this as an opportunity, I want to create various things more freely.
(JPN)
これは私が創った作品です。
「記憶のたまり場」
ミクストメディア、2021
さてお待たせしました。立体作品ができましたのでお見せします。芯材にはスタイロフォームを使って、アクリル絵の具をコテコテに塗るというかたらすというか。そして、コラージュの立体版はアッサンブラージュというのですが、これを色々な角度から見ながらやりました。
写真が、スタジオじゃなくアトリエなものだから絵の具が飛び散っていてこれまた申し訳ないです。立体作品を創るのは約1年ぶりでしょうか。昨年は初め頃に1つ創ったのですが、個展を一旦あきらめたものだからその後創る気が起きなかった。今年になって、気持ちがぶれないようにと思って創りました。これを機に、もっと自由に色々創りたいですね。
---
My Website / 私のウェブサイト
https://ydart.exout.net/
My Artwork sales site / 私の絵の販売サイト
https://ydart.stores.jp/