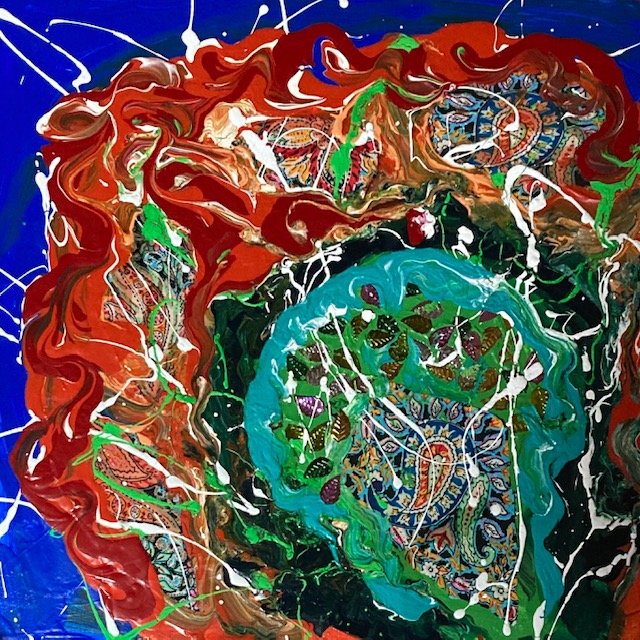 (ENG)
This is my original artwork.
"My Growth Rings"
Mixed Media,22x27.3cm,2021
Trees have rings, but I imagined that I also have rings. I don't know if it's in the cells or in larger units, like bones and skins. Human beings are not trees, so they don't have them, but I think there must be some kind of sign of aging somewhere. I drew it by imagining the sign of aging. It's a picture with fabric and sequins pasted on it.
(JPN)
これは私が創った作品です。
「私の年輪」
ミクストメディア、22x27.3cm、2021
樹木には年輪がありますが、私にも年輪のようなものがあるのではないかと想像しました。それは細胞にあるのか、それとももっと大きな単位の、例えば骨や皮などにあるのかわかりません。人間は樹木ではないから、ないのかもしれませんが、年を重ねた証というのが、どこかに何かの形で表れているはずだと思います。その、年を重ねた証というものを想像して描きました。布やスパンコールなどを貼り込んだ絵です。
---
Akiko Yada Solo Exhibition "waxing and waning of mind"
Date: Wednesday, May 12, 2021 - Monday, May 17
11 : 00 - 19 : 00 (Last Day 17: 00)
Venue: Art Gallery Kitano
(439 -4 Ebisu-cho, Kawaramachi Higashi-iru, Sanjo-dori Street, Nakagyo-ku Ward, Kyoto City)
---
矢田明子個展「こころの満ち欠け」
日時:2021年5月12日(水)~5月17日(月)
   11:00~19:00(最終日17:00まで)
会場:アートギャラリー北野
   (京都市中京区三条通河原町東入ル恵比須町439-4 コーカビル)
---
Call for Mail Art! / メールアート募集中!
https://ydart.exout.net/mailart.html