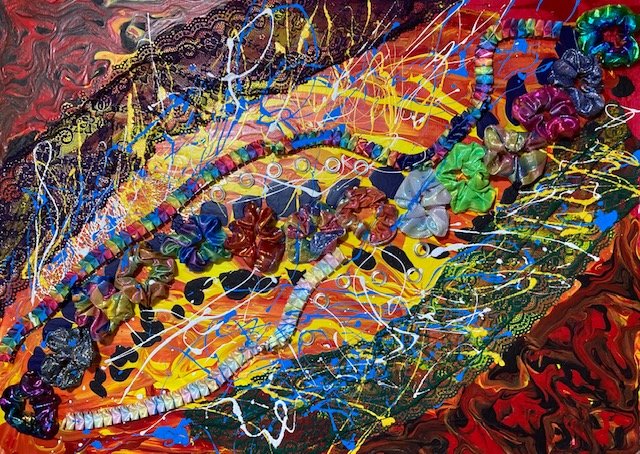 (ENG)
This is my original artwork.
"Paradise"
Mixed Media,91x72.7cm,2021
This is a picture of a tropical paradise at dusk. In order to show that it was dusk, I used a slightly darker color and drew the appearance of flowers and leaves growing thickly. They then attached hair accessories and ribbons to express how creatures can relax in this paradise.
(JPN)
これは私が創った作品です。
「楽園」
ミクストメディア、91x72.7cm、2021
これは夕暮れの熱帯の楽園を描いた絵です。夕暮れ時だということを表すためにやや明度を落とした色を使い、花や葉がびっしり生えている様子を描きました。そしてヘアアクセサリーやリボンなどを貼り付けて、生き物たちが思い思いにこの楽園でくつろぐ様子を表現しました。
My website / 私のウェブサイト
https://ydart.exout.net/
Call for Mail Art! / メールアート募集中!
https://ydart.exout.net/mailart.html