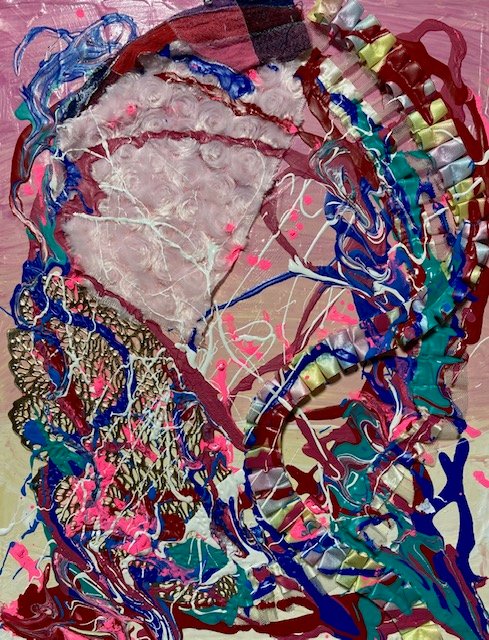 (ENG)
This is my original artwork.
"Phantom - Behind the Mirror"
Mixed Media,31.8x41cm,2021
When I was in elementary school, a friend of my classmate told me about it. As soon as he looked in the mirror, he saw the other side. I thought there might be someone behind.
I thought it was an interesting story, so I tried drawing it many times, but it didn't go well. I wanted to make a picture again this time, so I painted this picture. The round space in the shape of a hand mirror has only a few colors and collages, in contrast to the flood of colors and waviness of ribbons around it. After all, it's an illusion.
Even so, the arrangement of the pictures in the solo exhibition is not going well. Because there are many pictures that need to be repaired in detail, and it takes time. Besides, painting is not the only part of life. Tomorrow is the day for collecting used paper by the PTA of a local elementary school, so it was difficult to collect cardboard boxes. I've been using mail order a lot recently, so the room was full of cardboard boxes.
(JPN)
これは私が創った作品です。
「幻影―鏡の裏側」
ミクストメディア、31.8x41cm、2021
私が小学生の頃、同級生の友人が話してくれました。その友人は鏡を見るとすぐ裏側を見たんだそうです。裏側に誰かいるのではないかと思って、と。
面白い話だと思って、何回も絵にすることを試みましたがなかなか上手くいきませんでした。今回またしても絵にしようと思って描いたのがこの絵です。手鏡のような形の中の丸い空間は、その周囲の色の洪水やリボンのうねりとは対照的に、わずかな色とコラージュがあるだけです。所詮それは幻影ですから。
それにしても個展の絵の整理がなかなか進みません。細かいところで修復しなければならない絵が結構あってそれに時間を費やしているからです。それに絵を描くだけが生活ではないですし。明日は地元の小学校のPTAによる古紙回収の日だからダンボールをまとめるのが大変でした。ここのところ通販を多用しているのでダンボール箱で部屋がいっぱいだったもので。
---
My Website / 私のウェブサイト
https://ydart.exout.net/
My Artwork sales site / 私の絵の販売サイト
https://ydart.stores.jp/
My stock illustration / 私のストックイラスト
https://www.shutterstock.com/ja/g/vvv753