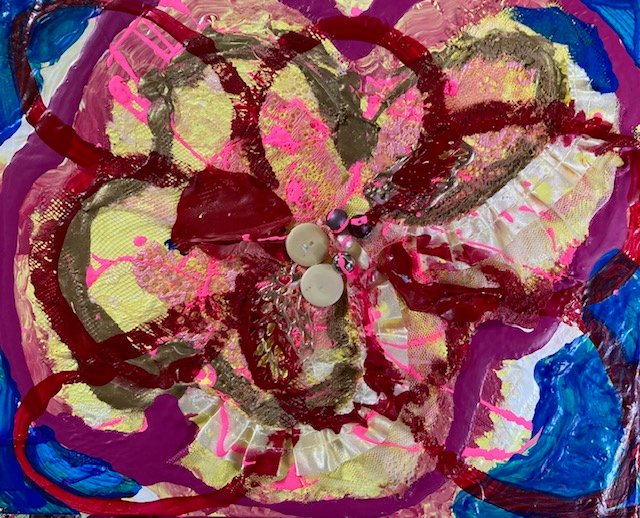 (ENG)
This is my original artwork.
"Sunny Autumn and Flower"
Mixed Media,22x27.3cm,2021
Yesterday and today in Kyoto, the sky was clear and cloudless. It's a clear autumn day. I'm glad to have clear autumn weather. Thanks to the clear autumn sky, I feel a little more refreshed. I really want to go to Kameoka to see the cosmos fields, but the buses will be full, so I won't go. It's refreshing to take a walk around the neighborhood. I'm going to take a walk in the morning, and after that I'm going to work hard to prepare for my solo exhibition.
---
Akiko Yada's solo exhibition "Let your cerebral cortex be your guide
Period: 26(Tue) October - 31(Sun) October, 2021, 11:00 - 20:00
Venue: Room_412
(Room 412, Takagi Building, 15-8 Sakuragaoka-cho, Shibuya-ku, Tokyo)
---
(JPN)
これは私が創った作品です。
「秋晴れと花」
ミクストメディア、22x27.3cm、2021
京都は昨日、今日と雲一つない快晴です。秋晴れです。秋晴れ嬉しいです。秋晴れのおかげでちょっと気分も晴れやかになってきました。本当は亀岡にコスモス畑があるから行きたいのですがバスが満員になるでしょうから行きません。近所の散歩でもすがすがしいです。朝散歩して、そのあとは個展の準備に精を出します。
---
★矢田明子 個展「大脳皮質をあそばせて」
会期:2021年10月26日(火)-10月31日(日)11-20時
会場:Room_412
(東京都渋谷区桜丘町15-8 高木ビル412号室)
---