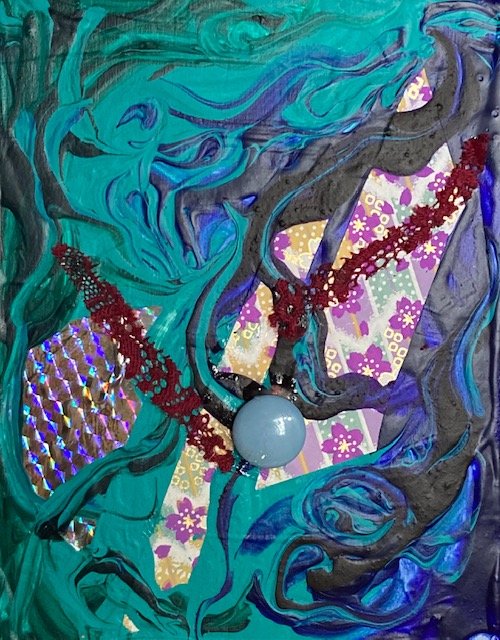 (ENG)
This is my original artwork.
"Verdigris Mist"
Mixed Media,14x18cm,2021
Rust on metals such as copper and brass, that's called green rust (also called blue rust).
Blue rust on copper was said to be toxic in the past, but this has been denied now.
However, the fog I wrote about here is not particularly blue rust. I gave it this title because it reminded me of greenish-blue from this picture, which is blue and green in color.
---
Akiko Yada's solo exhibition "Let your cerebral cortex be your guide
Period: 26(Tue) October - 31(Sun) October, 2021, 11:00 - 20:00
Venue: Room_412
(Room 412, Takagi Building, 15-8 Sakuragaoka-cho, Shibuya-ku, Tokyo)
---
(JPN)
これは私が創った作品です。
「緑青の霧」
ミクストメディア、14x18cm、2021
銅や真鍮などの金属につく錆、あれを緑青と言いますね(青錆とも言いますね)。
銅の青錆は昔は毒性があると言われていたのですが、今では否定されています。
とは言っても、ここで書いた霧は特に青錆というわけではありません。青色、緑色をしているこの絵から緑青を思い浮かべてこのタイトルを付けました。
---
★矢田明子 個展「大脳皮質をあそばせて」
会期:2021年10月26日(火)-10月31日(日)11-20時
会場:Room_412
(東京都渋谷区桜丘町15-8 高木ビル412号室)
---