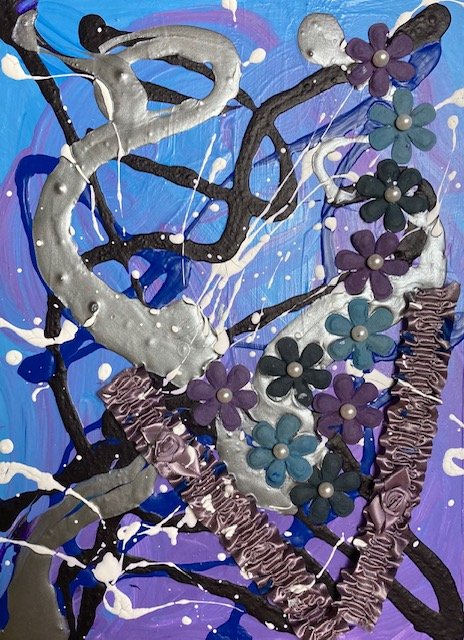 (ENG)
This is my original artwork.
"Violet Memories"
Mixed Media,24.2x33.3cm,2021
Violets are one of my favorite flowers. It grows by the roadside in my neighborhood.
I think I especially like the purple color of the flower. Ever since I was a little girl, when I came home from school, I used to look at the flowers along the roadside and in the garden. Some of them are now violet in my memory.
---
Akiko Yada's solo exhibition "Let your cerebral cortex be your guide
Period: 26(Tue) October - 31(Sun) October, 2021, 11:00 - 20:00
Venue: Room_412
(Room 412, Takagi Building, 15-8 Sakuragaoka-cho, Shibuya-ku, Tokyo)
---
(JPN)
これは私が創った作品です。
「すみれ色の記憶」
ミクストメディア、24.2x33.3cm、2021
すみれは私の好きな花のひとつです。うちの近所の道端にも生えています。
花の色の紫色が特に好きかな、という感じです。私は小さい頃から、学校から帰ったら道端の花や庭の花を眺めていました。その一部が今ではすみれ色の記憶です。
---
★矢田明子 個展「大脳皮質をあそばせて」
会期:2021年10月26日(火)-10月31日(日)11-20時
会場:Room_412
(東京都渋谷区桜丘町15-8 高木ビル412号室)
---