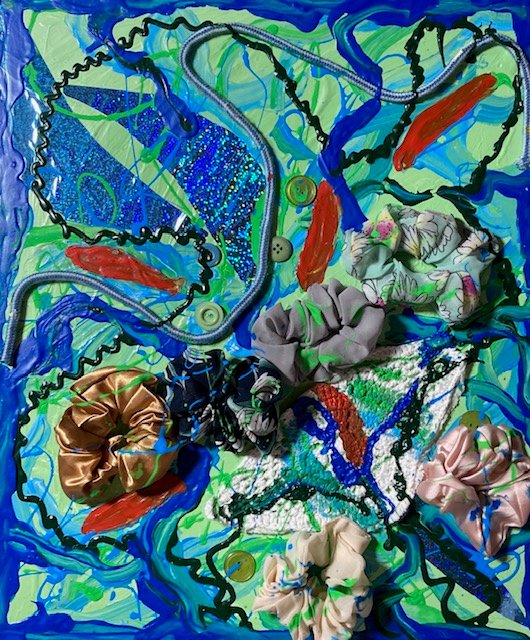 (ENG)
This is my original artwork.
"Wetlands"
Mixed Media,38x45.5cm,2021
Wetlands. It is also a place where a wide variety of creatures live. Kyoto City also has a pond called Midoroga-ike, which has a floating island, and rare plants and animals unique to wetlands live there. It was relatively close to the university I went to, so I sometimes went to Midorogaike by bicycle. It's a little far from my house now.
And there is a wetland called Hacchodaira in the area called Kuta in the northern part of Kyoto City. I think Kuta went out with his friends when he was a student, but I don't remember well. I can't go now because I can't drive a car.
These two sites are designated as important wetlands by the Ministry of the Environment as wetlands of high biodiversity importance.
(JPN)
これは私が創った作品です。
「湿地帯」
ミクストメディア、38x45.5cm、2021
湿地帯。それは豊富な種類の生物が生息しているところでもあります。京都市にも深泥池という浮島のある池があって、そこには珍しい湿地ならではの動植物が生息しています。私の通っていた大学から比較的近かったので時々自転車で深泥池に行っていました。今の私の自宅からは少し遠いですが。
それから京都市の北部、久多という地区には八丁平という湿原があるそうです。久多は学生時代に友人たちと一緒に遊びに行ったと思いますが記憶があやふやです。私は自動車を運転できないから今は行けません。
この2ヶ所は生物多様性の観点から重要度の高い湿地として、環境省から重要湿地に指定されています。
---
Akiko Yada Solo Exhibition "waxing and waning of mind"
Date: Wednesday, May 12, 2021 - Monday, May 17
11 : 00 - 19 : 00 (Last Day 17: 00)
Venue: Art Gallery Kitano
(439 -4 Ebisu-cho, Kawaramachi Higashi-iru, Sanjo-dori Street, Nakagyo-ku Ward, Kyoto City)
---
矢田明子個展「こころの満ち欠け」
日時:2021年5月12日(水)~5月17日(月)
   11:00~19:00(最終日17:00まで)
会場:アートギャラリー北野
   (京都市中京区三条通河原町東入ル恵比須町439-4 コーカビル)
---
Call for Mail Art! / メールアート募集中!
https://ydart.exout.net/mailart.html