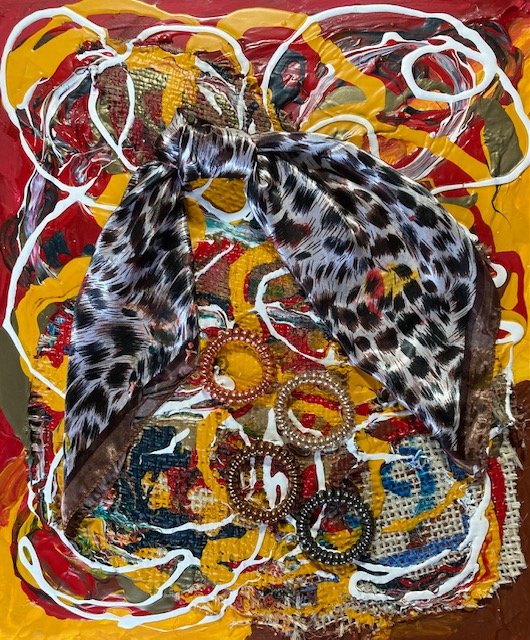 (ENG)
This is my original artwork.
"Wild Life"
Mixed Media,38x45.5cm,2022
How many people forage for wild leaves and berries, hunt, or live a subsistence lifestyle? Wild animals catch their own prey, don't they? I used to long to be self-sufficient myself, but I don't have the physical strength to do so (it's declining), and now I think it would be outrageous to give that up, having become so accustomed to the conveniences of human life. I want to live only by doing what I can do. I do sometimes pick wild plants and eat them, though, and they are delicious.
---
Akiko Yada Solo Exhibition "Next Phase 2"
Friday, May 13 - Wednesday, May 18, 2022, 10 - 18 p.m.
Gallery Q (1-8-8-8 Chuo, Otsu City, Shiga Prefecture, JAPAN)
---
(JPN)
これは私が創った作品です。
「野性的生活」
ミクストメディア、38x45.5cm、2022
野生の葉や実を採ったり、狩りをしたり、自給自足の生活をしている人ってどれくらいいるのでしょうか。野生の動物は、獲物は自分で獲りますよね。私も昔は自給自足に憧れたことがありますが、それだけの体力もない(衰えてきている)し、人間の便利な生活にすっかり馴染んだものでそれを手放すなんてとんでもないと今は思います。自分にできることだけして、生きていきたいです。たまに野草を摘んで食べると、美味しいですが。
---
矢田明子個展"Next Phase 2"
2022年5月13日(金)~18日(水)10~18時
ギャラリーQ(滋賀県大津市中央1丁目8-8)
---