English
Hello to all the community of The Anime Realm, I hope you are great, today I want to talk about one of those anime that despite being attached to the manga, to have a great animation, an epic soundtrack and have a good number of fans did not have another season in its animation (despite its manga still have several chapters for that) and is that for me despite Owari no Seraph deserved at least another season to finish telling us the great story of this dystopian world and see the outcome that would have this great story.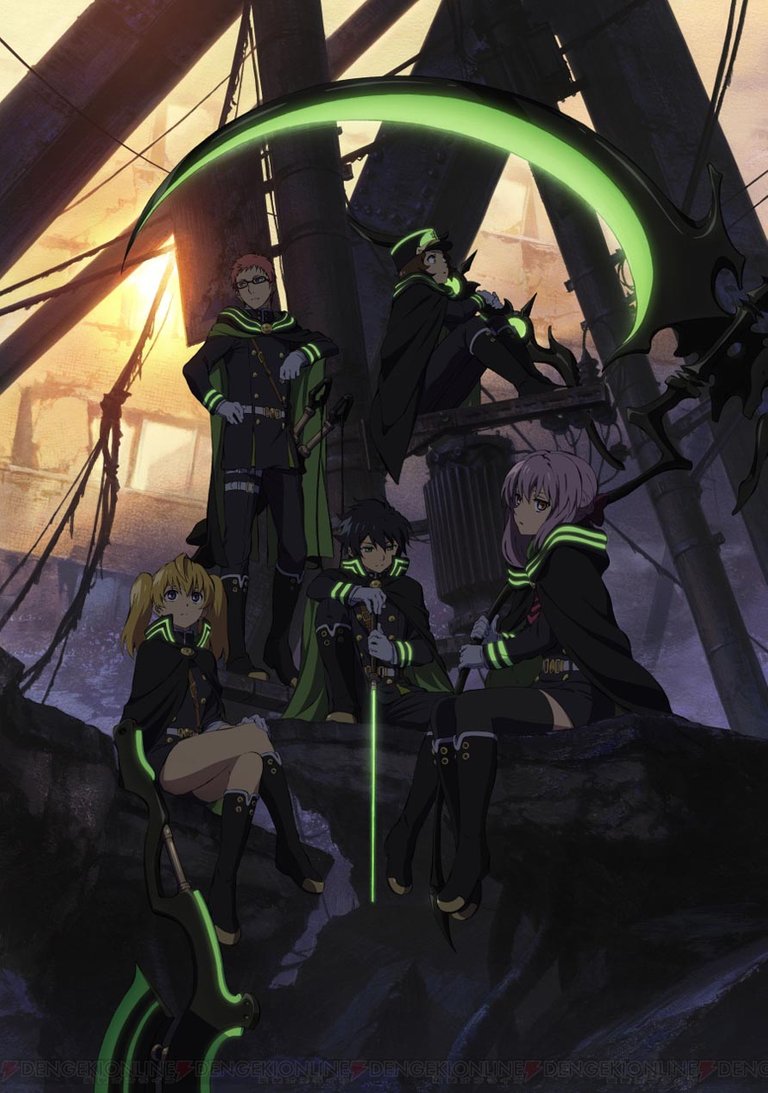 Source
This anime is the adaptation of the manga made by Takaya Kagami and drawn by Yamato Yamamoto, starting its publication in Jump Square in 2012 and still in broadcast, it already has 23 volumes and two light novels (which adapt events prior to the main story). Its anime adaptation was made by Wit Studio and counted with its author (Takaya Kagami) for the script of the manga chapters (so it is very faithful to the original work) and its first season was released in 2015 counting with 12 episodes and one of the most epic openings of that season ( scaPEGoat by SawanoHiroyuki[nZk]) and its second season was trained the same year and counted also with 12 episodes, we are still waiting for a third season to be able to solve all those doubts and see what is in store for our protagonists.
This anime introduces us to Yūichirō Hyakuya (or called Yū by his friends and family) who after being orphaned due to an accident, is admitted to the Hyakuya orphanage, here he meets Mikaela Hyakuya and the other children of the orphanage and begins to feel like a family again, but a virus supposedly created by humans eliminates almost all humans over 13 years old; As if this wasn't bad enough Vampires begin to emerge from the depths of the earth, who take the surviving children and take them to their abodes to use them as livestock in exchange for their safety (as monsters called horsemen of the apocalypse also appear on the surface), Yū and Mika decide to come up with a plan to escape from the vampire realm as they are sick of being used as a food source, But in their rescue plan they are intercepted and almost all killed by Ferid Bathory, sacrificing Mika so that Yū can escape, upon reaching the surface he discovers that there are still humans and there is a body in charge of fighting against vampires called Moon Demon Company, determined to get his revenge Yū takes it as a goal to join this company and gain the skills to kill the vampires.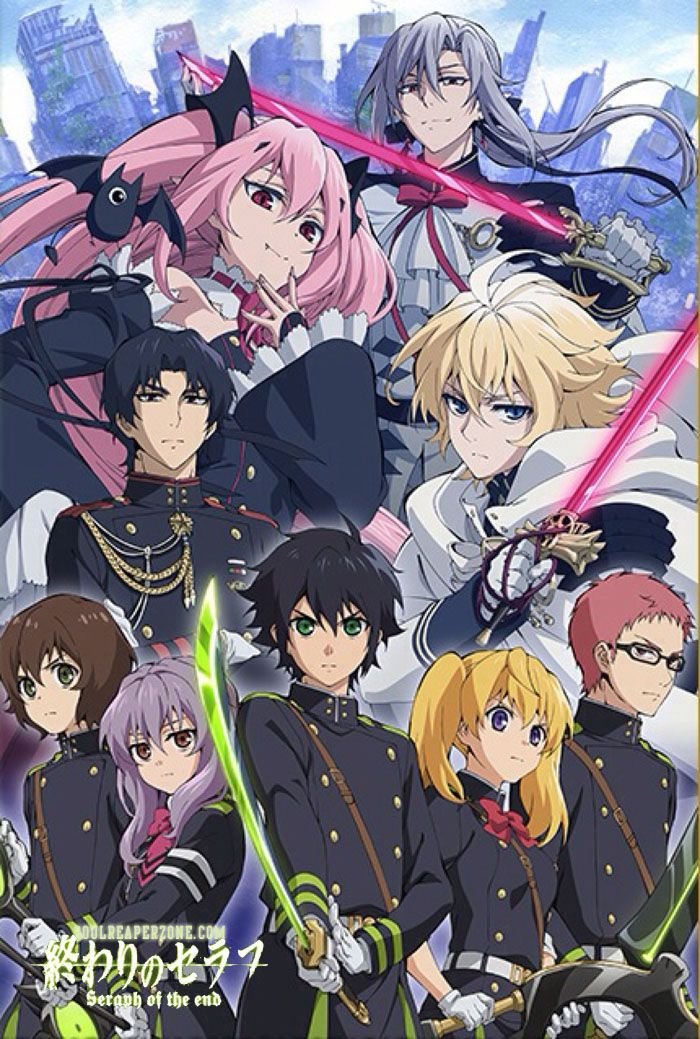 Source
Something great about this anime is the way in which humans manage to gain strength to face the vampires (as these surpass them in all physical aspects and can also regenerate) and is that the idea of the cursed weapons, which have a demon inside and depending on the level of this will be the strength of the weapon but also require greater willpower to control them (being for me Yū's and Guren's for me some of the most epic) is really epic, plus the vampire weapons which need blood to get their power are really cool.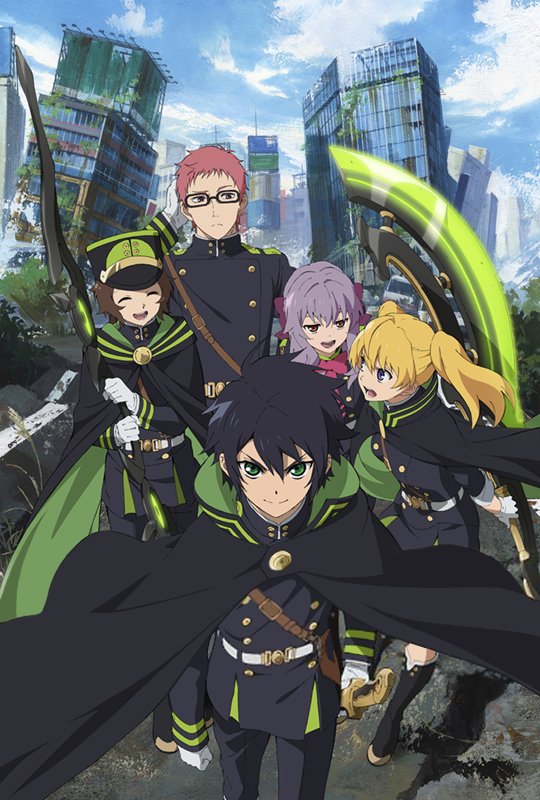 Source
This anime as you can imagine has a bit of gore (nothing too exaggerated but with a good amount of blood) in addition to presenting a story with too many hidden things which makes you want to know much more of it, plus we will show that humans are not really the good guys and vampires the bad guys but we will see how big can be the ambition of humans for power.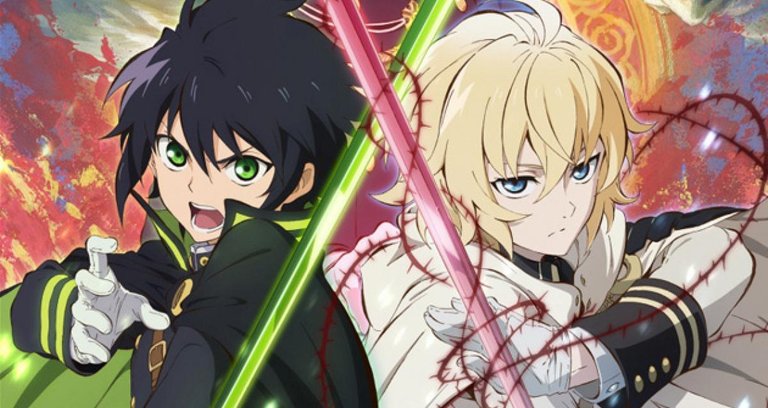 Souce
I hope this post motivates you to give a chance to this great anime and even to its manga (since I started to read it because I need to know what happens hahaha) and also give a chance to its great openings and even better endings, I hope you are great and we'll see each other in another opportunity.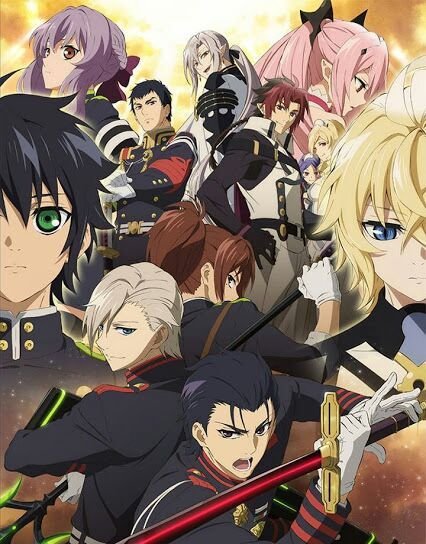 Source
Español
Hola a toda la comunidad de The Anime Realm, espero se encuentren genial, hoy quiero hablarles de uno de esos animes que a pesar de estar apegada al manga, de poseer una genial animación, una banda sonora épica y tener un buen número de fanáticos no tuvo otra temporada en su animación (a pesar de su manga todavía contar con varios capítulos para eso) y es que para mí pesar Owari no Seraph merecía al menos otra temporada para terminarnos de contar la genial historia de este mundo distopico y ver el desenlace que tendría está genial historia.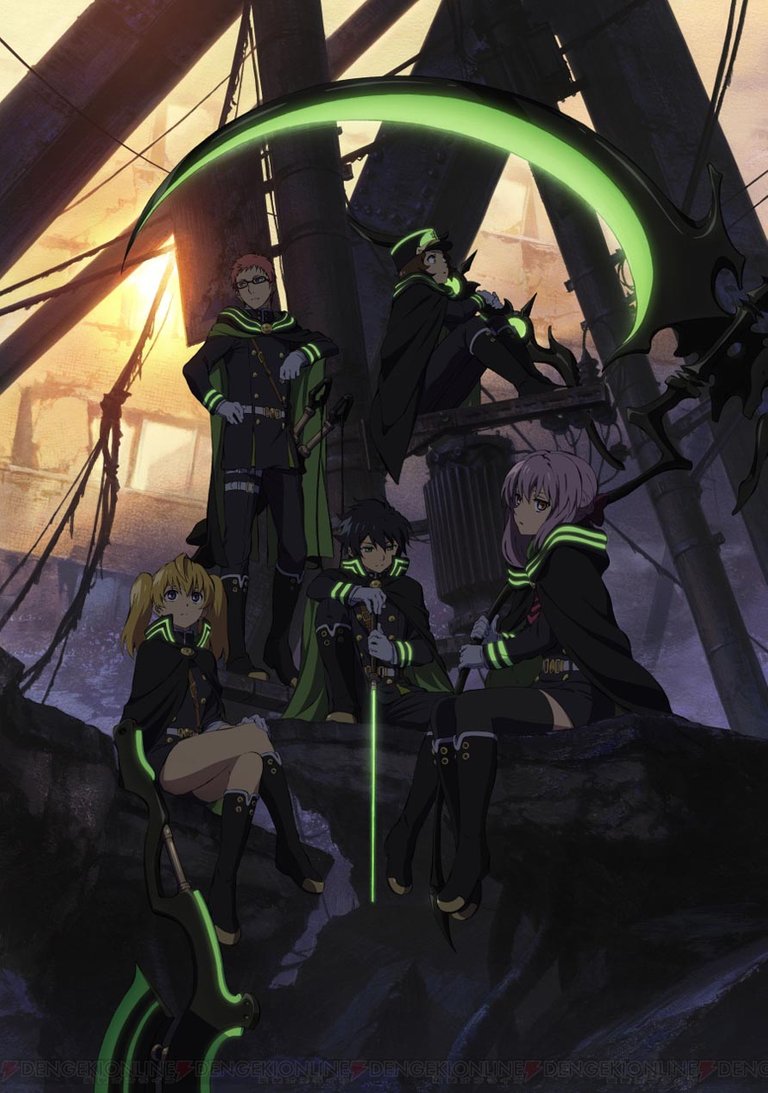 Source
Este anime es la adaptación del manga hecho por Takaya Kagami y dibujado por Yamato Yamamoto, empezando su publicación en la Jump Square en el 2012 y encontrándose aún en emisión, cuenta ya con 23 volúmenes además cuenta ya con dos novelas ligeras (las cuales adaptan eventos anteriores a la historia principal). Su adaptación al anime fue hecha por Wit Studio y conto con su autor (Takaya Kagami) para el guión de los capítulos del manga (así que es muy fiel a la obra original) y su primera temporada fue lanzado en 2015 contando con 12 episodios y uno de los openings más épicos de esa temporada ( scaPEGoat de SawanoHiroyuki[nZk]) y su segunda temporada fue entrenada el mismo año y conto también con 12 episodios, aún seguimos esperando una tercera temporada para poder solventar todas esas dudas que nos dejaron planteadas y ver que le depara a nuestros protagonistas.
Este anime nos presenta a Yūichirō Hyakuya (o llamado Yū por sus amigos y familia) quien después de quedar huérfano debido a un accidente, es ingresado al orfanato Hyakuya, aquí conoce a Mikaela Hyakuya y a los demás niños del orfanato y empieza a sentir de nuevo a una familia, pero un virus supuestamente creado por humanos elimina a casi todos los humanos mayores de 13 años; como si esto no fuese lo suficientemente malo empiezan a emerger desde las profundidades de la tierra Vampiros, quienes toman a los niños sobrevivientes y los llevan a sus moradas para usarlos como ganado a cambio de su seguridad (ya que también aparecen monstruos llamados jinetes del apocalipsis en la superficie), Yū y Mika deciden idear un plan para poder escapar de el reino de los vampiros ya que están artos de ser usados como fuente de comida, pero en su plan de rescate son interceptados y casi todos asesinados por Ferid Bathory, sacrificándose Mika para qu Yū logré escapar, al llegar a la superficie descubre que aún quedan humanos y existe un cuerpo encargado de pelear contra los vampiros llamado Compañía Demonio Lunar, decidido a obtener su venganza Yū toma como meta unirse a esta compañía y ganar las habilidades para poder acabar con los vampiros.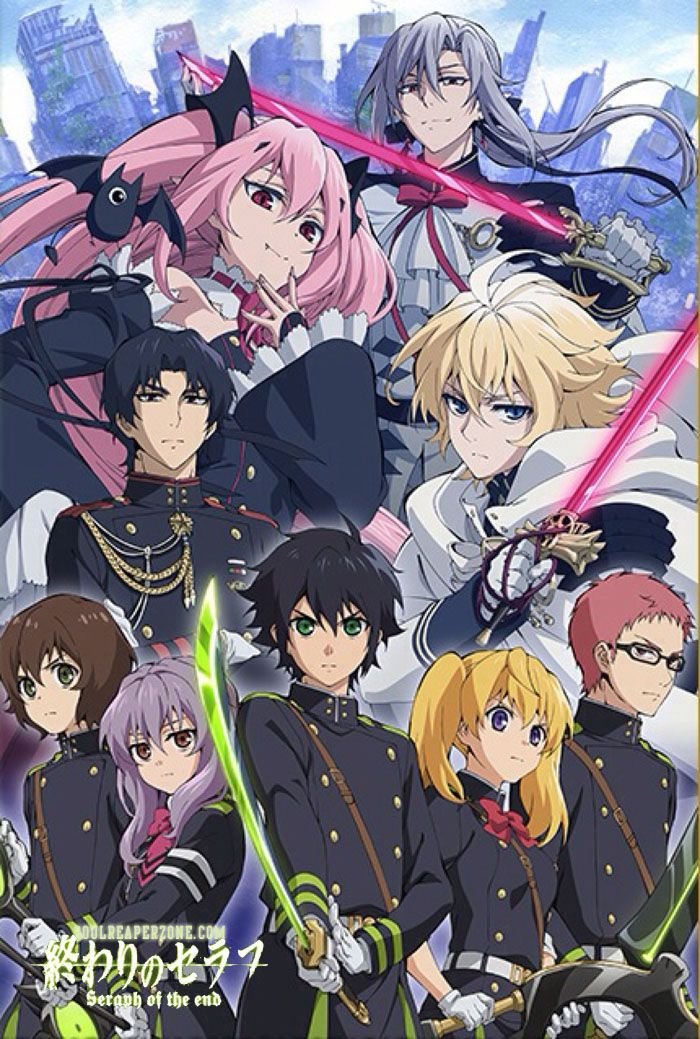 Source
Algo genial de este anime es la forma en la que los humanos logran ganar fuerza para enfrentar a los vampiros (ya que estos los superan en todos los aspectos físicos y además puede regenerarse) y es que la idea de las armas malditas, las cuales tienen en su interior a un demonio y dependiendo del nivel de este sera la fuerza del arma pero también requerirán una mayor fuerza de voluntad para controlarlas (siendo para mí la de Yū y la de Guren para mí unas de las más épicas) es realmente épica, además de que las armas de los vampiros las cuales necesitan sangre para obtener su poder son realmente geniales.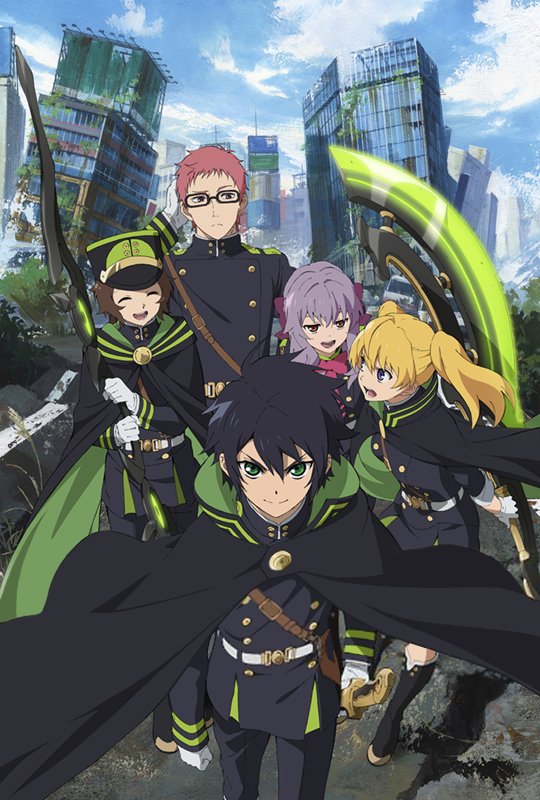 Source
Este anime como pueden imaginar tiene un poco de gore (nada muy exagerado pero si con una buena cantidad de sangre) además de presentarnos una historia con demasiadas cosas ocultas lo cual hace querer saber mucho más de la misma, además se nos mostrará que los humanos realmente no son los buenos y los vampiros los malos sino que veremos plasmado que tan grande puede ser la ambición de los humanos por poder.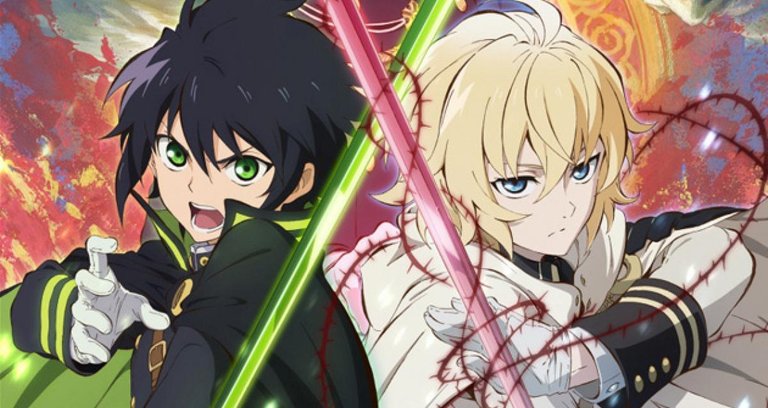 Souce
Espero que esté post los motive a darle una oportunidad a este genial anime e inclusive a su manga (ya que yo empecé a leerlo porque necesito saber que pasa jajaja) además que le den una oportunidad a sus geniales openings y mejores aún endings, espero se encuentren genial y nos veremos en otra oportunidad.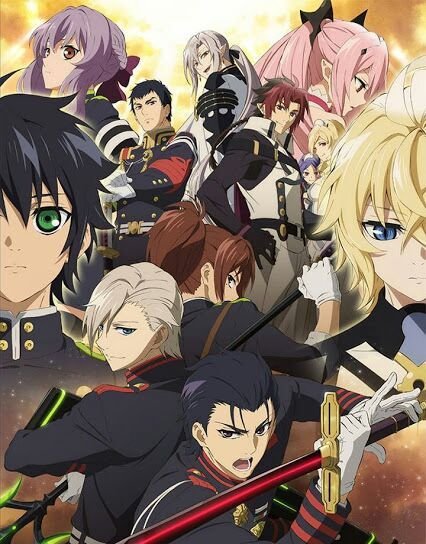 Source