Hello illustrious young people, how was your week? Well, today we will see a series with a rather aberrant theme, a series that I refused to watch for a long time after seeing its first chapter, but that, when I decided to reach the third, attacked my meter of the strange and became something very curious and interesting, that's right, today, I want to talk to you a little about Kore wa zombie desu ka?.
Hola jóvenes ilustres, ¿qué tal su semana?, que bien, hoy veremos una serie de temática bastante aberrante, serie que me negué mucho tiempo a ver tras ver su primer capítulo, pero que, al decidirme a llegar al tercero, atacó mi medidor de lo extraño y se transformó en algo muy curioso e interesante, así es, hoy, quiero hablarles un poco de Kore wa zombie desu ka?.
Kore wa Zombie desu ka (Studios Deen, 2011)
LET'S RECAP/RECAPITULEMOS…
Most people spend their entire lives unaware, but this world has dark secrets that should never see the light of day, unfortunately, fate decides who discovers those secrets, and you can't do anything about it, my name is Ayumu , and I'm one of those chosen to keep those secrets, right Yuu?, even though I've known you for a short time, even if you have a cruel fate, I'll do something to remedy it when it happens, no matter if I'm dragged with you, no matter if I'm unhappy, But please, would you stay by my side?
La mayoría de las personas pasan toda su vida sin darse cuenta, pero este mundo tiene secretos oscuros que nunca deben ver la luz del día, desafortunadamente, el destino decide quien descubre esos secretos, y no puedes hacer nada para remediarlo, mi nombre es Ayumu, y soy uno de esos elegidos para guardar esos secretos, ¿cierto Yuu?, aunque te conozco desde hace poco, aunque tengas un destino cruel, haré algo para remediarlo cuando suceda, no importa si soy arrastrado contigo, no importa si soy infeliz, pero, por favor, ¿te quedarías a mi lado?…
Kore wa Zombie desu ka (Studios Deen, 2011)
YOUR ASSESSMENT/SU VALORACIÓN…
Kore wa Zombie desu ka? It started as a series of light novels (honestly I haven't read all of them (>﹏<)), serialized from 2009 to 2015, and, given its great acceptance (just look at the years it lasted in broadcast since it was a serialized novel of monthly as far as I could find (︶︿︶)=凸), then a Drama CD deal paved the way for this story in 2009, earning it 3 different manga adaptations, 1 version following the order of the novels, and 2 spin-offs at the same time, their manga were very well received by Japan so Studios Deen carried out a project of 2 anime seasons and 2 special ova format that began airing in 2011 with a season and an ova, and a year later in 2012 the second season and another ova to finish the project.
Kore wa Zombie desu ka? Comenzó como una serie de novelas ligeras (sinceramente no las he leído todas (>﹏<)), serializadas desde 2009 hasta 2015, y, dada su gran aceptación (basta con ver los años que duró en emisión ya que fue una novela serializada de forma mensual por lo que pude encontrar (︶︿︶)=凸), entonces, una oferta de CD Drama abrió el camino a esta historia en 2009, haciéndola acreedora de 3 distintas adaptaciones a manga, 1 versión siguiendo el orden de las novelas, y 2 spin-off a la par, sus mangas fueron muy bien recibidos por Japón así que Studios Deen llevó a cabo un proyecto de 2 temporadas de anime y 2 especiales formato ova que comenzaron a transmitirse en 2011 con una temporada y un ova, y un año después en 2012 la segunda temporada y otra ova para finalizar el proyecto.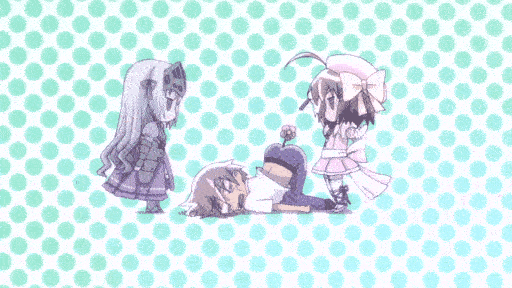 Kore wa Zombie desu ka (Studios Deen, 2011)
MY OPINION/MI OPINIÓN…
Let's see, this series has a few quite interesting points to break down so, although there will be no spoilers as such, if I am going to expand a bit like this since I have many things to say, but I will try to be as brief as possible.
A ver, esta serie tiene unos cuantos puntos bastante interesantes, que desmenuzar así que, si bien no habrás spoilers como tal, si me voy a extender un poco así ya que tengo muchas cosas que decir, pero trataré de ser lo más breve posible.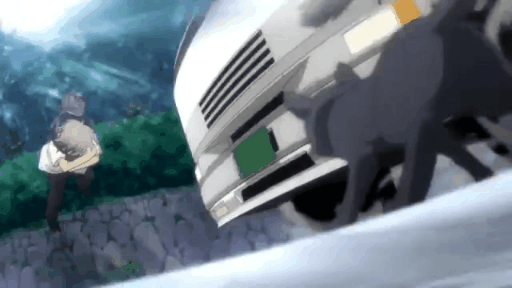 Kore wa Zombie desu ka (Studios Deen, 2011)
We are going to start with the "less remarkable" of this series, and that is its soundtrack, but be careful, "less remarkable" does not mean bad, it is a good well-constructed soundtrack with themes adapted to each situation, from animated for its slice-of-life part, themes that accentuate the battle scenes, and beautiful instrumental themes to add emotion to the dramatic scenes, add to that its fair openings and endings for a comedy anime, slice-of-time, action, a strange combination that arouses interest, highly recommended soundtrack.
Vamos a empezar por lo "menos destacable" de esta serie, y eso es su banda sonora, pero ojo, que "menos destacable", no quiere decir malo, es una buena banda sonora bien construida con temas adaptados a cada situación, desde temas animados para su parte slice-of-life, temas que acentúan las escenas de batalla, y preciosos temas instrumentales para agregar emoción a las escenas dramáticas, suma a eso sus openings y endings justos para un anime de comedia, slice-of-time, acción, una extraña combinación que despierta el interés, banda sonora muy recomendable.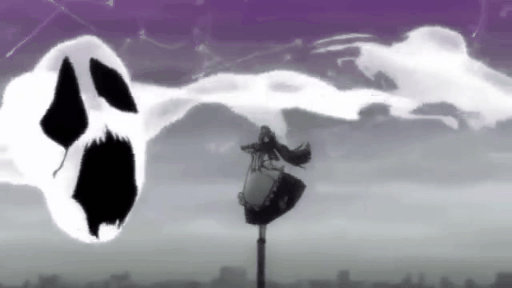 Kore wa Zombie desu ka (Studios Deen, 2011)
Continuing on the side of its animation, it is a stylized animation adapted to a comedy anime in a very natural way, although in terms of lighting it goes to extremes from bright to dark, it is understandable, since it brings out both its comedy plot, like its background drama, so it's justified, besides using a very full color palette, there's certainly CGI, but it's not horrible invasive CGI, it's well-cared-for CGI that doesn't get in the way of the animation, plus to make their battle scenes worthy of a seinen anime.
Siguiendo por su el lado de su animación, es una animación estilizada adaptada a un anime de comedia de forma muy natural ,aunque en cuestión de iluminación va a los extremos de lo brillante a lo oscuro, es entendible, ya que saca a relucir tanto su trama de comedia, como su drama de trasfondo, así que está justificado, además de usar una paleta de colores muy completa, ciertamente hay CGI, pero no es un CGI invasivo horrible, es un CGI bien cuidado que no estorba a la animación, además de hacer sus escenas de batalla dignas de un anime seinen.
Kore wa Zombie desu ka (Studios Deen, 2011)
Now, there is quite a questionable situation with his story, since there is no apparent story since he leans a lot towards comedy, but as he progresses with his absurd comedy based on tsukomi, nudity and blood (indeed, I wouldn't even joke about this to a minor under 18 years old ( ̄口 ̄)), gives us small serious arcs with fragments of history with the exact point of very dark drama that allows us to know more about the characters and the background of those "secrets that should not be discovered ", in this aspect, it reminded me of the format that Gintama has (not at that level of course, it would be unfair to compare them, if you don't know what I'm talking about, pay a visit to our review that may interest you: ), so these changes from serious to drama blood death and destruction, to comedy to slice-of-life, they make it (although quite overloaded ╮(╯◇╰)╭), a very enjoyable and entertaining anime.
Ahora, hay situación bastante cuestionable con su historia, ya que no hay una historia aparente ya que se decanta mucho hacia la comedia, pero conforme avanza con su comedia absurda basada en tsukomi, desnudos y sangre (en efecto, ni de broma le pondría esto a un menor de 18 años ( ̄口 ̄)), nos regala pequeños arcos serios con fragmentos de historia con el punto exacto de drama muy oscuro que nos permite conocer más a los personajes y el trasfondo de esos "secretos que no debes ser descubiertos", en este aspecto, me recordó al formato que tiene Gintama (no a ese nivel claro está, sería injusto compararlos, si no sabes de lo que hablo dale una visita a nuestra reseña que te puede interesar: ), por lo que estos cambios de serio a drama sangre muerte y destrucción, a comedia a slice-of-life, la vuelven (aunque bastante sobrecargada ╮(╯◇╰)╭), un anime muy ameno y entretenido.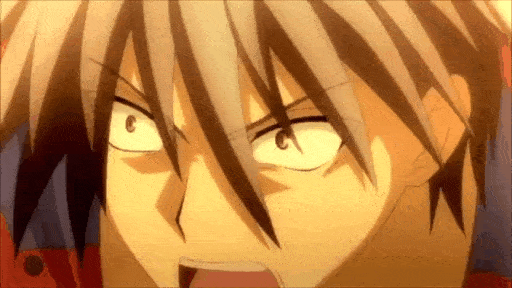 Kore wa Zombie desu ka (Studios Deen, 2011)
Adding the part of the characters, Ayumu is a character with whom it is easy to sympathize, it is the key piece that unites the whole mixture of "nonsense ideas", that a protagonist fulfills a function like this, it gives a lot of strength and life to the anime. , especially if we talk about the fact that not all its characters are nice and it's not very easy to get attached to them, although, there is another very special character in this anime and that is the necromancer Eucliwood Hellsyteh (I think that's how it is written ╮( ̄▽  ̄)╭), it's very rare for me to learn to love a character you don't know so much (literally []~( ̄▽ ̄)~*), a waste of seiyuu like "Yuu", but it's a character that transmits a lot with so little, which seems to me to be a great success, one of the best characters in the series without a doubt.
Añadiendo la parte de los personajes, Ayumu es un personaje con el que es fácil simpatizar, es la pieza clave que une toda la mezcla de "ideas sin sentido", que un protagonista cumpla una función así, le da mucha fuerza y vida al anime, sobre todo si hablamos del hecho de que no todos sus personajes son agradables y no es muy sencillo tomarles cariño, aunque, hay otro personaje muy especial en este anime y esa es la necromancer Eucliwood Hellsyteh (creo que así se escribe ╮( ̄▽ ̄)╭), es muy raro para mi aprender a querer tanto a un personaje que no conoces (literalmente []~( ̄▽ ̄)~*), un desperdicio de seiyuu como lo es "Yuu", pero es un personaje que transmite mucho con tan poco, que me parece un gran acierto, uno de los mejores personajes de la serie sin duda.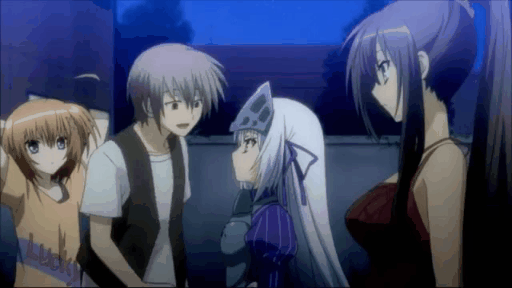 Kore wa Zombie desu ka (Studios Deen, 2011)
The only bad point that I can highlight and unfortunately it is a serious point to affect my tastes, is the aggressive amount of badly placed fan service throughout the two seasons, yes, there are scenes justified by the situational comedy and talking about a teenager "sane" (dead even []~( ̄▽ ̄)~*), but there are a lot of random fan service scenes, I think if you go the ecchi route, making sense is important or it tends to obfuscate, that was the reason why I refused to watch it two or three years after I saw the first chapter, but, if you manage to survive this excessive fan service overflow (or if you like it, you know I don't judge ╮( ̄▽ ̄ )╭), is a very entertaining series to watch.
El único punto malo que puedo destacar y desafortunadamente es un punto grave para afectar mis gustos, es la cantidad tan agresiva de fan service mal colocado a lo largo de las dos temporadas, sí, hay escenas justificadas por la comedia situacional y hablando de un adolescente "sano" (aunque esté muerto []~( ̄▽ ̄)~*), pero hay muchas escenas fan service al azar, creo que si vas por la ruta ecchi, hacer que tenga sentido es importante o tiende a ofuscar, ese fue el motivo por el que me negué a verla dos o tres años después de que vi el primer capítulo, pero, si logras sobrevivir a este excesivo desborde de fan service (o si te gusta, ya saben que yo no juzgo ╮( ̄▽ ̄)╭), es una serie muy entretenida de ver.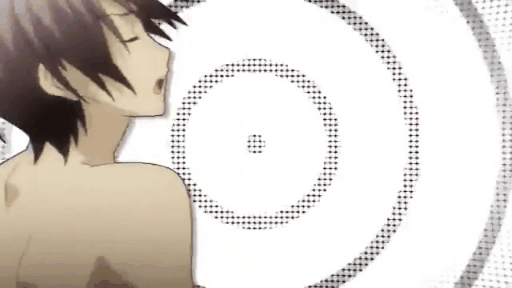 Kore wa Zombie desu ka (Studios Deen, 2011)
ENDING/TERMINANDO…
Kore wa Zombie desu ka?, is an anime that I recommend for this varied mix of things that seem to be added at random, but that take shape as it progresses, goes at its own pace and is fluid, so if you like anime in the style of Gintama or Bimbougami ga, but without references, you might like this one, at least for me, who is not a big fan of ecchi, I find it very entertaining.
Kore wa Zombie desu ka?, es un anime que recomiendo por esta mezcla tan variada de cosas que parecieran estar agregadas al azar, pero que van tomando forma conforme avanza, va a su propio ritmo y es fluida, así que si te gustan los animes al estilo de Gintama o de Bimbougami ga, pero sin referencias, esta podría gustarte, al menos a mí, que no soy muy fan del ecchi, me parece muy entretenida.
Kore wa Zombie desu ka (Studios Deen, 2011)
Well my kids, so far with today's recommendation, I hope you like it or encourage you to at least give it a chance. I'm Darkmidnight, the conscience of MeLoChacalie, and I say goodbye, but not without first wishing you, as always, that you have a very good time and have a better time.
Bueno mis chacalillos, hasta aquí con la recomendación de hoy, espero que te guste o te anime al menos a darle una oportunidad soy Darkmidnight la consciencia de MeLoChacalie, y me despido, pero no sin antes desearte como siempre, que muy buenas las tengas y que mejor las pases.
Kore wa Zombie desu ka (Studios Deen, 2011)
Tanto el texto como los gifs utilizados en este post fueron realizados por @melochacalie para nuestra pagina oficial
Both the text and the gifs used in this post were made by @melochacalie for our page official