The weekend is over but I'm truly delighted that I got the chance to paint today. I really felt like painting something but I honestly didn't know what to paint. I was in two minds whether to paint another anime character or not, so I let my mama decide.

I asked her earlier on what kind of painting she'd like me to create and without any hesitation, she said, "Tree!". lol
Well, trees are quite a common subject when it comes to painting, and to tell you the truth, I'm not good at painting trees or even landscapes, but still... I want to try.

Since the idea was given by my mama, I decided to create not only a tree, but a forest. I was trying to check some pictures of forests online and also pictured out the kind of forest I want to create, but then I remember Mononoke Hime.

Mononoke Hime or Princess Mononoke in English is a movie from Studio Ghibli and it's one of my favorites. It was a very enlightening anime especially with regards the environment. One of the things that reminds me of Mononoke Hime are the kodama spirits. They're these white cute creatures that lives in the forest.

Finally, I decided to paint a forest and place some cute kodama spirits in it. <3 Here's how it looked like.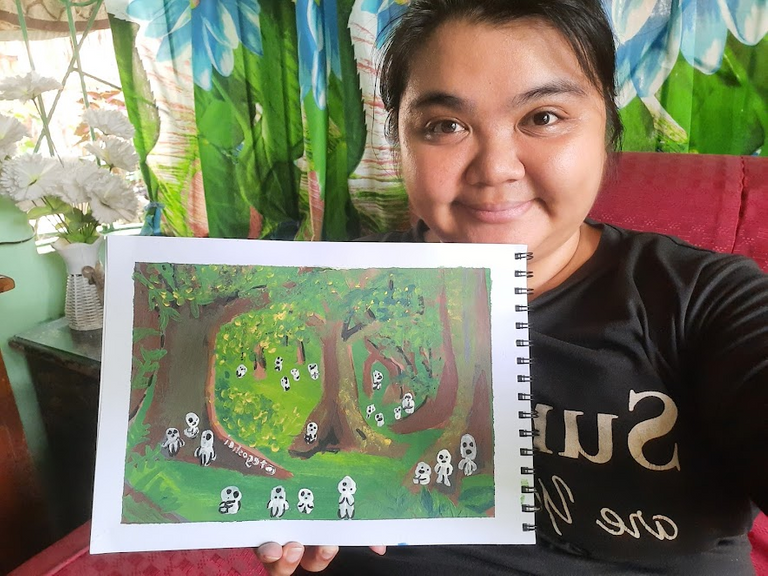 Pardon my sweaty face. It was quite hot and humid today that I decided to paint outside in our small veranda. Anyway, I somehow succeeded with the painting, but I'm still trying to learn by trial and error. Despite that, I want to show you the process below.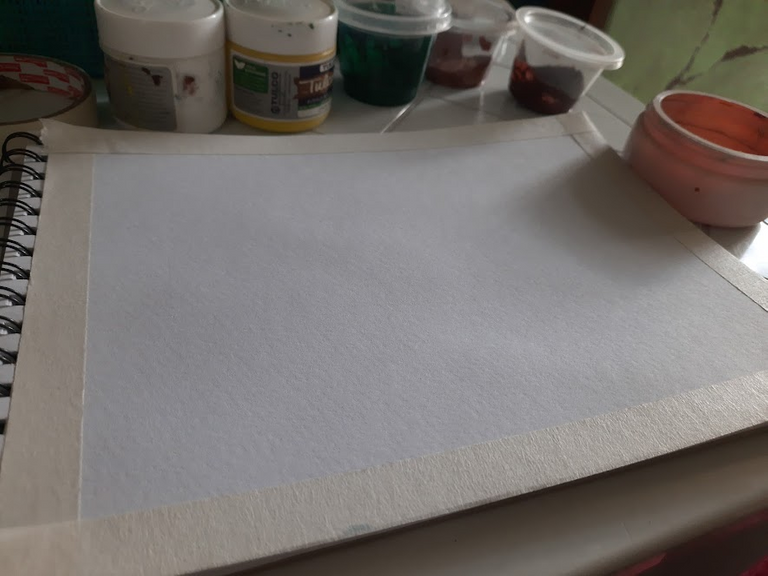 It all starts with the preparation. I taped all the sides of my not-so-friendly watercolor pad. I also took out my paint and of course my paint brushes and some water.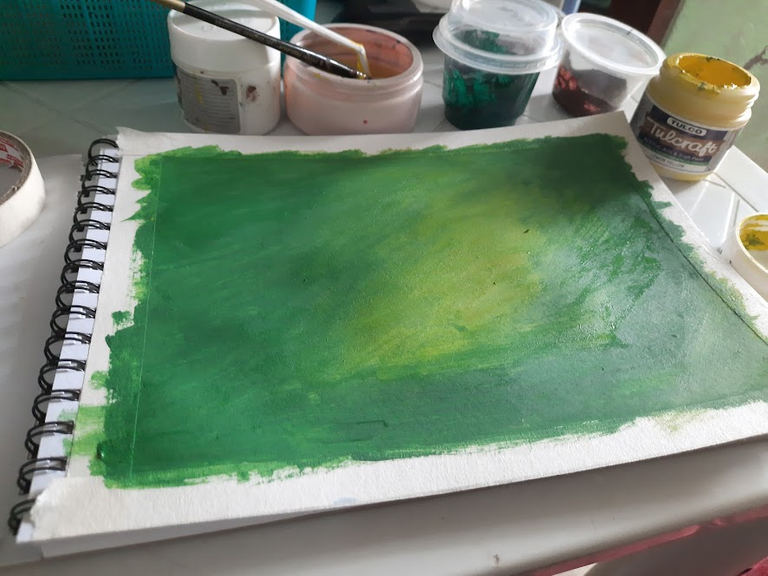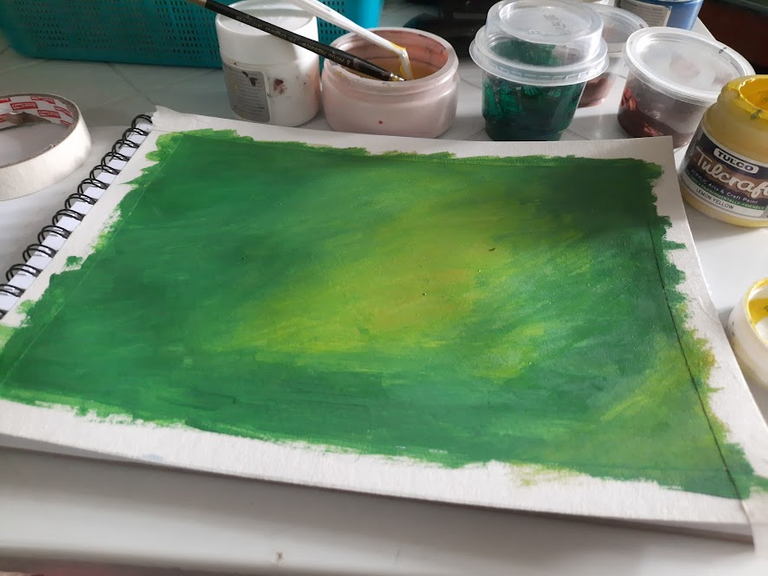 I started with the background. Mostly, it should be a bit darker at the back and slowly gets lighter in front, but I was imagining a bit of a fantasy-type forest, so I thought it would look better if the inner part of the forest would be glowing.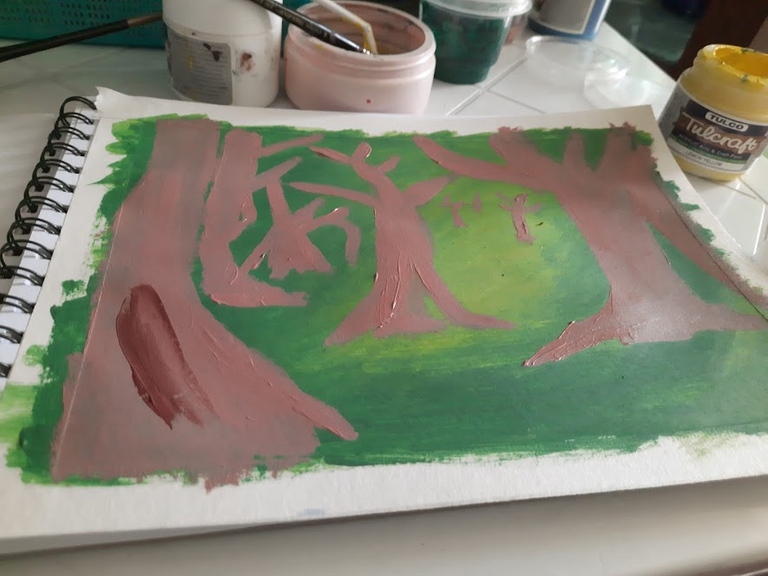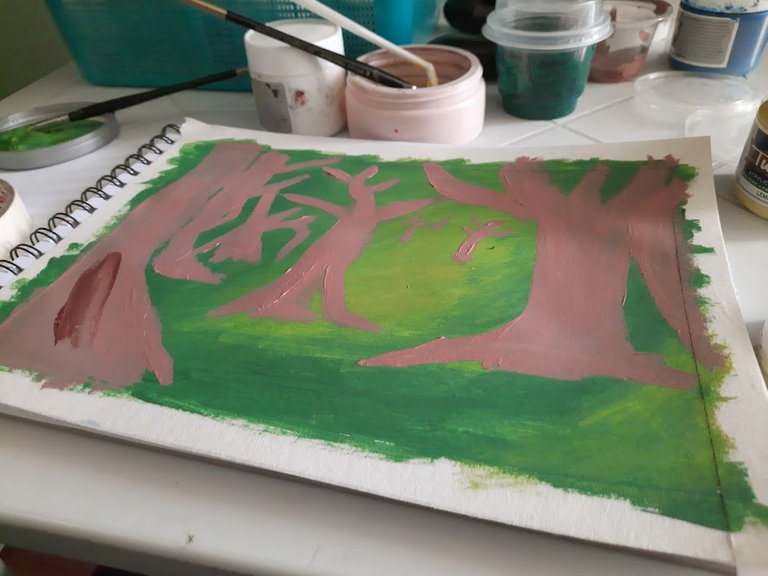 Next, I painted the base color of the tree trunks. I know, they look weird. I'm not good at painting trees. hahah However, I'll do my best to improve more.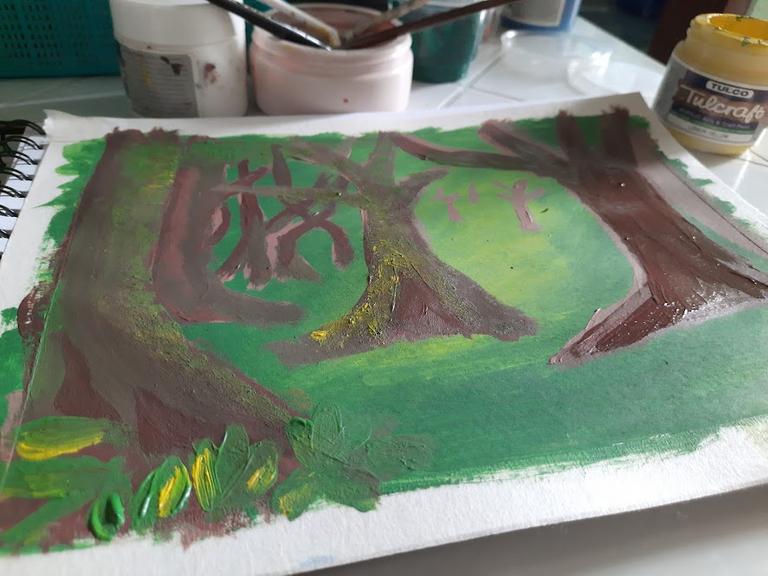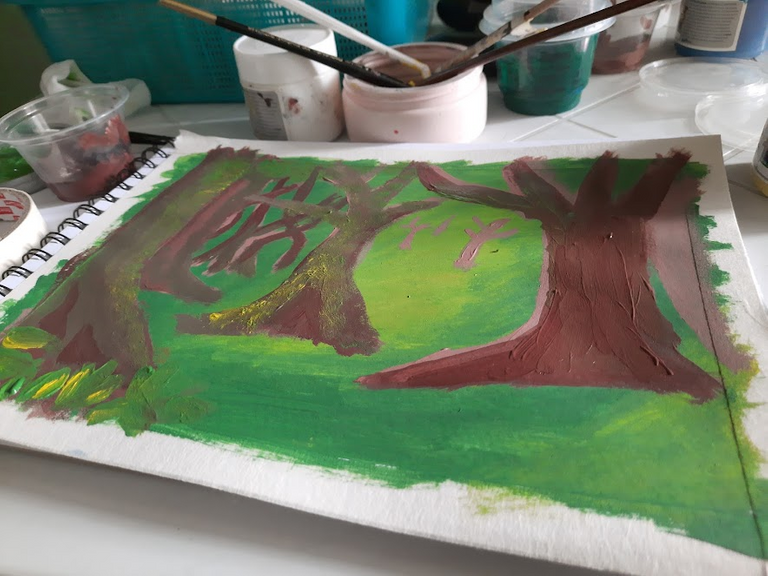 I then added some darker shades of brown, as well as some shades of green and yellow on the tree trunk. It would be like some moss growing on them.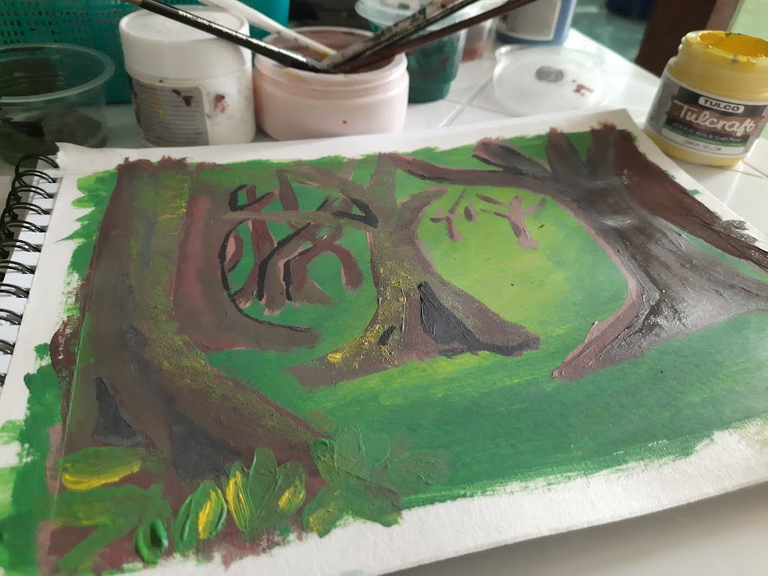 I also added some more darker colors to add more distinction among the trees. I should've used an even smaller brush for this, but I'll try again next time. haha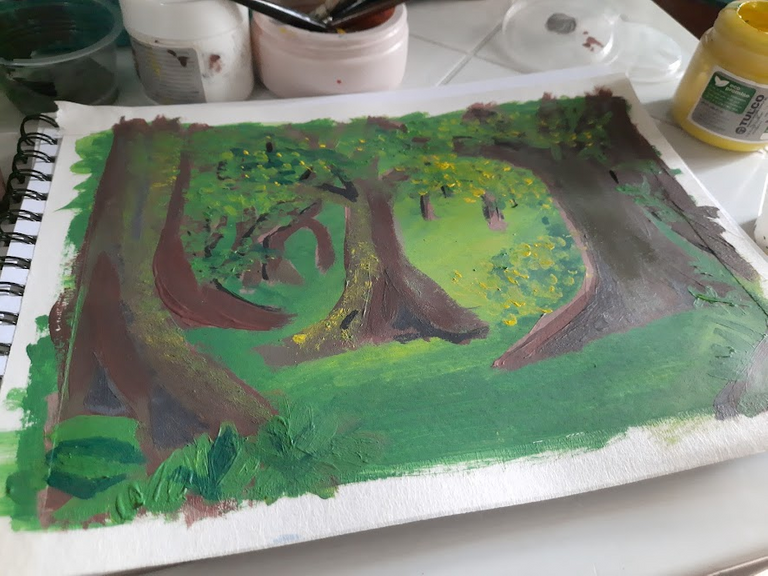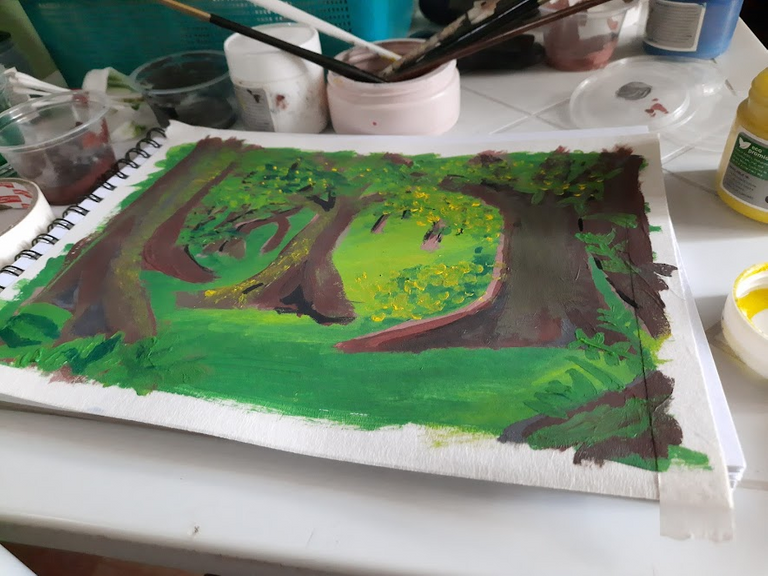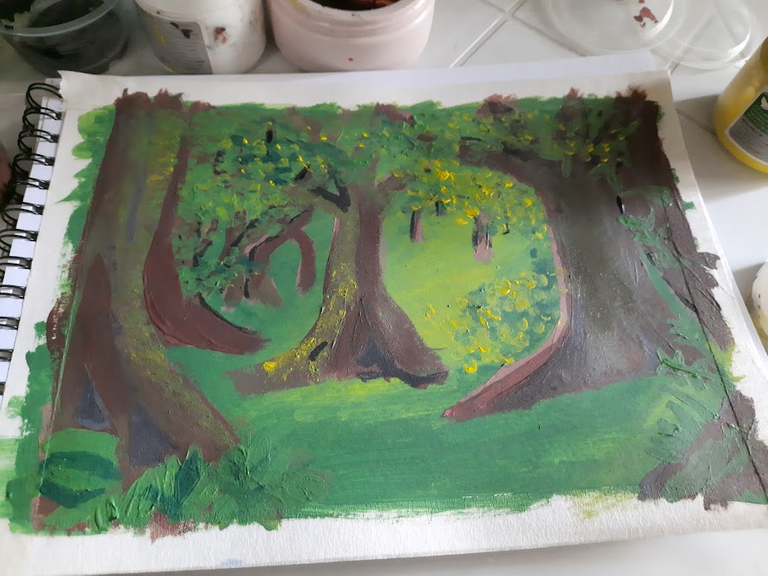 Using several shades of green and yellow, I added the leaves and some bushes. I still don't know how to make leaves, so I took some cotton swabs, tied them together and dipped them in paint and onto the painting. Well, it looked better than only using the brush It was also faster. haha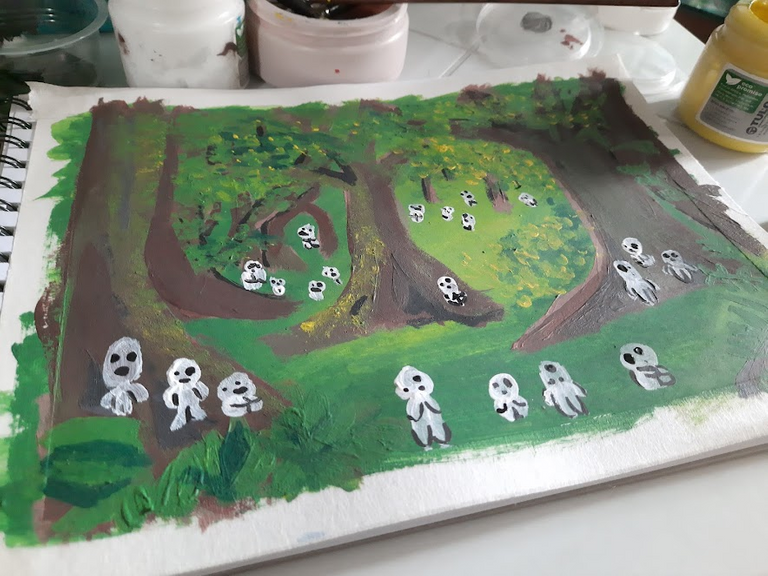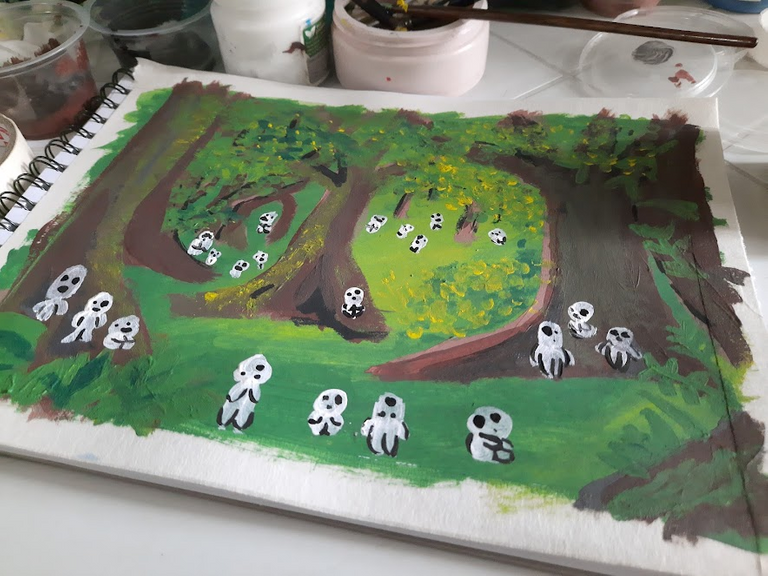 Then, I added these babies all over the forest. Ahhh~ so cute. But really, I should've used a smaller brush for the black part, but it's okay. I was quite lazy to change brushes. Ugh... sorry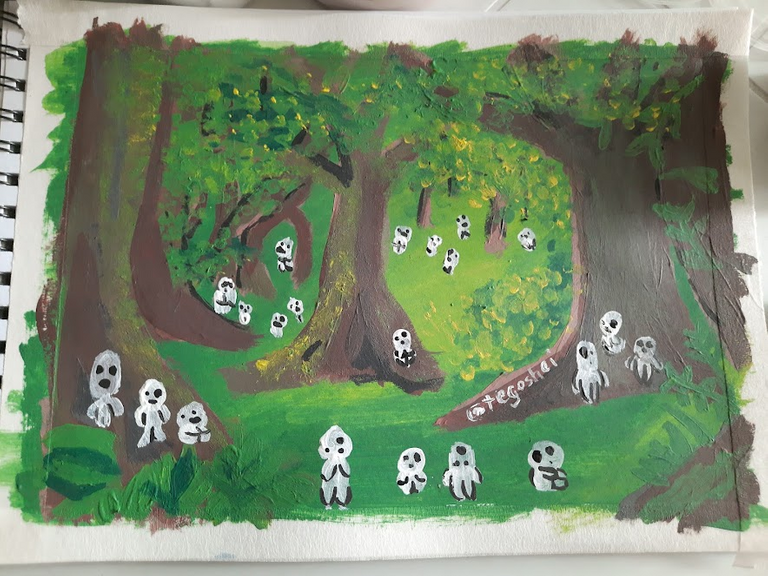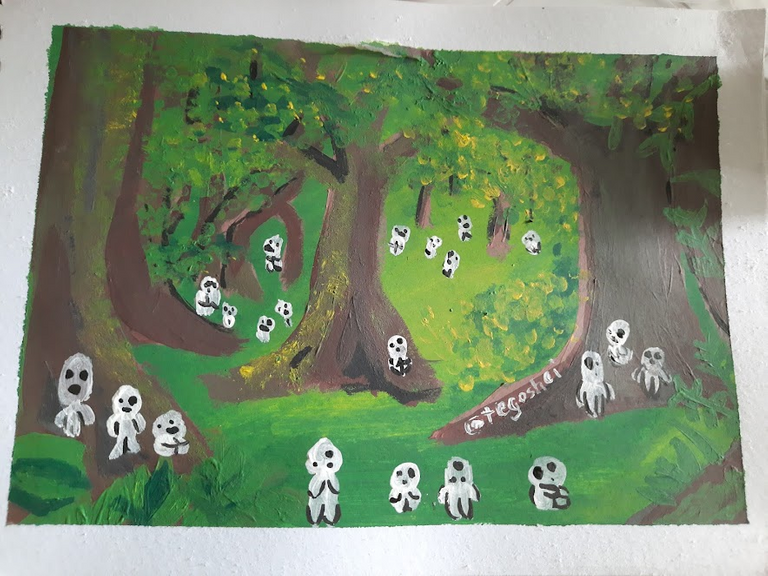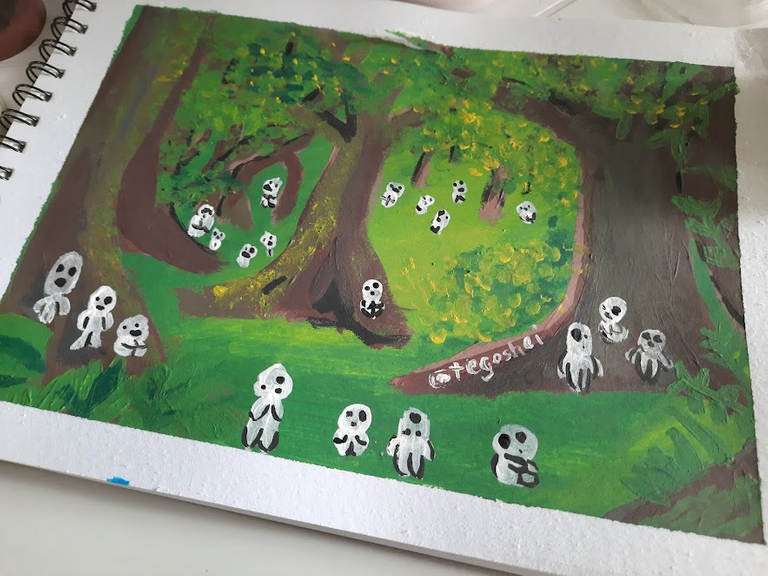 Finally, I wrote my username and took out the tapes. I really don't like this watercolor paper. You can see why if you look at the sides closely, but I don't have other papers and it would be a waste not to use it. haha

And there you have it friends, my version of a kodama forest. I hope you like it! Until next time! <3