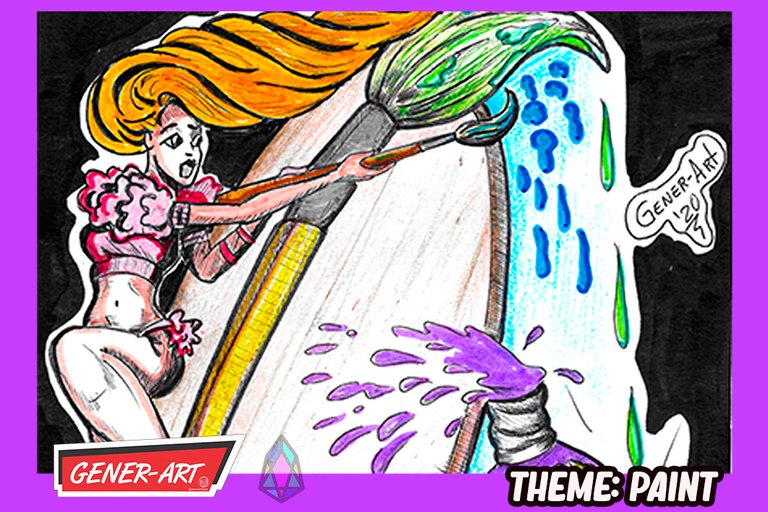 Vamos a hablar de esta ilustración que hice para participar en el día doce (12) de la lista del Pixeos Inktober 2020.
Cabe destacar que este trabajo fue hecho en ese mismo día, el doce de octubre de 2020, hago la aclaratoria porque algunos usuarios han creído que es ahora cuando estoy haciendo la lista.
Veamos el boceto inicial:
El Boceto:
Como es la costumbre, el boceto lo hice con líneas simples que sirven de guía. Quise en esta oportunidad hacer dibujo algo parecido a un dibujo animado, siempre contando con la presencia femenina.
English Version:
Let's talk about this illustration that I made to participate in the twelve (12) day of the Pixeos Inktober 2020 list.

It should be noted that this work was done on that same day, October 12th, 2020, I clarify because some users have believed that it is now when I am making the list.

Let's see the initial sketch:
The Sketch:
As is the custom, I made the sketch with simple lines that serve as a guide. For this opportunity I made a drawing somewhat similar to a cartoon, always counting on the female presence.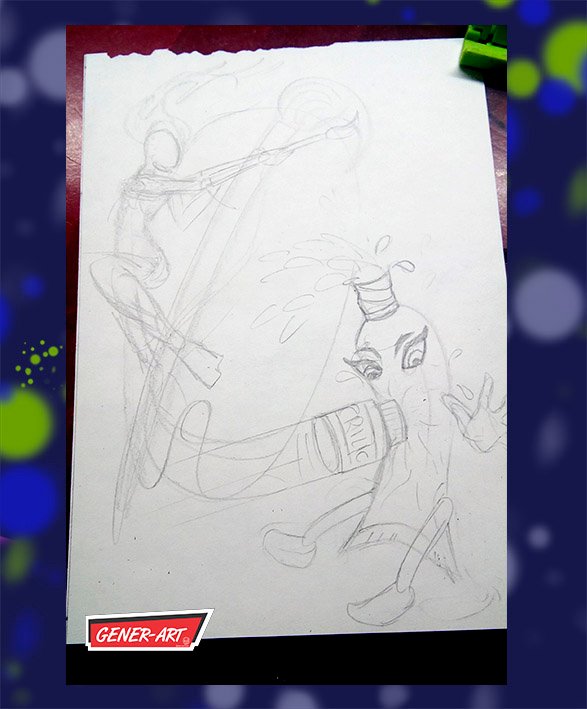 A medida que el boceto va tomando forma vamos haciendo detalles al dibujo que van a definir como será el aspecto de nuestros personajes.
As the sketch takes shape, we make details to the drawing that will define how our characters will look.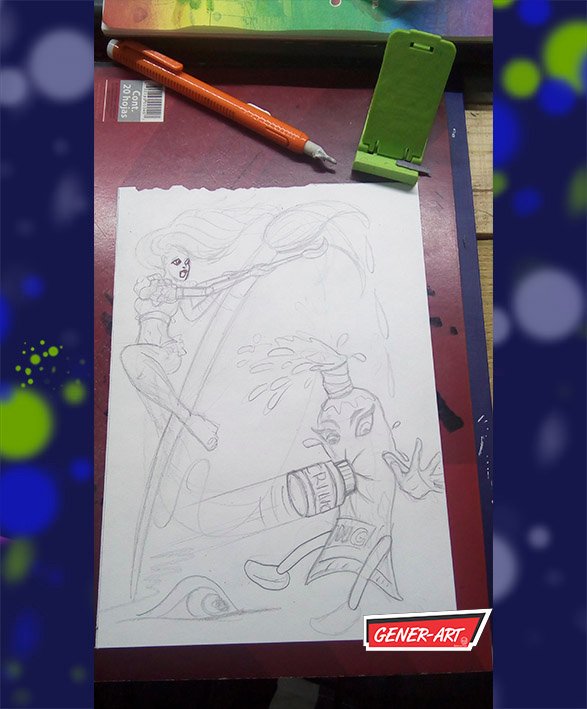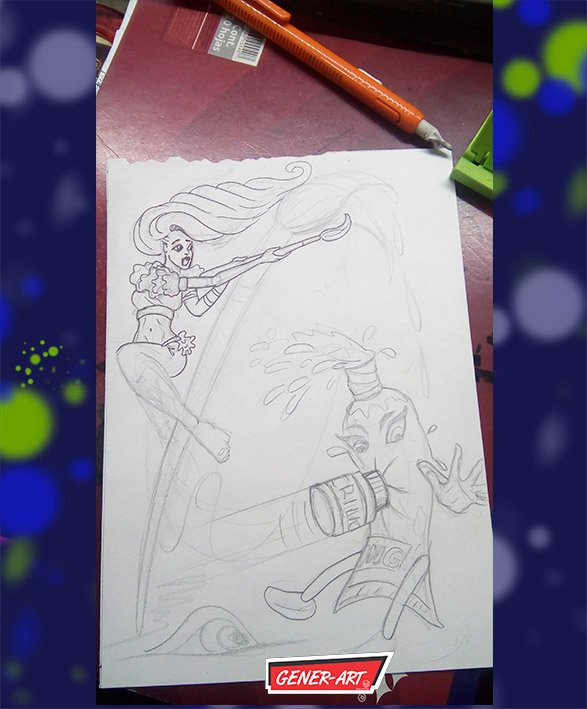 ¿Cuáles son los detalles de los personajes?
Los detalles de los personajes son todas aquellas características que le agregas a tu personaje que lo van a definir e identificar, que lo harán diferente con una seña en particular.
Estos detalles pueden ser cualquier cosa: la forma y color del cabello, los ojos, la nariz, la boca, etc; cualquier seña en particular del personaje. la ropa que le pongas e incluso el tipo de coloreado que le hagas y hasta las sombras y luces que le des.
En mi caso en esta ilustración le di vida el tubo de pintura dándole vida recibiendo un golpe de parte de un frasco de pintura acrílica.
What are the details of the characters?
The details of the characters are all those characteristics that you add to your character that will define and identify it, that will make it different with a particular sign.

These details can be anything: the shape and color of the hair, the eyes, the nose, the mouth, etc; any particular sign of the character. the clothes that you put on it and even the type of coloring that you do and even the shadows and lights that you give it.

In my case, in this illustration, I gave life to the tube of paint, giving it life by receiving a blow from a bottle of acrylic paint.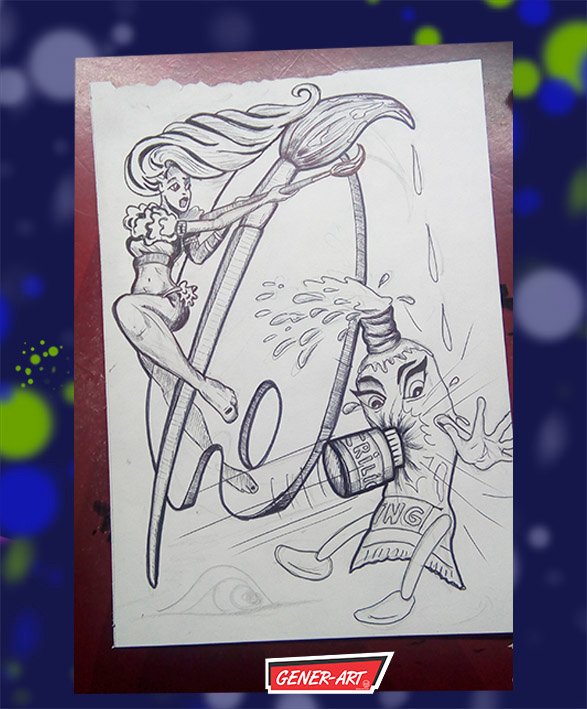 Con un bolígrafo negro punta fina y un marcador voy haciendo las sombras, y con colores de madera y marcadores le di color al dibujo.
With a black fine point pen and a marker I make the shadows, and with wood colors and markers I gave color to the drawing.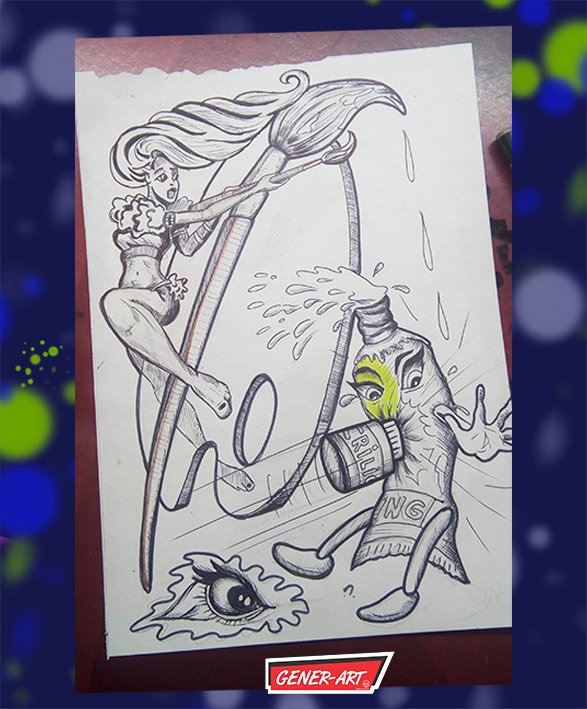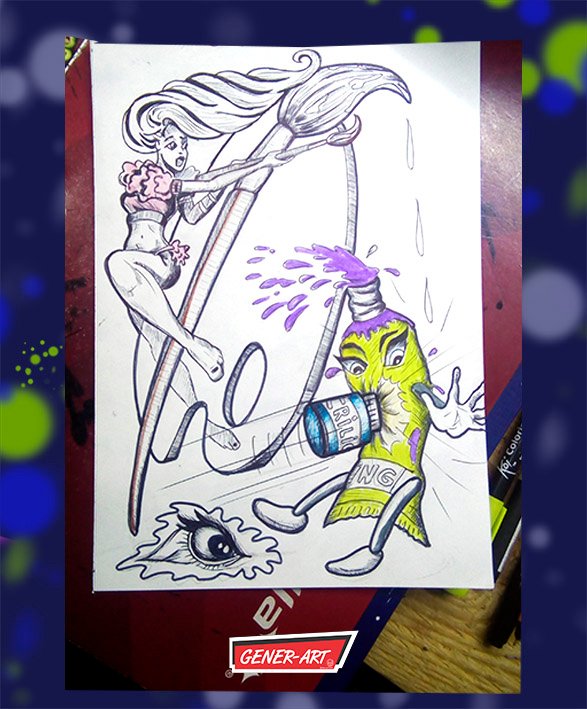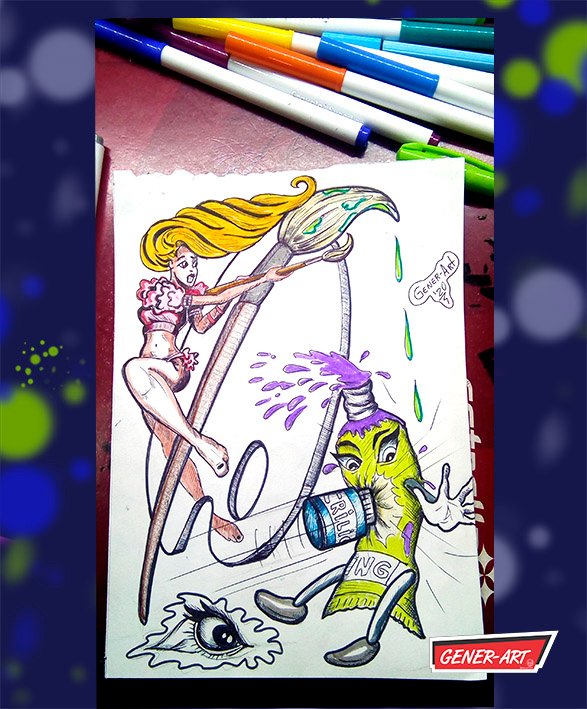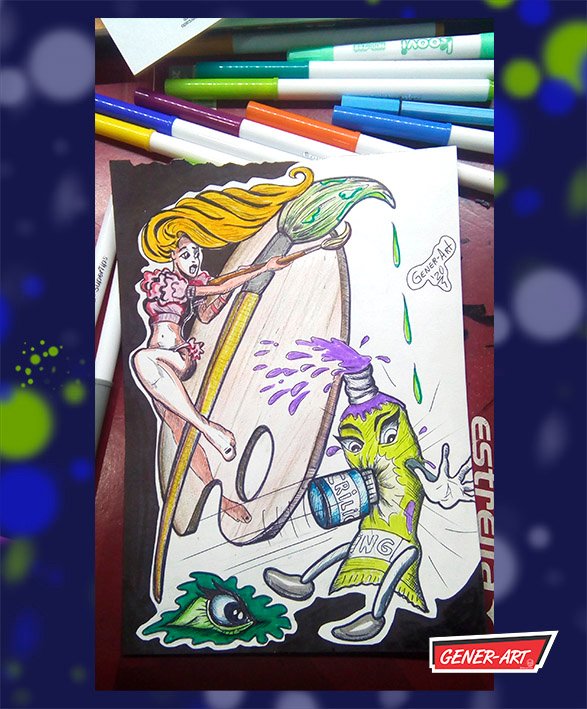 Resultado Final:
Después de colorear por aquí y por allá llegamos al resultado final.
Final Result:
After coloring here and there we come to the final result.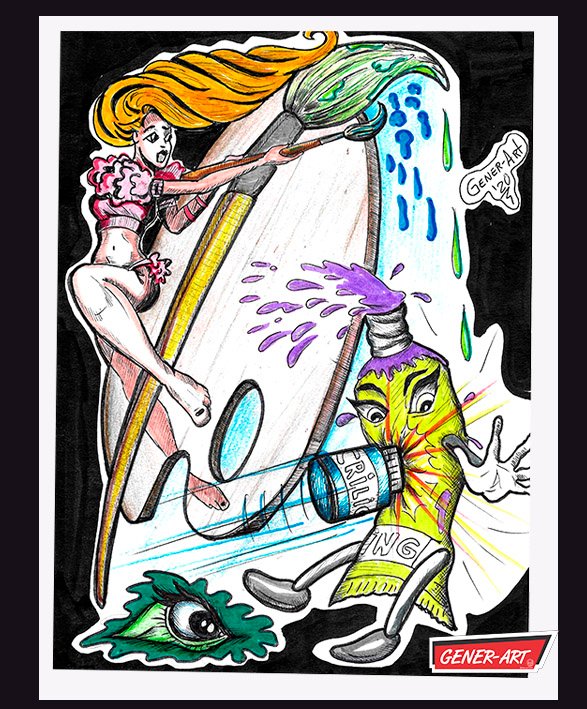 GIF DEL PROCESO CREATIVO / Creative Process GIF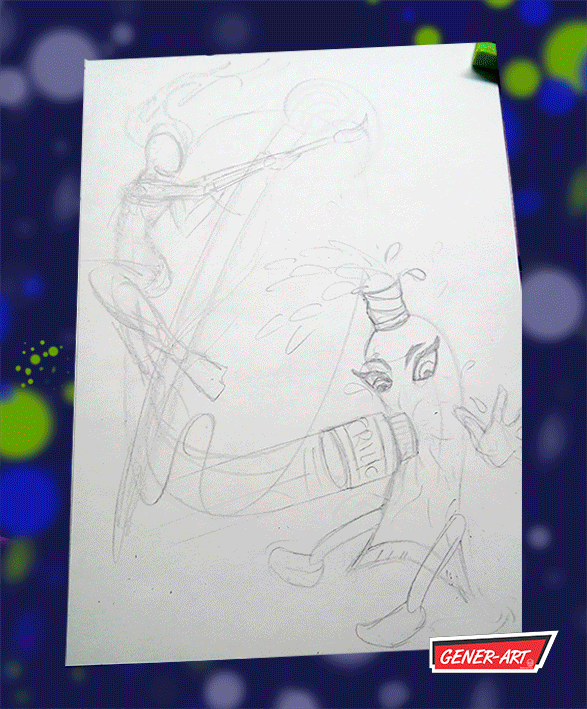 Para realizar esta ilustración invertí aproximadamente unas tres horas y media (3.5 hrs)en promedio sin tener ninguna interrupción.
To make this illustration I invested approximately three and a half hours (3.5 hrs) on average without having any interruption.
Materiales utilizados:
Media hoja de cartulina blanca de un block de dibujo
Lápiz escolar, sacapuntas y un borrador
Colores de madera
Marcadores de diferentes colores
Marcador negro punta fina
Marcador negro punta gruesa
Bolígrafo negro punta fina
Used materials:

Half a sheet of white cardboard from a drawing block
School pencil, sharpener and an eraser
Wood colours
Markers of different colors
Black fine tip marker
Thick tip black marker
Black fine point ballpoint pen

Te invito a dejar tu comentario y apreciación a cerca de este trabajo, es muy importante para mí ya que me ayudas a crecer como artista y como persona. Cualquier sugerencia constructiva es bien reciba, igualmente si quieres que haga algún tema en especial solo déjame en los comentarios que te gustaría que hiciera.
Te dejo mis redes sociales:
INSTAGRAM: gener.art
INSTAGRAM: gener.art.dibujos
FACEBOOK: GENER-ART
YOUTUBE: GENER-ART
PATREON: GENER-ART
I invite you to leave your comment and appreciation about this work, it is very important to me as it helps me grow as an artist and as a person. Any constructive suggestion is welcome, also if you want me to do a special topic just leave me in the comments that you would like me to do.

I leave you my social networks:

INSTAGRAM: gener.art
INSTAGRAM: gener.art.dibujos
FACEBOOK: GENER-ART
YOUTUBE: GENER-ART
PATREON: GENER-ART
---
NOS VEMOS EN LA PRÓXIMA PUBLICACIÓN
SEE YOU IN THE NEXT POST

Cortesía de @equipodelta

NOTA: todos los dibujos y pinturas hechos por mí tienen Derecho de Propiedad Intelectual, además tienen una historia ligada únicamente a mi persona y mi entorno, ya sean conocidos, familiares o amigos. Gracias por no plagiar.